Summary

A family health insurance policy not only gives you peace of mind about your family's wellbeing but can also help you save money for your children's future.
You must look at various plans and look for the best deal in a family health insurance plan to minimise your out-of-pocket expenses.
If you are planning to have kids, you should choose a health insurance plan that offers pregnancy cover.
In Australia, Medicare covers most of the healthcare related-needs. However, there are some exceptions, such as dental care, glasses and contacts, physiotherapy, and ambulance services. These services, if availed, can create a deep hole in your pocket.
Family health insurance is an investment that is imperative as it protects you and your family and simultaneously helps save on costs. A family plan acts as an assurance that your loved ones are covered for most medical procedures.
The government of Australia introduced reforms to make private health insurance simpler and help people to select the health insurance plan that best fits as per their requirements. Now, the private health insurance providers are required to classify their private hospital cover into four tiers: Gold, Silver, Bronze or Basic.
GOOD READ: Australian Health Insurance Got Expensive in October; How can you save?
In this article, we will discuss why is it essential to opt for family health insurance and what factors to consider while finalising one.
Reasons to consider family health insurance
Whether you are interested in hospital cover or extras cover or both there are countless reasons to choose a family health insurance. As highlighted above, a family plan gives you peace of mind and helps save money that can be invested in the future of your children.
This is because a health insurance plan can function as a safety net for those unforeseen expenses from chronic disease, dental care, or hospital treatment. If you are planning to have a kid for the first time or extending your family, then a family health insurance that covers pregnancy and birth care is worth considering.
ALSO READ: Australian Health Insurance Got Expensive in October; How can you save?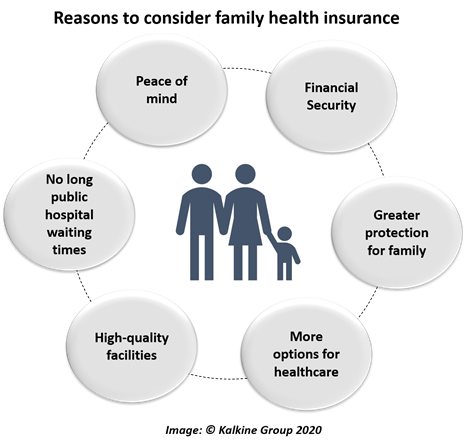 Health insurance for kids
Many health funds offer unique benefits for children. Here are the few features to look at if you are buying an insurance plan for kids-
No excess/co-payments for children: These funds do not charge an excess or co-payment for children who need to go to the hospital on some or all of their family and single-parent policies.
Extended coverage for dependent children: Most funds let you keep your children on your policy until the age of 25 if they are a full-time student, or if they are not married and live with you or in a de-facto relationship.
Discounted extras services: Some health insurance plan offer free or discounted extras services for children, like dental check-ups or rebates on glasses. You will be required to visit preferred providers to avail these benefits.
Choose your insurance provider wisely
When you are finalising an optimal health insurance plan, it is also essential to choose a health insurance provider wisely. Features such as hospitalisation, the inclusion of illnesses, and critical disease play a significant role. Hence, you must be sure that the company you are opting for offers the desired services.
If you are planning for kids, then you should choose a health insurance plan that offers both pregnancy and maternal health cover.
If a person has confusion in choosing a health insurance plan according to the requirements, it is advisable to consult a health insurance planner. Insurance planners help in getting the right health insurance cover according to your needs at the right price.
READ MORE: How do Financial Planners Pick the Best Health Insurance for You?
Look for better deals on your family health cover
An individual can go to any lengths to protect the health of his/her family, but that should not comprise paying extra for health insurance. You deserve a better deal for your family health cover which means reducing out-of-pocket expenses when you are already paying large monthly premiums.
Paying a lot on your policy and getting low returns in rebates from your insurer can be annoying. This highlights the need for comparing several health insurance policies.
Compare and check how much you can save
We are living in a time when buying a health insurance policy has become imperative, and when it comes to the wellbeing of the family, the expenses take a back seat. But before buying any health insurance plan you should check what all cover your insurer is providing. There could be a possibility that some other health insurance plan offers extra benefits at the same price.
Therefore, it is recommended that before buying any family health insurance plan, you must compare two or more plans to know what the other players are offering. There are freely available sites where one can easily compare health insurance plans to select the optimal plan.
Bottomline
If you have purchased a health insurance plan, it is not necessary to stick with that policy forever. You can reassess the plan and switch to other policies according to your need. One of the best things about a private family health insurance plan is that your dependents and children are usually covered under your couple plan without any extra cost!