Summary

Physiotherapy is a regulated health treatment that is performed by qualified and registered healthcare practitioners.
Generally, comprehensive private health insurance plans cover the cost related to physiotherapy consultations.
Medicare can provide benefits for physiotherapy related treatment in some specific cases of the public hospital admittance and under CDM programs.
Physiotherapy is a treatment aiming to help people move more freely and with less pain by using physical methods such as massage and exercise rather than drugs or surgery.
It is the process to treat a disease, injury, or deformity by physical methods including heat treatment, exercise, and massage rather than by using any drug or surgery. In some health insurance policies, physiotherapy cover comes under extras and can benefit you during a visit to a physiotherapist.
Physiotherapy Cover
Not all the health insurance provide cover for physiotherapy consultations. Basic health insurance plans do not offer the benefit during physiotherapy while some comprehensive covers can provide physiotherapy cover.
Generally, comprehensive plans are more expensive as compared to a basic or medium health insurance plan.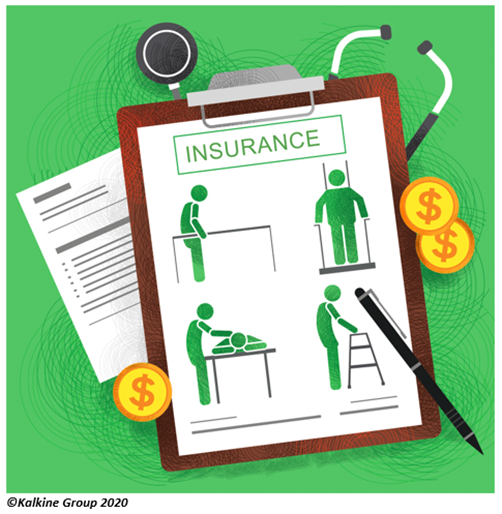 Physiotherapy is considered as an excellent treatment option for a variety of musculoskeletal indications, including hip and knee arthritis, neck pain, tennis elbow, all tendon pain, and lower back pain, among others.
Physiotherapy is a regulated health treatment that is performed by qualified and registered healthcare practitioners. When a physiotherapist performs some initial assessment, initiates any treatment plan, and makes notes on the progress of patients, in this case, the consultation will be covered under the private health insurance.
ALSO READ: 6 Important checklist items to consider while buying health insurance plans
Physiotherapy cover by Medicare
Australia has a public health system called Medicare. Through Medicare, Australians can get affordable access to GPs, medicines, and hospitals. Medicare does not cover all the health costs, including many allied health services like physiotherapy. For those who do not have private health insurance plan, regular visits to a physiotherapist can become expensive.
Moreover, Medicare can provide benefits for physiotherapy related treatment in the subsequent circumstances-
Public hospital admittance: Medicare offers some benefits to the patients in a public hospital who require inpatient physiotherapy or rehabilitation.
Chronic Disease Management program (CDM): Medicare also covers for certain physiotherapy services as a part of a CDM recommended by at least two allied healthcare professionals (HCPs) and a GP. Some of the eligible chronic diseases are diabetes, stroke, arthritis, musculoskeletal conditions, and cancer.
Medicare however does not cover other out-of-hospital physiotherapy expenses, and a person needs to rely on private health insurance for these expenses.
Understanding Extras Cover
Not everything that keeps a person healthy is covered by Medicare. That is the reason why Extras cover can be significant support. Extras cover is all about covering some of the costs that are not hospital related.
Some of the services and treatments that a person make extras claims for comprises-
Dental treatment.
Optical products (Contact lenses and glasses).
Physiotherapy, occupational therapy, chiropractic, podiatry
Health aids and appliances, asthma pumps/nebulisers, blood glucose monitors and hearing aids.
When a person takes out an extras policy cover with a physiotherapy inclusion, all or some of the costs incurred by out-of-hospital physiotherapy are covered.
ALSO READ: What are extras and How to find the best cover that suits you?
How much and what is covered will depend on the insurance provider and the level of health insurance plan. A basic insurance policy may have a limited coverage available, while more costly policies will typically have more extensive cover.
If a person is confused which health insurance policy to choose, in that case, it is advisable to seek help from the financial planners. The expert planners can provide an appropriate health insurance plan as per the requirements.
What amount will be claimed?
Based on the health fund and extras opted a person's benefit amount for physiotherapy services may be calculated as:

Claim for Physiotherapy Services
Private health insurance providers give cover for physiotherapy on extras policies; however, the benefit amounts given will always depend on the health insurance extras plan that you have opted. For instance, a basic extras policy might only offer limited benefits or even excluding the benefits for physiotherapy.
However, if included, generally an extras policy will cover the physiotherapy related services: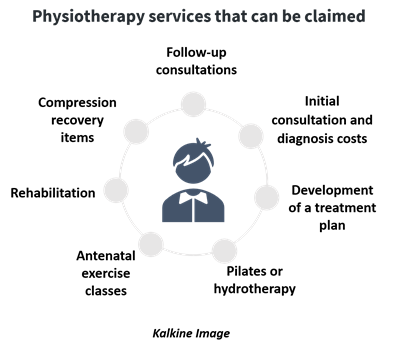 ALSO READ: Australian Health Insurance Got Expensive in October; How can you save?