Health insurance is considered a vital part of an individual's health. At times, medical treatments, related to an accident or an illness, can be extremely expensive, and lead to financial instability.
With health insurance, one can minimise the financial impact of such a situation, as health exigencies can happen any time. As everyone has specific health requirements, there is no one-size-fits-all plan that would suit everyone in the best possible way.
Private health insurance
Private health insurance policies cover for the healthcare cost. It has two segments-
Hospital cover- Compensates specific treatments you receive in a private hospital, including hernia operations, joint reconstructions, among others.
Extras cover- This is for out-of-hospital healthcare, like dental, optical, and physiotherapy.
Before going for any healthcare plan, you must remember that not all private health insurance plans have the same features. Some policies will cover only a few treatments, while others might cover several. Therefore, it is prudent to compare policies to make sure you are getting the plan as per your requirements, and a good value for your money.
In Australia, private hospital cover is available in four different tiers - Basic, Bronze, Silver, and Gold. You can get a more comprehensive cover as you move through the different tiers, albeit at a higher premium.
However, this does not imply that all Gold policies will be the same. Features in Gold category vary across different policies, so it is advisable to compare before you choose any plan.
DO READ: Public vs Private Health Insurance in Australia
Key benefits of private health insurance

Who are the top health insurance providers in Australia and what do they offer?
The table below covers Kalkine's top picks and includes most of the top-ranked policies. The table consists of the hospital and extra cover provided by the health insurance companies.
The prices mentioned are for the mid-level hospital cover (Silver tier) of a single member with a taxable income of A$90,000 or less in the financial year ending 30 June 2021, including A$500 excess in Sydney. The packages below can provide you with even greater peace of mind.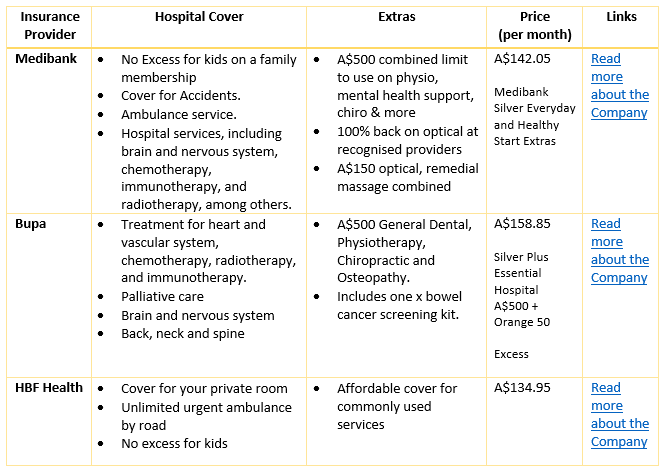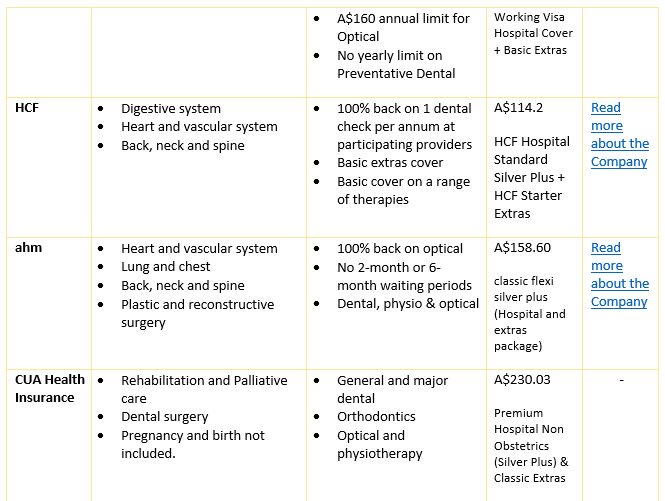 Which are the Best health funds in Australia? How do they help you?
Every individual has his specific requirements. Therefore, there is no health insurance policy which is ideal for everyone. Some funds focus on particular areas, others on profit only, while some are for specific groups. There are a few things you must keep in mind before going for a private health insurance policy. Some of the prominent factors are waiting time, claim process, and age criteria.
Waiting time: A health insurance plan often applies waiting time on specific procedures. This means that if you purchase a policy today, you might not be able to get a claim for a particular treatment till months, or even years later. Hence, it is recommended that before buying any health insurance plan, you must always check for the waiting period clause.
Out of pocket costs: Out of pocket costs are also known as gap or patient payments. Health insurance does not always cover all the costs associated with an illness or injury; you might also have to pay out of pocket costs for medical services. Outside of a hospital, these costs could relate to services such as diagnostic tests or appointments.
Check for Co-payment or Co-pay Clause: In a health insurance policy, co-payment clause is the percentage of the claim for the treatment that you must bear from your pocket. However, the remaining amount will be paid by the health insurance provider.
Claim process: One must check all the things mentioned in the policy and go through the claim process that the insurance provider is following. At the time of settling health claims, a smooth process is a boon.
The Age Criteria: Age is an important factor when it comes to buying a health insurance plan. While purchasing a health insurance policy, you should keep in mind the age of the family members who need to be covered.
READ MORE: 5 Things to Consider While Going for Private Health Insurance
Looking for a family cover? Here are some pointers to consider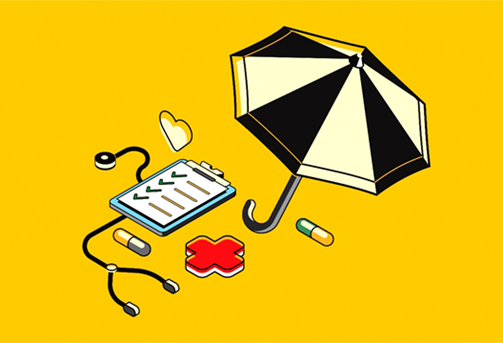 Image: ©Kalkine Group 2020
You can choose health insurance which matches the requirements your family - whether you are just in the planning stage or you have already got children. You should check some key features which might be particularly helpful:
If you are planning to start a family soon, it might be worth investing in a policy which offers you to get money back for both pregnancy and maternal health cover.
If you have children, search for a child-friendly health insurance plan by considering policies that provide cover for your kids at little or no extra cost.
Most health insurance policies cover dependent children up to 18 years, but if you think your kid would benefit from the support for a little longer, you can pick a health insurance plan which gives you an option to extend that age limit.
When you are finalising an ideal health insurance plan, it is also essential to select a health insurance provider wisely. Features like hospitalisation, inclusion of illnesses, and the critical condition, have important roles to play. Hence, you must be sure that the insurance provider you are choosing offers the desired services.
Many health funds offer unique benefits for children. Below mentioned are some features to look at before buying an insurance plan for kids -
No excess/co-payments for children: These funds do not charge an excess or co-payment for children who need to go to the hospital on some or all their family and single-parent policies.
Extended coverage for dependent children: Most funds let you keep your children on your policy until they are 25 years old, or if they are a full-time student, unmarried and live with you, or in a de-facto relationship.
Discounted extras services: Some health insurance plans offer free or discounted extras services for children, like dental check-ups or rebates on glasses. To avail these benefits, you are required to visit the preferred providers.
DO READ: Why is family health insurance important?
What does best-suited health insurance mean for you?
You may require a health insurance plan which caters to your specific needs. The best health insurance plan is necessary for the below-mentioned reasons -
Limiting tax: Some people in Australia buy health insurance to avoid levy charges. Medicare Levy Surcharge (MLS) is an additional charge paid by Australians who do not buy a private insurance policy.
Planning to start a family: If you are thinking to start a family, then purchasing a private health insurance policy is probably a priority for you.
Need for Extras: Don't need a policy with cover for the hospital, but still wants to claim benefits like dental and optical. Finding the best extras policy is all about working out what you want to get covered under it and making sure you are getting the most out of your policy.
Getting older: As you get older, your situation changes, and it is important to find a health insurance policy which suits your new requirements in the best possible way. For having a safe and sound retirement, many residents in Australia ponder private health insurance policies.
To avail age-based Discount: Age-based discounting is initiated by the federal government to encourage people to purchase a private hospital cover earlier in life. This suggests, if you are under 30 and take any private hospital cover, you may be eligible to get a discount.

Last year, the Australian government had given an option to health insurance providers to offer discounts of up to 10% to individuals in the age bracket of 18-29 years.
DO READ: How does age impact the cost of health insurance plans?
Why go for extras coverage?
Extras, or extras cover, is a particular private insurance plan which involves non-hospital procedures and treatments. The most popular extras cover dental, optical, and physiotherapy treatments.
Moreover, emergency ambulance transport cover, some psychology consultations, can also fall under extras. These are some crucial factors to consider when choosing the right extras cover for you.
Private health insurance providers offer extras cover as an extension to the hospital cover, significantly decreasing out-of-pocket expenses for prescription of eyeglasses or fixing gums and teeth.
Sometimes the extras can be referred to as an ancillary cover or the general treatment.
To Know More, Read: What are extras and How to find the best cover that suits you?
Tax Benefits and Private Health Insurance Rebate
Many residents in Australia need to pay a specific amount for public health insurance as taxes. However, Medicare Levy Surcharge (MLS) affects those who earn more than average.
MLS is an additional charge paid by Australians who did not buy a private insurance policy before they turn 31 but earn more than a specific amount. The Australian government initiated this approach of extra tax as a measure to reduce the pressure that public insurance can face.
The government offers the private health insurance rebate. The private health insurance rebate provides a saving on the cost of private health cover funded by the Federal government. The level of rebate you could receive is based on the age of the oldest person on the policy and your taxable income (or combined family income for couples and families).
The table below represents the average amount of costs covered by different funds-