COVID-19 fear and spread across ~200 countries, a number more than the number of countries affected during World War I and II, makes it more powerful resentment of 21st century, inflicting chaos in our economy, lives and health, impacting the very livelihood of our society.
Interesting Read: COVID-19 Pandemic: An Economic Emergency to be Dealt With
Is this War Like Scenario Across the World?
Not only we, who believe the world is at war for survival against the COVID-19 pandemic, but many countries have compared the current situation with World War II.
China's President Xi Jinping has termed the Chinese suppression effort as "people's war", while President of France Emmanuel Macron has declared the war against COVID-19 and India Prime Minister Narendra Modi has called for a global war on the virus while urging G20 to initiate work towards shockwaves triggered by the pandemic and for a new crisis management protocol deal to address worldwide health crisis.
The analogy doesn't stop here, as WHO Director-General Tedros Adhanom Ghebreyesus recently stated in a virtual summit on the pandemic COVID-19, that the world is at war with a virus threatening to tear us apart. Donald Trump, President of the world's powerful country, United States, has asserted that this war with the invisible army of coronavirus would be won.
The Similarity of COVID-19 and World War II
During 2008 global financial crisis, policymakers had compared the situation with a warlike scenario; however, the metaphor is more relevant today with crisis and plunge in gross domestic product (GDP) happening across the globe due to the advent of new coronavirus.
During World War II, the foe attacking the economy resulted in the movement of people toward the home front. While COVID-19 attacking the economy enforced the people movement toward home, locking and limiting movement across the four walls of their house. The dip in GDP is more severe than the repercussion of World War II. Over the past few weeks, worldwide markets or stock exchanges and oil & gas prices fell drastically, given the intensified spread of coronavirus across the globe.
Other interesting fact is that during the World War, people were aware that the impact is going to sustain for a long time. However, in the case of COVID-19, we are not sure till when it is going to last. Will it come back to take revenge after it lost the battle? Or We will be completely winning the war in a few months by coming up with vaccination for full eradication? Has the era shifted from nuclear weapons in World War II to biological weapons (COVID-19) for mass destruction?
Having said that, economists are still dwelling on concluding whether the supply is falling faster or demand. Similar to the warlike situation, people are losing jobs, demand is suppressed as people are enforced to stay back home or there is suppression in supply due to the movement and trade restriction to mention few.
Severity of COVID-19
As of 26 March 2020, according to the WHO, total confirmed cases have risen to 462,684 across the globe with 20,834 deaths.
Coronavirus costing so many lives! Is this the first time this evil has arrived?
Actually not! This coronavirus belongs to the same family of the previous epidemic of SARS in 2003 and MERS in 2012. The fatality rate for SARS and MERS is higher, i.e. death per case is immense than the present coronavirus of 2019 (COVID-19), first originated in Wuhan city of Hubei Province of People's Republic of China (PRC).
Then why this time it's causing havoc like World War? Though the fatality rate is lower than its predecessors?
As the popularity is directly proportional to its follower, similarly the severity of the outbreak depends on its infection rate. COVID-19 has the highest infection rate than any other seasonal flu and MERS, which is quite visible with its presence in now around 200 countries.
The rate at which COVID 19 is increasing exponentially, makes it more dangerous and pandemic than any other epidemics as shown below. Also, it is worth mentioning that though the fatality rate is around 1%-3.4%, we should not forget that this will too increase exponentially if not reduced with a correlation coefficient of 0.9947.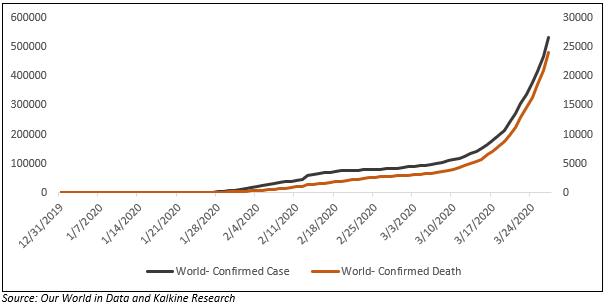 COVID-19 Impact on Economy
Like the economy boomed post World War II; similarly, it is anticipated that the economy will correct its path post the eradication or easement of COVID-19. Economists foresee the first half of the year to be recession like situation with improvement expected in the later half.
Moreover, according to the Organisation for Economic Co-operation and Development (OECD), the November 2019 forecast value for 2020 GDP is going to decline while the projection for the 2021 year is anticipated to increase post the pandemic.
Do Read: COVID-19 Epidemic: Global Rate Cuts; OECD Downgrades Economic Growth Forecasts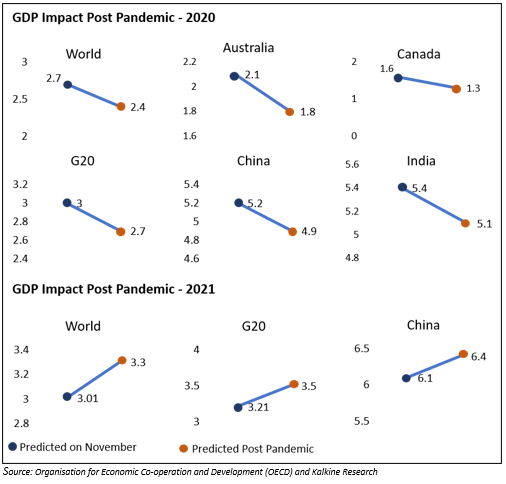 Having said that, all the prediction is subject to fast recovery of COVID-19.
WHO Director-General Tedros Adhanom Ghebreyesus has stated that the twenty thousand counts of death can reach millions, if aggressive actions are not taken against the virus. The pandemic is scorching the world's economic, social and political system, and the intensity of the impact will be known with time. The head of WHO concluded a recent summit participated by world leaders from President Trump to China's President Xi Jinping, saying
The other facts stated by the WHO head are:
The social and economic restrictions imposed across many countries, shutting school and businesses will not fully extinguish the pandemic but will only take some heat off the COVID-19 outbreak.
It's the time to do more in windows we are getting in lockdown. There is an extreme need to build, expand and train health workers to deploy them to find, test, treat every case or trace of COVID-19. This is an Obligation but not an alternate Option.

---

Disclaimer

This website is a service of Kalkine Media Pty. Ltd. A.C.N. 629 651 672. The website has been prepared for informational purposes only and is not intended to be used as a complete source of information on any particular company. Kalkine Media does not in any way endorse or recommend individuals, products or services that may be discussed on this site. Our publications are NOT a solicitation or recommendation to buy, sell or hold. We are neither licensed nor qualified to provide investment advice.