Hey Siri, can you set the alarm for 6:30 in the morning? Or you often say, Alexa, let us play some nice music. So, what are these Siri or Alexa? They are our new Artificial Intelligence (AI) enabled friends. And with this, the question arises, are they replacing our human friends? A big NO, they are just enhancing human lives. A lot of questions open up, such as what is AI? Who uses it? How is it used?
From Siri to self-driving cars, Artificial Intelligence is evolving rapidly. This technology can bind anything from search algorithms, mathematical models to autonomous weapons. AI is one of the technologies that is expected to drive the technology sector in this decade. Broadly, AI is used to describe a collection of technologies that solves problems and perform tasks to attain specified objectives without any human intervention.
Artificial Intelligence is rapidly revolutionising various industries across the globe. It is not only helping in boosting GDP growth, but also augmenting the productivity, accuracy, and efficiency of various organisations. Without a doubt, it can be said that various sectors such as healthcare, financial, entertainment, and transportation are embracing AI and experiencing an immense transformation.
The below image glorifies applications of AI in various sectors: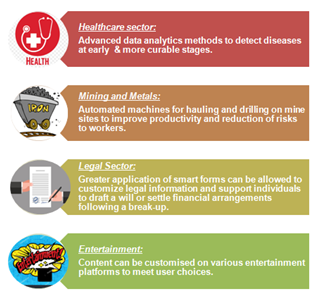 Efforts are being made both in Australia and at a global level to make principled use of Artificial Intelligence to provide better benefits to the economy and people.
Did you read: Popular ASX stocks in AI Space
Artificial Intelligence Adoption in Australia
Application of AI in engineering and other disciplines has bolstered with the amelioration in the field of artificial technology. AI implementation in the field of mining has improved the competence of crushing plants, control systems, etc.
Presently, Australian companies are either in the stage of development or have developed Artificial Intelligence systems to enhance daily personalised pieces of advice across various fields such as healthcare, entertainment, engineering design, corporate document creation, and recording systems.
If you read any article covering new technologies, you would be well enlightened with words such as Automation, Big Data, and Artificial Intelligence. These buzzing new hot topics in the tech space justify the fact that technology is blooming in this progressing world with more productive methods and advancements.
As per a report by Data61 and AlphaBeta, two industrial research organisations, with the support of CSIRO (Commonwealth Scientific and Industrial Research Organisation), an independent federal government agency responsible for scientific research, digital technologies (including AI) are expected to contribute AU$315 billion towards the Australian economy by 2028. Moreover, artificial intelligence could add AU$22.17 trillion to the world economy by 2030.
Interesting read: Tech sector perseverance amid buoyant share market: Appen restates earnings guidance
Without a doubt, COVID-19 has posed significant challenges for various economies and businesses across the globe. As Australia is preparing to re-open the economy and adapt to the 'new normal' of working and living, AI can grab this opportunity and bat at the front foot to rescue businesses in need.
Few business applications include matching the demand and supply to optimise production, automation of few back office works like automation of insurance claims so that cognitive assistants can focus on more challenging tasks, while AI-enabled chatbots can support in medical emergencies and cash flow insufficiency issue can be resolved by performing analysis of revenue and cash data using AI.
Sales prioritisation can also be done using AI, as significant number of people are opting online platform to purchase products, representing a shopping pattern which in turn can be analysed using AI to help businesses work efficiently and effectively. Also, automated AI programmable robots across various manufacturing units can simplify the process of production and keep workers socially distant.
Let us skim through the activities and performance of few ASX-listed artificial intelligence stocks.
BrainChip Holdings Ltd (ASX: BRN)
A leading provider of neuromorphic computing solutions that can learn autonomously, evolve and link information similar to a human brain, BRN's product offerings include Akida Development Environment (ADE), Akida Neural Processor System-on-Chip, and Akida Neural Processor IP.
BRN, at the end of April 2020, released its quarterly update for the period ended 31 March 2020 (Q3 FY'20) with the following highlights:
Cash balance of US$3.71 million
Continued progress on commercialisation of the Akida IP before making available Akida device
Strict cost control policies maintained amid COVID-19
Gross proceeds of AU$3.1 million raised via a placement of fully paid ordinary shares to two institutional investors, subsequent to the March quarter.
US$500,000 received for the conversion of collateral shares
On 15 May 2020, BRN traded flat at AU$0.051 with the Company boasting a market capitalisation of AU$74.23 million and ~ 1.46 billion outstanding shares.
Spectur Limited (ASX: SP3)
An Australia-based company, SP3 is a developer of security, surveillance, and warning solutions. The Company has the rights to its cloud based IoT, security and innovative hardware systems. SP3 is engaged with the construction, building, civil and utilities/government sectors.
Financial Performance and Business Outlook
Recently, the Company announced its quarterly results for the three months ended 31 March 2020 and highlighted:
Revenue stood at AU$1.13 million
Recurring revenues supporting the Company's revenue model noted at AU$307 thousand and system rental revenues facilitating future revenue streams were AU$403 thousand
No requirement of further raising capital due to adequate cash availability
Planned reductions in operating costs
Cash receipts were impacted due to collection delays in late-March
Encountered an operational cash outflow of AU$532 thousand with AU$340 thousand net higher quarterly outflow than Q2
For Q4, the Company is expecting a minor reduction in recurring revenue, owing to the removal of broad scale monitoring services.
On 15 May 2020, SP3 traded on ASX at AU$0.055, down by 6.78 per cent from its last closed price with a market capitalisation of AU$4.46 million.
Gooroo Ventures Limited (ASX: GOO)
GOO is an Australia-based company that uses its patent-pending technology based on neuroscience & artificial intelligence to support organisations in making better decisions and value generation by providing a new meaning to the organisation's data. The Company uses its technology in the fields of marketing, human capital, and careers.
Quarterly Update: In April 2020, the Company released March 2020 quarterly shareholder update, highlighting the following
Raised $601k from Finnavate, with most of the proceeds planned to be directed towards payment of legacy expenses.
With partners and customers, the Company remained focused on building commercial proof-points for its existing technology.
GOO is also reviewing possible mergers and acquisitions with IT companies
GOO's recent activities:
On 4 May 2020, the Company announced to have issued 263,158 ordinary shares to Norvest Projects Pty Ltd. Also, Norvest converted 150,000 convertible notes
In January 2020, GOO updated regarding entering a term sheet with Finnavate for share subscription and software distribution in the US
LiveTiles Limited (ASX: LVT)
LVT offers intelligent workplace software for the education, government, and commercial markets. New York headquartered, LVT operates globally with products such as LiveTiles Intelligent Workplace, LiveTiles for SAP Software, LiveTiles Design, and LiveTiles Intelligence.
Q3 Operational Performance: Customer base of the Company grew to 1,068 at 31 March 2020 from 1,031 at the end of 31 December 2019. Average ARR (annualised recurring revenue) per customer was more than AU$51,500.
Financial Performance: At the end of 31 March 2020, LVT reported growth in its ARR of 60% to AU$55.2 million. The Company had cash on hand of AU$33.8 million at the end of quarter. Also, total customer cash receipts rose 109% relative to the corresponding prior period.
LVT closed at AU$0.230 on 15 May 2020, down by 2.128 per cent relative to the last closed price with a market cap of AU$212.02 million.
Must Read: Trending Techs of 2020