Summary

Technology has evolved into a saviour amid COVID-19 crisis, especially to the businesses relying on need-of-the-hour technologies, tapping opportunities to grow.
The coronavirus induced lockdown brought immense change in working style of people with demand for software and technology soaring up to support work from home trend across the world.
Recently, Xero released new search functionality on Xero's app marketplace and introduced new tax and compliance tools.
BNPL player Z1P is extending its reach outside Australia through expansion in the US market, with QuadPay's Acquisition. Also, Openpay announced A$33.77 million institutional placement to support its growth strategies.
COVID-19 has brought a paradigm shift in the way people work compared to pre-coronavirus period. The shift has created profound realignment worldwide, throughout industries, companies, countries, and people. The eruption of the pandemic coerced people into redefining their opinion, and the way they view facts.
For many companies related to banking, travel and tourism sector, COVID-19 pandemic induced lockdown created an adverse impact on their businesses. However, for many in the space of healthcare, retail, and IT along with the online business platform witnessed a boost in their businesses during the period.
Moreover, technology proved to be a boon during the crisis period, as many people with the help of technology completed their day-to-day activities, be it students, homemakers, office goers working from remote locations or old-age people. Many businesses providing technology services noted significant improvement in their revenue and opening of new prospects.
On that note, let us look at the three ASX listed technology companies that performed well during the period and go through their recent developments.
Xero Limited (ASX:XRO)
Xero Limited (ASX:XRO) is the provider of online accounting software for small businesses. On 4 June 2020, XRO stocks ended day's trade at A$89.38, reaching near its 52 weeks high price, up 0.056% from its previous close. However, on 5 June 2020, XRO was trading at A$87.32, down by 2.305% (at AEST 3:36 PM), with a market cap of A$12.69 billion.
Release of new search functionality on Xero's app marketplace:
On 4 June 2020, Xero declared the launch of search functionality on Xero's app marketplace, driven by enterprise SaaS platform Coveo. This new functionality would make it faster and simpler for small companies to discover the right apps to match their unique requirements.
There are over 800 third party applications that are connected to the platform. With this, Xero's app marketplace would be able to provide proposals built on a small business' profile when they log into XRO.
Launch of new tax and compliance tools:
On 2 June 2020, the Company unveiled new tax and compliance tools to assist Australian accountants and bookkeepers traverse the approaching tax season with their clients. The new tools are designed in a manner that helps advisors further help their clients who are operating from a remote location as the requirement for cloud-based solutions accelerates.
New features available for Australian advisors include:
Document packs: It makes it easier to arrange, send & sign tax returns and financial documents securely and digitally to conserve administration time during the tax period.
Chart of accounts templates: It speeds up client onboarding with new templates devised in association with the accounting community.
Automated business activity statements: It accelerates the development of business activity statement forms for clients and support track compliance requirements from Xero Tax or Xero Practice Manager
Outcome of assessment: Allows email alerts to advisors when their clients have got a Notice of Assessment from the ATO.
Zip Co Limited (ASX:Z1P)
Afterpay rival, Zip Co Limited (ASX:Z1P) is a leading player in the digital retail finance and payments industry with a market cap of A$2.32 billion (as on 5 June 2020). The Company provides point-of-sale credit & digital payment services to industries like retail, home, health, automotive and travel.
Acquisition of US-BNPL player, QuadPay:
Zip Co Limited has taken a step forward towards its global expansion, as the Company recently on 2 June 2020 announced that it signed an agreement to acquire the remaining shares in QuadPay Inc., which is a BNPL player based in New York, for scrip consideration.
QuadPay stockholders would be receiving ~119 million shares (fully paid ordinary), equal to the 23.3 percent of the issued share capital of the Company at completion. The acquisition of QuadPay entails an enterprise value of US$269 million or A$403 million.
The acquisition of QuadPay would give Z1P an access to the world's largest retail market. Post the completion of the acquisition, the Company (combined with QuadPay) would have operations across 5 countries, namely, AU, NZ, US, UK and SA with annualised TTV of A$3 billion, annualised revenue of A$250 million, 3.5 million customers and 26.2k merchants.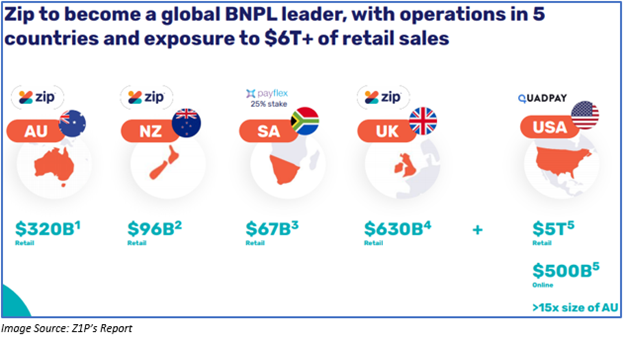 Agreement with CVI Investments, Inc.
Z1P Co has signed an agreement with Heights Capital Management which is an affiliate of the US-based Susquehanna International Group to raise ~ A$200 million via the issue of convertible notes and the exercise of warrants. The initial conversion price of the convertible notes is $5.53284.
Stock Information:
Z1P shares reached A$6.35 by the market closure on 3 June 2020 and reached near its 52-week high price. However, on 4 June 2020, the shares dropped 6.299% from the previous close. On 5 June 2020, Z1P last traded at A$5.60, declining by 5.882% from its last closing price.
Openpay Group Ltd (ASX:OPY)
Openpay Group Ltd (ASX:OPY) is a well-established entity in the fast-growing global market for BNPL payment solutions.
Announcement of A$33.77 million institutional placement:
On 4 June 2020, Openpay Group announced that it received inbound interest & binding commitments from new and current institutional investors to subscribe for 14,069,742 shares and raise ~ A$33.77 million by issuing each share at A$2.40.
The funds raised through placement would support the Company's growth strategies. It includes investment in -
Growing OPY's presence in its core markets of Australia & the UK.
Continuing product development continued improvement of its technology platform & decisioning engine.
Enabling strategic growth partnerships as well as alliances.
Growth of OPY's receivables book, and for general working capital uses.
Secured a New Debt Facility
On 1 June 2020, Openpay Group Ltd secured debt facility to provide growth funding of £25 million for its lately formed UK BNPL business with specialist technology finance provider GGC (Global Growth Capita).
As per the UK funding agreement, Openpay would be provided £10 million of committed funding and another £15 million on GGC's fulfilment of several terms. The new facility provided is for 21 months along with the existing $75 million debt facilities and has a maximum advance rate of 80%.
The new facility would support the Company's UK BNPL business. Other than the existing group of UK merchants, the Company launched with JD Sports (a £2.1bn UK-based retailer) recently, in May, which witnessed instant, positive uptake.
Trading Update:
Post the release of Q3FY2020 results, the Company observed strong growth across all top indicators through April and May. May 2020 was the strongest month in the Company's history. Total transaction value (TTV) increased to A$170 million for May FY20 year to date, which was A$87 million in May FY2019 year to date.
Stock Information:
OPY shares have shown a sudden spike in its price from 29 May 2020 till 4 June 2020. By the market closure on 4 June 2020, the shares skyrocketed on ASX by 16.225% and settled at A$3.51 approaching its 52-week high price of A$4.000. On 5 June 2020, OPY closed the day's session at A$3.10, down by 11.681% from its last close.