During the ongoing Earnings season, few pharma companies have reported decent sets of numbers, while most of the companies have posted quarterly loss added by higher R&D costs and higher capital expenditure due to establishment of new facilities. Let us have a look at few pharma players which are engaged in manufacturing medicines and medicine related products.
Mayne Pharma Group Limited:
Mayne Pharma Group Limited (ASX: MYX) is a speciality pharmaceutical company, engaged in developing innovative drug delivery systems and marketing of branded and generic pharmaceuticals. The company also operates in contract development and manufacturing services and has more than 100 global clients. The company has two R&D development facilities located in Salisbury, Australia and Greenville, USA. The company has a track record of formulating complex oral and different topical dose forms.
Reported FY19 financial numbers: On 23rd August, MYX reported its FY19 yearly figures for the year ending 30 June 2019, wherein the company posted revenue of $525.2m, down 1% pcp and reported a net loss of $280.8m. R&D expense during FY19 stood at $27.4m, increased 91% y-o-y. Marketing and distribution expense during the year came at $76.7m (+22% pcp) followed by $67m of administration expenses against $56.1 million in FY18. The company reported its underlying EBITDA at $130.9m, degrowth of 20% from previous corresponding period. Company's EBITDA was impacted due to higher investment in brand R&D and commercial infrastructure for Specialty Brands.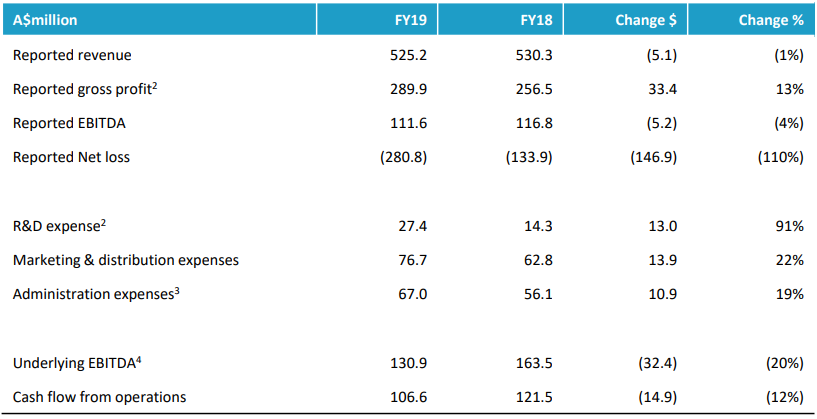 (Source: Company's Report)
MYX launched two speciality TOLSURA® (SUBA®-itraconazole) capsule and LEXETTE™ (halobetasol) foam in the U.S. market. The company also launched five generic products across the same market. US generic dermatology and women's health segment contributed more than 20% to the company's gross margin along with the growth of 24% y-o-y in USD terms. The company has successfully retained its market share across selected dermatology and women's health product markets.
The company operates in four operating segments namely, Generic Products, Specialty Brands, Metrics Contract Services, and Mayne Pharma International.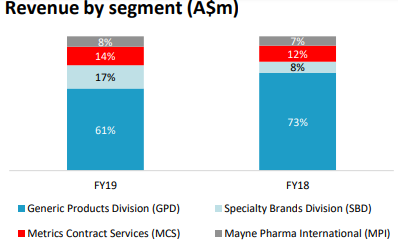 (Source: Company's Report)
Outlook: The management believes that the launch of TOLSURA® and LEXETTE™ will drive stronger sales in FY20. MYX is focusing on new generic product launches with significant cost reduction and intends to accelerate its Metrics Contract Services segment. The management expects improvement in operational efficiency across the women's health portfolio by assigning new contract manufacturers. The Company is targeting 8 new product launches by next year end, of which 2 are already approved with 2 having no generic equivalents.
Stock outlook: On 26 August 2019, MYX's stock is quoting at $0.495, down by 5.71% from the previous closing price (2:31 PM AEST). The 52-week trading range of the stock stands between $0.440- $1.425. Currently, the stock is trading near the lower end of 52-week trading range. The stock of MYX has given negative returns of 7.89% and 28.08% in the last three and six months, respectively. The market capitalisation of the stock is ~$831.04 million with a P/E multiple of 17.86x.
MGC Pharmaceuticals Ltd
MGC Pharmaceuticals Ltd (ASX : MXC) is a Europe based BioPharma company engaged in technical and clinical experience as well as commercialisation of medical cannabis products. The company is focused on R&D and distribution of high-quality cannabinoid-based pharmaceuticals products across Europe, North America and Australasia.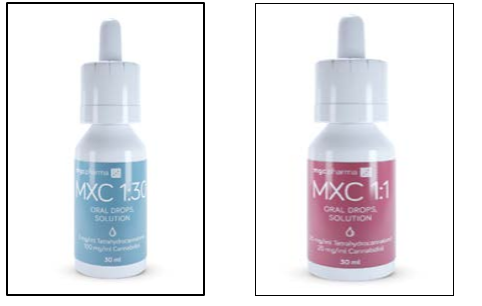 (Source: Company's Report)
Approval for trial of CannEpilTM: MXC, on 23rd August, confirms that the company has received approval from the Human Research Ethics Committee (HREC) to conduct a trial to assess the effect of CannEpilTM. The committee instructed that MXC should provide additional safety data required for the TGA and EMA product registration. The company will be conducting the trial with the Melbourne based Swinburne University of Technology and one of leading domestic medical cannabis player, Cannvalate Pty Ltd.
On 21st August 2019, the company informed that it had received secured commitments to raise $4.75 million by means of share placement to sophisticated and professional investors at an issue price of $0.04 per share. Further, MXC will undertake a Priority Offer of shares to eligible existing shareholders to raise up to an additional $1mn at the Issue Price. The above Issue Price was calculated on 30-day VWAP of $0.0538 before the trading halt on 19 August 2019 and available at 25% rebate. The holders of new shares issued under the Placement will hold the same rank along with the Company's existing ordinary shares held.
Stock update: The stock of MXC is quoting at $0.044 on 26 August 2019, down by 2.22% (3:04 PM AEST). The stock has given mixed returns of -23.73% and 12.50% in the last three and six months, respectively. At the current market price, it has a market capitalisation of $54.61 million. The stock is trading towards the lower end of its 52-week trading range of $0.032 to $0.081.
Cann Global Limited:
CANN Global Limited (ASX:CGB) is associated in legally growing and cultivating hemp and medicinal cannabis products across Australia. The company is engaged in mining exploration and evaluation, and of cannabis products.
Operational update: CGB recently met Dr. Benjamin Rosenstein, VP R&D of Pharmocann (Israel's cannabis company), at the Bio Health Facility in Sydney for inspection of the facilities. With Dr. Rosenstein's positive review, CGB is in discussion with Medcan Australia, Medical Cannabis Licensing management team partners and manufacturing partner Bio Health for the production of new range of Pharmocann Cannabis Nutraceuticals in Australia.
Update on Cash Flow Position: On 23rd August, CGB reported its Q4 FY19 cashflow numbers wherein, the company had $5.19 m of cash balance. Total cash used was $1.04m in operating activities and $14k in investing activities. Cash inflow from financing activities for the last three months of FY19 stood at $978k.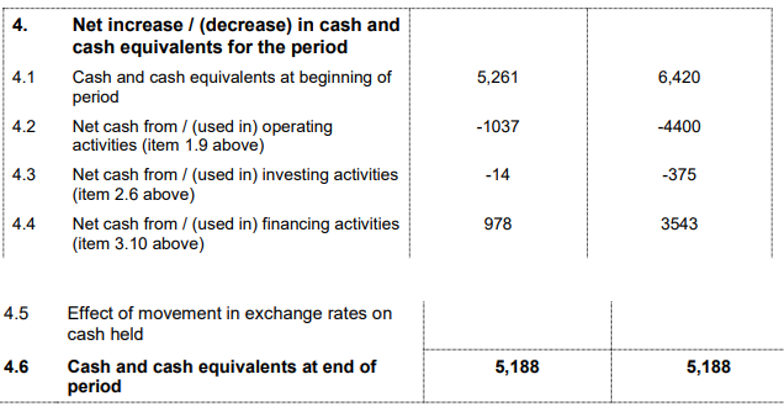 (Source: Company's Report)
Stock Update: The stock of CGB is quoting at $0.025, down 13.80% (as at 3:57 PM AEST, 26 August 2019. The 52-week trading range of the stock stood in between $0.024 to $0.033. Currently, the stock price is quoting at the lowest range of the 52-week trading range.
Oncosil Medical Limited:
OncoSil Medical (ASX : OSL) is involved in manufacturing medical device used for advance radiation in cancer treatment. The company's medical's front-line product, OncoSil™ is a targeted radioactive isotope (Phosphorus-32), implanted directly into a patient's pancreatic tumours via an endoscopic ultrasound. The U.S Food and Drug Administration (USFDA) granted an Investigational Device Exemption (IDE) during July 2016. USFDA also approved for a clinical study of the OncoSilTM device to collect safety-related data required to support a Premarket Approval (PMA) application.
With a market release on 23rd August, 2019, OSL posted its Appendix 4E and Full Year Statutory Accounts for FY19 wherein, the revenue of the company stood at $3,640,933 (FY18: $ 4,404,820). The company reported a net loss of $8,566,731 as compared to FY18 net loss of $ 8,539,542. Research expenses during FY19 stood at $5,576,351 versus $ 5,825,985 in FY18. The company reported cash and cash equivalent at $ 7,689,234 followed by Trade and other receivables at $ 3,819,044. Total current assets stood at $11,605,881 while Plant Property equipment stood at $ 62,466. Trade payables were valued at $ 767,608, with net assets at $10,675,136 during the June ended 2019. The company posted net cash used in operating activities at $7,501,154. While cash used for capital expenditure stood at $ 14,828.
(Source: Company's Report)
Stock update: Currently, the OSL stock is trading at $0.063 as on 26 August 2019, down by 4.6% from (as at 3:57 PM). The stock has given poor returns of -62.29% and -65/26% both in the six- months, and one year respectively. The market capitalization of the company stood at $41.63 million. The stock is trading towards the lower band of its 52-week trading range of $0.021 to $0.230.
---
Disclaimer
This website is a service of Kalkine Media Pty. Ltd. A.C.N. 629 651 672. The website has been prepared for informational purposes only and is not intended to be used as a complete source of information on any particular company. Kalkine Media does not in any way endorse or recommend individuals, products or services that may be discussed on this site. Our publications are NOT a solicitation or recommendation to buy, sell or hold. We are neither licensed nor qualified to provide investment advice.
With the pandemic continuing to affect the globe, healthcare companies are evaluating their lead compounds for COVID-19 treatment. Future revenue for these stocks depends on the probability of launching an approved treatment in the market.
CLICK HERE FOR YOUR FREE REPORT!