Global Healthcare sector is underlimelight amidst chaos created by coronavirus pandemic with several players tapping the market opportunity to look into treatment and prevention of the same.
To Know More, Do Read:Glaxosmithkline Plc Collaborate With CEPI For The 2019-nCoV Virus Vaccine
According to World Health Organization (WHO), the total number of confirmed cases of COVID-19 across the world is around8,27,419, while the number of deaths caused by it has exceeded 40,000 in more than 206 countries, as on 2 April 2020.However, on Tuesday, 31 March 2020, Australia reported a sustained drop in the rate of new cases ofCOVID-19 infections, althoughexperts and officials warned against complacency, stressing the need for further strict social distancing policies.Thiswill boost Australia's response toongoing pandemicand preserve the healthcare sector's capacity toresume hospital services post the outbreak.
Do Read:Ray of Hope amid Coronavirus- Potential Vaccine For COVID-19 is Underway
It has also been highlighted that the private hospitals would support the COVID-19 response through eventsbycatering public patients, carrying out elective surgery, and offering theatres and wards for ICU capacityexpansion. Moreover, the Government of Australia disclosed that it would pay half to integrate private hospitals into coronavirus response.
Incorporating a wide range of health services and facilities, the healthcare sector in Australia has the market size of ~$152 billion and is employing approximately 785,850 people.Not to forget, that the financial challenges have dominated global health care to distinct degrees. But the Government has moved the needle and has adopted the universal health care coverage and has announced pricing controls on pharmaceuticals and medical technology devices.
Let us now discuss the recent updates ofthe two ASX listed healthcare stocks- MVF, MSB
Monash IVF Group Limited (ASX:MVF)
An ASX listed and one of the world leaders in providing fertility solutions,Monash IVF Group Limitedis a pioneer in offering development of assisted reproductive technologies (ART) and prenatal diagnosis. Furthermore, the Company also actively supports R&D in ultrasound and reproductive medicine, and it has severalstate- of- the-art laboratories with cost-effective fertility treatment options in Australia.
Overview of the Company (as on 20 February 2020);
COVID-19 Update-
An update was given by Monash IVF Groupto the market on the effect of coronavirus pandemic on it. Subsequenttothe Company's COVID-19 update on 25 March 2020, the National Cabinet acting on the advice of the Australian Health Protection Principal Committee has temporarily suspended all nonurgent elective surgery, as updated by MVF on 1 April 2020.
The Company supports the National Cabinet's position and believes it is important to help ensure that Australia's healthcare system is best placed to fight the COVID-19 pandemic.
In the extraordinary environment and circumstances COVID-19 has presented, MVF considers it appropriate to defer the payment of the interim dividend until 2 October 2020 subject to further COVID-19 developments and the financial position of the Company at that time.
The deferral of the interim dividend is a prudent measure in the current environment. This decision has not been taken lightly and will assist in ensuring the Business is well positioned for the anticipated recovery.
On 25 March 2020, as Monash IVF Group notified the market, preventiveactions had been undertaken by the group in order to safeguard the health and welfare of its patients, along with the employees and doctors as well. The Company is constantly reviewing resources and its cost base and is taking decisive action to proactively manage the Business.
Currently the Company has headroom in existing banking covenants, a net debt position of nearly $90million including access to $25million of cash after completely drawing down on its $115million Syndicated Debt Facility which is not due to mature until January 2022.
Further, MVF highlighted that it is in conversations with its financiers for securing an additional working capital capacity and will update the market as appropriate.
Stock Performance-
On 2 April 2020,MVF stock was tradingat $0.442, declining by 1.778 percent with a market capitilisation of $106.1million (1:43 PM). The stock has a 52 weeks high price of $1.535 and a 52 weeks low price of $0.380, withapproximately 235.79 million shares outstanding. The P/E ratio ofMVF stock stands at 5.770x with anannual dividend yield of 11.33%.
Mesoblast Limited (ASX:MSB)
A Melbourne headquartered health care company Mesoblast Limited is a world leader in developing innovative cellular medicines. The Company has a strong emerging product pipeline for follow-on indications with 3 programs currently undergoing Phase 3 clinical studies. Mesoblast's lead product candidates which are under clinical investigation are-remestemcel-L, revascor, MPC-06-ID and MPC-300-IV.
Mesoblast has filed an application (biologics license application) to theFDA for approval of its drug candidate RYONCIL™ for treatment of steroid-refractory acute GvHD (graft versus host disease). If approved, RYONCIL is anticipated to be introducedfor pediatric steroid-refractory aGVHDin the US in 2020.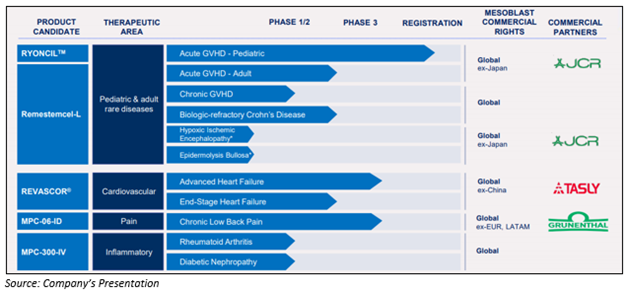 FDA accepted biologics licence application for RYONCIL™
On 1 April 2020, Mesoblast revealed that FDA or United States Food and Drug Administrationhas acknowledged for priority evaluationMSB's BLA or Biologics License Application filing for RYONCILTM , its allogeneic cell therapy for treating children with SR-aGVHD or steroid-refractory acute graft versus host disease.
The FDA has established a PDUFA or Prescription Drug User Fee Actaction date of September 30, this year and if granted, Mesoblast will make accessibleRYONCIL instantly in the US.

Clinical outcomes of mesoblast's cell therapypresented at ACC sessions
On 30 March 2020, the Company unveiled that Results from a sub-study of 70 patients with end-stage ischemic heart failure and a Left Ventricular Assist Device, of 159 randomised patients who received either allogeneic mesenchymal precursor cell product candidate Revascor® or saline, were presented on March 28 at the American College of Cardiology (ACC) Virtual Scientific Sessions.
The conclusions from the study were-
Mesenchymal precursor cells(MPCs) had a beneficial effect on left ventricular assist device weaning, serious adverse events, major mucosal bleeding as well as readmissions in ischemic heart failure patients;
These conclusions may reflect the effect of MPCs on inflammation,endothelial dysfunction (ED) andangiogenesis and warrant further clinical study.
Stock Information-
On 2 April 2020, MSB stock was trading at $1.515, up by 0.331% (at AEDT 1:42 PM), with a market capitilisation of $811.28million. The stock has a 52 weeks high price of $3.210and a 52 weeks low price of $1.020, with approximately 537.27million shares outstanding.
---
Disclaimer
This website is a service of Kalkine Media Pty. Ltd. A.C.N. 629 651 672. The website has been prepared for informational purposes only and is not intended to be used as a complete source of information on any particular company. Kalkine Media does not in any way endorse or recommend individuals, products or services that may be discussed on this site. Our publications are NOT a solicitation or recommendation to buy, sell or hold. We are neither licensed nor qualified to provide investment advice.