As the market is getting affected due to the renewed concerns, related to US-China trade war after the US President Donald Trump stated that the US would put the 10% tariffs on $300 billion of Chinese goods, currency depreciation and fall in the commodity prices; the space that is attracting investors includes real estates (REITs) and gold.
There is a demand for real estate stocks on the back of low interest environment. Since the interest rate is expected to decline further, these stocks have the potential to rise further. Stockland Corporation Ltd has shown strong performance in 2019 as YTD return was of 31.30%, GPT Group has given a return of 16.76% YTD and Mirvac Group has provided with the positive return of 45% YTD (as on 7 August 2019).
In the upcoming weeks, the major events that would dictate the market would be the review of interest rates by the central banks in Australia and New Zealand, and the issue of July trade and inflation data in China.
Stockland Corporation Ltd
Outlook for FY 19 & mixed third quarter performance
Stockland Corporation Ltd (ASX: SGP) is a leading Australian company that develops and manages property and its portfolio comprises of shopping centres, residential communities, retirement living villages, office and industrial assets.
For the first half of 2019, the company had distributed dividends of 14.1 cents per Ordinary Stapled Security (as announced on 17 June 2019), which reflects the full year 2019 distribution of 27.6 cents per Ordinary Stapled Security and a growth of 4% on FY18. This is in line with the forecasts, that was previously issued by the company.
On the outlook front, for FY 19 period, the company expects FFO per security to grow by approximately 5%. This is the lower end range of the company's forecast and is on back of weak market conditions. For Residential, the company expects the challenging conditions to prevail throughout 2019 and is on track for settlements to be above 6,000 lots in FY19. The company has more than 2,800 contracts on hand to be settled from FY20.
Moreover, during the third quarter of 2019, the company has divested non-core retail town centre assets of worth $284.5m of and intends to achieve the target of $400m target in one year. During the quarter, the Residential sales have fallen and are anticipated to be subdued in the calendar year 2019. The Retail leasing conditions continues to remain challenging and rental growth to be negative. For Workplace & Logistics during the third quarter 2019, the company delivered strong leasing results, maintains high occupancy and is progressing with its development pipeline.
Additionally, the company's share buy-back is doing well. The company has completed $169m of $350m target of share buy back at an average discount to NTA of 8%.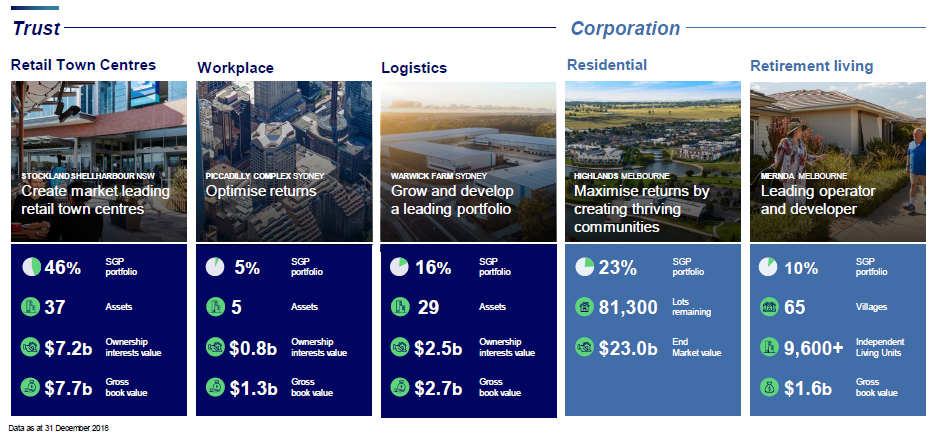 Quick Facts (Source: Company's Report)
Meanwhile, SGP's stock has given a positive return of 20.80% in three months as on August 7th, 2019. The stock of the company was at A$4.580, up by 1.104 percent from the previous close, with a P/E ratio of 17.60x.
GPT Group
Funds Raised & Development Plans
GPT Group (ASX: GPT), an infra construction company, is well known for the bridge construction from its foundation to completion.
As announced on 18 July 2019, GPT has recently raised A$800 million through the institutional placement of shares and A$66.8 million through Share Purchase Plan (though initial plan was to raise up to A$50 million through SPP). GPT's fund raised through equity would be utilised for the procurement of a twenty five percent stake in the Darling Park 1 & 2 office complex and Cockle Bay Wharf, Sydney (in combination, the two of them are called Darling Park). This acquisition is for an aggregate amount of $ 531 million. Some of the interest of this is also hold by GPT Wholesale Office Fund ("GWOF"). After the conclusion of the acquisition, GPT and GWOF would together hold seventy-five percent stake in the above-mentioned Darling Park 1 & 2 office complex and Cockle Bay Wharf situated in Sydney. Further, after the acquisition procedure is concluded, the company will get hold of 25 percent stake in the planned development of Cockle Bay Park. The development of this has recently received the approval for Stage 1 planning. This includes of development of ~63,000 square metres of premium office housing and the development of 10,000 square metres of retail and entertainment.
Moreover, GPT will use the funds raised for the company's growth pipeline in the office and logistics areas. The development pipeline comprised of development of 26,400 square metre facility at Truganina, Melbourne, which has development cost of $33 million. The company will be developing 20,500 square metre facility at Wembley Business Park, Brisbane. This has been pre-leased to an international logistics provider and the project has the development cost of $44 million. GPT is also developing a new 14,350 square metre facility, which is also at Wembley Business Park at the development cost of $25 million.
The company has obtained a fresh 50,000 square metre pre-leased logistics investment opportunity in Western Sydney zone. This is through a fund-through arrangement. GPT had already acquired the portfolio of logistics assets of $212 million in Sydney and will be delivering the office development of $266 million at 32 Smith Street, Parramatta. The Group intends to start the new development of office and retail at Melbourne Central in 2020.

Outlook (Source: Company's Report)
On 8 August 2019, the stock of the company, last traded at A$6.28, up by 1.29 percent from the prior close. GPT's stock has given a return of 9.15% in the last three months period, as on August 7th, 2019.
Mirvac Group
Outlook for FY 19 &20 And Funds raised:
Mirvac Group (ASX: MGR) is into the development of real estate and offers services for the asset management.
On 3 July 2019, the company notified that it had raised A$750 million through the fully underwritten institutional placement and has raised approximately A$46.2 million under Share Purchase Plan (planned to raise up to A$75 million). The company has raised the fund for utilising it in a new office, industrial, residential and mixed-use projects, for paying back debt and to fund its existing growth pipeline. The funds raised will also help in offering additional funding flexibility and in investments.
On the other hand, for FY 19 period, the company reaffirmed the guidance and expects the earnings per stapled security (EPS) to be 17.1 cpss or cents per stapled security, which reflects the growth of ~4% on FY18. This is at the top end range of the company's previous guidance projected to be in the range of 16.9 to 17.1 cpss. MGR has re-affirmed its FY19 guidance for DPS or distribution per stapled security and expects it to be 11.6 cpss, which reflects the DPS increase of 5 percent on FY18 period. Additionally, the company expects 2020 DPS to grow 5% and FY 20 EPS to grow more than 2%.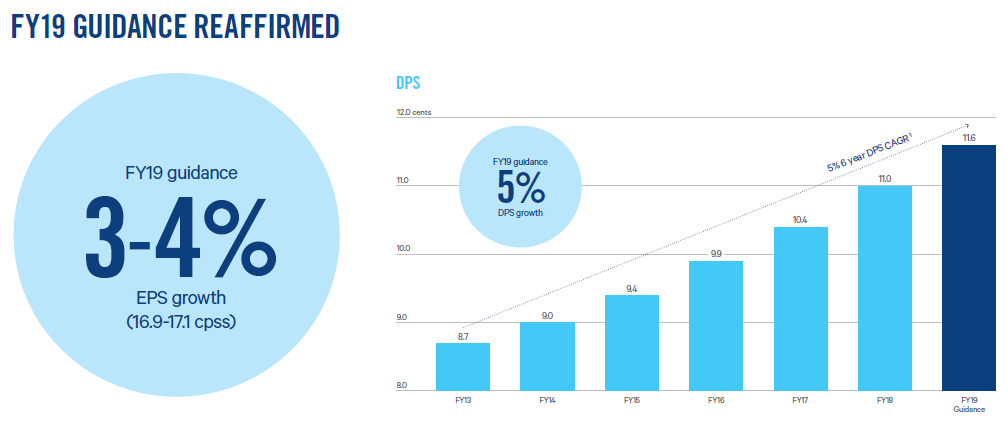 FY 19 Guidance (Source: Company's Report)
On 8 August 2019, MGR's stock was at A$3.4, by the end of the trading session, up by 6.583 percent from its earlier closing price. Meanwhile, MGR stock has provided with a return of 12.32% in three months period as on August 7th, 2019 and at a P/E of 9.27x.
---
Disclaimer
This website is a service of Kalkine Media Pty. Ltd. A.C.N. 629 651 672. The website has been prepared for informational purposes only and is not intended to be used as a complete source of information on any particular company. Kalkine Media does not in any way endorse or recommend individuals, products or services that may be discussed on this site. Our publications are NOT a solicitation or recommendation to buy, sell or hold. We are neither licensed nor qualified to provide investment advice.