A Real Estate Investment Trust (REIT) invests the funds from investors in the real estate market and functions like a managed fund, the difference being that the investments are comprised of property assets, not stocks or bonds. We are discussing few REITs which have been keenly tracked by investors:
The GPT Group
The GPT Group (ASX: GPT) comprises GPT Management Holdings Limited (GPTMHL) and General Property Trust (Trust). The company owns and manages a well-diversified portfolio of high-quality retail, office and logistics property assets worth $14 billion in Australia. Additionally, together with GPT's funds management platform, the group has $24.0 billion of property AUM (assets under management). Few prominent real estate assets owned by GPT includes the Melbourne Central and Highpoint Shopping Centre in Melbourne, Australia Square, 1 Farrer Place and Citigroup Centre in Sydney and One one one Eagle Street in Brisbane.
Capital Raising: The company recently announced that it has launched a fully underwritten $800 million Placement (Institutional Placement) to fund acquisitions and future growth opportunities along with a non-underwritten Security Purchase Plan ("SPP") to raise up to $50 million. Under the Placement, the issue price for new securities is fixed at $6.07 per security, which is a 4.1% discount to GPT's closing price on 18th June 2019. With the completion of the Placement, eligible shareholders will be offered the opportunity to subscribe for securities in GPT via a non-underwritten SPP, under which, eligible shareholders may apply for up to $15,000 of new securities. This SPP is capped at $50 million, which is subject to conditions. The SPP will be offered at $5.94 per GPT security.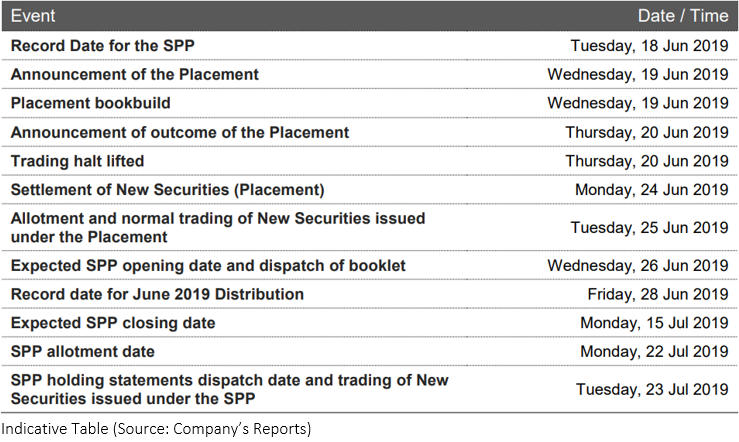 Acquisition of Darling Park 1 & 2 and Cockle Bay Wharf: The company also announced the proposed acquisition of a 25% stake in the Darling Park 1 & 2 office complex and Cockle Bay Wharf, Sydney. Total consideration for this acquisition is set at $531 million, which is planned to be funded by the Equity Raising.
In another announcement, the company lately published market updates for it operations in the 2019 March quarter.
FY19 Guidance Update & Balance Sheet Impact: The Management expects funds from operations per security growth to come at 2.5% on FY2018 and maintain a distribution per security growth at 4% on FY2018.
The company is independently valuing ~71% of the portfolio in the six months to 30th June 2019. The outcome of revaluations is likely to be a net revaluation gain of ~$102 million or 0.7%, with a weighted average capitalisation rate of 4.99%. With the acquisition of Darling Park and Institutional Placement, pro forma NTA (Net Tangible Assets) per security is likely to come in at $5.60 and pro forma gearing is forecasted to come down from 26.3% to 21.7% prior to the funding of identified development opportunities.
The stock of GPT last traded at a price of $6.330, with a price to earnings multiple of 7.870x as on 18th June 2019. Looking at the stock price performance, the stock has gained 25.10% in the one-year, with an annual dividend of 4.1%. The stock, at present, is trading towards its 52-week high of $6.340. The securities of GPT will be placed in a trading halt, pending it releasing an announcement.
Stockland
Stockland (ASX: SGP) owns, develops and manages an extensive portfolio, comprising of various real estate properties, such as shopping complex, residential communities, retirement living villages, office, etc. Stockland Trust Management Limited accounts for Stockland Trust.
Dividend: The company, on June 17, 2019, announced an ordinary dividend of $0.1410 per security with ex-date and payment date of June 27, 2019, and August 30, 2019, respectively.
Estimated Distribution for FY19: The company as on 17th June 2019, updated the market with an estimated distribution for the six months to 30 June 2019 of 14.1 cents per ordinary stapled security, which is equal to a full year distribution payment of 27.6 cents per ordinary stapled security, in line with the previously issued guidance of the company. The record date for determining entitlement is set at June 28, 2019, and the distribution payment date has been set at August 30, 2019.
3Q FY19 Update: Results Meet the street Expectations:
Commercial Property: The segment continued to post strong sales numbers across the retail town centres on the back of successful remixing strategy and a key focus on health, services, etc. Comparable speciality sales witnessed a growth of 3.8% for FY19 YTD at $9,253/sq. mt. The company started the construction of Baringa Town Centre worth $33 million at Aura community. On Workplace and Logistics portfolio front, the company experienced strong leasing activity with 376,000 sq. mt. leased for the FY19 till-date and occupancy level at 96%.
The company is in the process to deliver $740 million workplace and logistics development pipeline, which will lead the further growth of the portfolio to a projected 25% to 35% of the total assets in the upcoming next five years. During the quarter, the company has completed the 18,400 sq. mt. Willawong Distribution Centre in Brisbane.
Residential: Sales in the quarter came in at 26%, which was below 2Q and is expected to remain weak for CY19, given the current challenging market conditions. The company expects that the earnings will be visible over the medium term, with >2,800 contracts on hand for settlement from FY2020, however, the challenging conditions are expected to be continued in 2019.
Retirement Living: In the period, the improvement was continued in development sales, which was a result of new high-quality product choice and re-pricing strategies. Net reservations for established village saw a marginal downtick, however, continue to witness less instability in the retirement village sector as compared with the established housing market.
Outlook: The management expects FFO growth per security to come in at ~5% for FY19, (at the lower end of the guidance range), reflecting weaker market conditions. Distribution per security has been estimated at 27.6 cents, accounting for 4% growth on FY2018, with an assumption of no material change in the current market conditions.
At the current market price of $4.390, the stock is trading at price to earnings multiple of 16.780x, with an annual dividend yield of 6.23%. The stock is currently trading towards its 52-week high of $4.535 per share. The stock of the company has appreciated 28.41% on a YTD basis.
Cromwell Property Group
Cromwell Property Group (ASX: CMW) is a real estate investor and manager with its operations spread across 3 continents.The direct property investment portfolio for the company in Australia as at 30th June 2018 stands at $2.5 billion, with total AUM (assets under management) of $11.5 billion across New Zealand, Europe and Australia. CMW enjoys a strong balance sheet and long-dated Australian property portfolio, enabling the company to recycle assets and reinvest into its property investment and funds management businesses.
The company recently issued 5,148,107 fully paid stapled securities at the issue price of $1.12155 per stapled security. Consequently, fully paid ordinary stapled securities quoted on ASX stands at 2,236,642,691.
Australia: Direct property segment received a DA (Development Approval) for a $75 million value-add opportunity at Victoria Avenue. This development approval includes a new hotel with 157 rooms, with a related conference, guest, restaurant and other conveniences along with a new office building of 2,800 sq. mt. The Management expects work to start later this year. The company is likely to submit a Development Approval for a mixed-use development at 700 Collins Street in the upcoming months, which is expected to comprise of 13,000 sq. mt. of additional office space, a 182-room hotel, with a living/build-to-rent opportunity which is under consideration. The company experienced strong leasing outcomes in Sydney in previous months with ~10,000 sq. mt. being leased or renewed across the multi-tenanted assets at Kent Street, Northpoint and Chatswood.
United Kingdom: Cromwell is engaged in the preliminary confidential discussions with RDI REIT P.L.C. After due diligence, the company submitted a conditional proposal, subject to a short extension and RDI Board approval.
Europe: The company bought a 21,688 sq. mt. Pirelli Tyre R&D Facility in Milan, on behalf of a new capital partner from Korea for the value of €88 million. CMW is looking further for prospects with its capital partners in other European countries. A maximum chunk of the FUM (~50%) is long dated in nature, at present, and going forward, the management is confident enough to create substantial value.
Singapore: Cromwell holds a 35% stake in Cromwell European REIT (CEREIT), which is currently worth more than $400 million. This investment seems to be a value creator for Cromwell and CEREIT shareholders.
At the current market price of $1.230, the stock is trading at a price to earnings multiple of 10.20x, with earnings per share of 0.119 AUD. The stock is currently trading at the higher end of its 52-week range, which stands at $1.230. Its 52 weeks low price stands at $0.980. At CMP, the annual dividend yield for the stock stands at 6.21%, with a market capitalisation of $2.71 billion. The stock has appreciated ~22.84% on a YTD basis and 10.22% in the last one year.
---
Disclaimer
This website is a service of Kalkine Media Pty. Ltd. A.C.N. 629 651 672. The website has been prepared for informational purposes only and is not intended to be used as a complete source of information on any particular company. Kalkine Media does not in any way endorse or recommend individuals, products or services that may be discussed on this site. Our publications are NOT a solicitation or recommendation to buy, sell or hold. We are neither licensed nor qualified to provide investment advice.