The S&P/ASX 200 index fell 0.4 per cent or 25.3 points to 6903.70 and S&P/ASX 200 Health Care (Sector) slid 1.14% or 488.8 points to close at 43014.5 on 13 January 2020. However, today at AEDT 01:21 PM, the health care index bounced back, trading at 43,280.3, up 0.61% or 265.8 points.
In this article, we would be discussing three health care stocks with their recent ASX updates. All these stocks have delivered excellent returns in the last six months.
Genetic Technologies Limited (ASX: GTG)
A diversified molecular diagnostics company Genetic Technologies Limited (ASX: GTG) is a leader in offering cancer predictive testing and assessment tools, helping physicians proactively manage the health of patients. Genetic Technologies' two lead products namely – 'GeneType for Breast Cancer' for non-hereditary breast cancer and 'GeneType for Colorectal Cancer' are first in class and are clinically validated risk assessment tests. Presently, the company is in the process of developing a pipeline of risk assessment products.
Genetic Technologies' GeneType for Breast Cancer Available for Commercial Sale
GTG recently announced the availability of its product; GeneType for Breast Cancer at a commercial scale and its launch in the United States in twenty centres covering eight states.
World's 1st genomic test, GeneType for Breast Cancer combines the genetic information contained within the DNA with the mammography data and creates a powerful innovative tool in the battle with breast cancer to predict the risk of disease accurately.
The company is keenly looking for commercial partners all over the United States for the distribution of this product.
As per Dr. George Muchnicki, CEO of Genetic Technologies, GeneType for Breast Cancer represents the next generation of disease prediction. He further stated that the company is seeking to build on existing channels and is aiming to establish collaborations targeting commercialisation of the future of preventative medicine.
Genetic Technologies recently declared the full commissioning of its laboratory in Australia, facilitating sales of GeneType for Breast Cancer. The company is now well placed to respond to the pre-market interest in GeneType.
Corporate & Strategic Update at 2020 JP Morgan Biotech Showcase
It was further informed that some additional details with regards to the product launch including other company initiatives would be provided Genetic Technologies at the forthcoming 2020 Biotech Showcase to be held in San Francisco, California.
Gene Technologies' Commercialisation Strategy
Partnership: With an aim to reach out to as many lives as possible, the company seeks to build a robust network with genomics market leaders to integrate Genetic Technologies' tests into their testing platforms:
As an OEM/White label Test
Royalty based
Shared expense in prosecution of infringement of Genetic Technologies' IP
Clinics/CIT: In the first quarter of 2020, the company is expecting to launch its GeneType product line, which would be consumer initiated at $249 price point via leveraging existing clinician networks or pathology groups.
Genetic Technologies Foresees Exhilarating Year Ahead
Forthcoming catalysts intend to boost revenues and create shareholder value: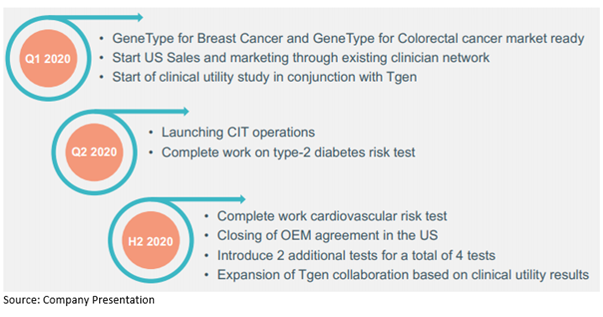 Stock Information
With a market capitalisation of $ 40.63 million and approximately 4.06 billion outstanding shares, GTG's stock was trading at $ 0.011 on 14 January 2020 (AEDT 01:25 PM). The stock generated a whopping return of 122.22% in the last three months and 53.07% in the last six months.
Actinogen Medical (ASX: ACW)
ASX-listed biotechnology company Actinogen Medical (ASX: ACW) develops novel therapies for cognitive impairment related to chronic neurological & metabolic diseases. Actinogen Medical is currently developing Xanamem, as a promising new treatment for Alzheimer's disease and cognitive impairment linked with schizophrenia & mood disorders.
Actinogen to Present at SACHS Neuroscience Innovation Forum and JP Morgan Week
In a recent announcement dated 08 January 2020, Actinogen Medical informed that the company would be presenting compelling results achieved with XanaHES, and the extended Xanamem dataset produced during 2019, at the 3rd Annual SACHS Neuroscience Innovation Forum. Additionally, the company would take part in several partnering meetings during JP Morgan week to be held in San Francisco, US, in January 2020. These participations offer the company an excellent opportunity to update the pharmaceutical industry and major global investors interested in neuroscience.
The latest developments related to Xanamem to be discussed at both events include: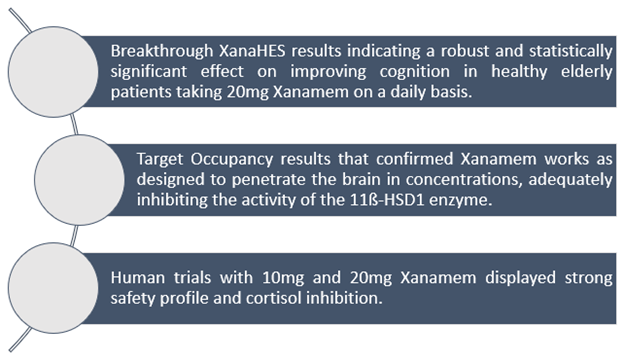 Stock Information
With a market capitalisation of $ 41.41 million and ~1.12 billion outstanding shares, ACW's stock was trading at $ 0.038 on 14 January 2020 (AEDT 01:26 PM). The stock generated an outstanding return of 311.11% on a six-month basis.
Total Brain Limited (ASX: TTB)
San Francisco and Sydney based company, Total Brain Limited (ASX: TTB) has developed and sells a mental health and fitness platform powered by neurotechnology, Total Brain, with more than 700,000 listed users. Its SaaS platform aid people in scientifically measuring and optimizing their brain capacities at the same time as managing the risk of common mental conditions. Productivity improvement and healthcare cost reduction are benefits for employers and payers across the U.S.
Total Brain Appoints Non-Executive Director
Recently, the company updated the market regarding changes in its Board. Total Brain Limited appointed David Daglio as a Non-Executive Director with effect from 13 January 2020, who would serve as a member of the Remuneration Committee. David replaced Ajay Arora, who stepped down as a Director after providing his invaluable contribution for the last 18 months in relation to the product upgrades and partnership strategy, effective from the same date.
A skilled institutional investment manager with 21 years of extensive experience with Mellon, a U.S. Asset Manager of $500 billion in assets. In Mellon, David most recently acted as Executive Vice President and Chief Investment Officer. He continues to be a Non-Executive Director of Mellon.
He and his team were winners of numerous awards for fund performance, as his investment process and style were conceived around recognising and eventually turning a profit from behavioural science and the way it influences investor behaviour, employee engagement and firm level profitability.
Mr Daglio has significant experience in the US institutional equity markets relationships. The new addition to the Board enhances its capital markets' experience and relationships.
Stock Information
With a market capitalisation of $ 66.77 million and ~953.88 million outstanding shares, TTB's stock was trading at $ 0.072 on 14 January 2020 (AEDT 01:34 PM). The company generated a whopping return of 159.26% on a six-month basis.
---
Disclaimer
This website is a service of Kalkine Media Pty. Ltd. A.C.N. 629 651 672. The website has been prepared for informational purposes only and is not intended to be used as a complete source of information on any particular company. Kalkine Media does not in any way endorse or recommend individuals, products or services that may be discussed on this site. Our publications are NOT a solicitation or recommendation to buy, sell or hold. We are neither licensed nor qualified to provide investment advice.