Summary

ABS latest data unveiled on 3 June suggested the contracted Australian economy in the March quarter by 0.3% (seasonally adjusted).
As revealed through a statement by RBA Governor, Philip Lowe on 2 June, RBA would keep the cash rate unchanged at 0.25%.
APT noted a solid business performance in Q3 FY2020, and strong foothold in the US market with above 5 million consumers (May 2020).
On 3 June 2020, the S&P/ASX 200 index closed the day's session climbing up by 1.83% to 5,941.60 points reflecting strong gains post absorbing the comments from RBA governor, released a day before and Australian GDP figure for March 2020, unveiled by ABS on 3 June. Moreover, on 4 June the same index was trading at 5999.2 points, higher by 0.97% (at AEST 2:48 PM).
Lately, the Australian Bureau of Statistics published figures for Australian GDP, which contracted by 0.3% (seasonally adjusted) in the quarter of March 2020 amid the lockdown caused by COVID-19.
Also, RBA Governor Philip Lowe commented that the economy of Australia was witnessing the biggest economic contraction since the 1930s. He further added that downturn's depth will be less than what was expected earlier, followed by an unchanged cash rate at 0.25%. The news was followed by the revival of the AUD wherein one AUD was buying 69.37 US cents (as on 3 June). However, on 4 June 2020, the currency has dropped, and one AUD was buying 69.01 US cents (at AEST 2:49 PM).
On the given backdrop, let us now look at some of the hot stocks listed on ASX.
One of the BNPL stocks that has seen a boost in contactless payment space during this period is Afterpay Limited (ASX:APT).
During the current times, social distancing is the mantra to stay safe. There has been a paradigm shift in the payment patterns as both the businesses and individuals have switched their payment preferences and mode of interaction. They have moved on from cash-based transactions to cashless payment methods such as tap cards, cryptocurrency, buy now pay later (BNPL), PayID and payment via smartphones.
Source: RBA
APT witnessed a strong business performance during the quarter ending 31 March 2020 (Q3 FY2020), and as per the Company's announcement on 21 May 2020, Afterpay had crossed 5 million active customers in the US, while ~9 million people joined the platform. The US market performance remained strong in Q3 FY20 despite the seasonally softer retail market.
Source: APT report
On the stock performance front, post bottoming out at AU$8.90 on 23 March, the stock of APT bounced back to AU$52.260 on 3 June 2020. On 4 June 2020, APT was trading at AU$ 52.44, up by 0.344% (at AEST 1:58 PM).
APT's competitor, Zip Co Limited (ASX:Z1P) is entering into the US market with acquisition of the US-BNPL, QuadPay (New York based entity). Also, Z1P raised up to US$ 200 million as a growth driver to add competition while accelerating its adoption by consumers and merchants.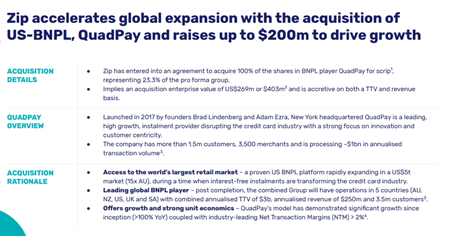 Source: ASX announcement
Z1P shares witnessed an increase of 22.115% and reached AU$ 6.350 on 3 June 2020. However, on 4 June 2020, Z1P dropped by 6.457% (at AEST 2:08 PM), and was trading at AU$ 5.94.
Did you read; BNPL Stocks Flying High on ASX; OPY zooms up by ~41%, Z1P surges up by ~20%
Iron ore is one of the commodities that has witnessed a strong rally across the globe amid COVID-19. Brazil and Australia are the largest iron ore suppliers to China and Brazil saw bad weather conditions causing damage to transportation and production side of the iron ore supply chain.
There has been a lag in the supply chain along with the fall in steel inventory across China. However, the price of steel got better both in the nation and global market, and is now persuading the steel mills in Chinese region to buy iron ore, further adding to the vigorous demand for it.
Fortescue Metals Group Ltd (ASX:FMG) had a booming demand for the products at the end of 31 March 2020 (Q3 FY20) with average revenue of US$ 73/dry metric tonne. Also, the overall shipment stood at 42.3 million tonnes with a hit of 9% against the previous quarter.
FMG upgraded FY2020 guidance for shipments between 175-177 million tonnes. Also, total capital expenditure guidance for FY20 is now revised to US$2.0 - US$2.2 billion from US$ 2.4 million, which reflects the expected timing of cash outflows on growth projects.
Also, a rise in the (realised price) for iron ore boosted FMG's financial position along with the updated guidance, support the market sentiment around it.
FMG was trading at AU$14.61, down by 0.341 (at AEST 2:20 PM), as on 4 June 2020.
Also, Read; ASX-listed Energy Stocks Good For Diversifying Sectoral Risk?
Mineral Resources Limited (ASX:MIN) is an Australian mining infrastructure services provider and into the integrated supply of goods and services, operating in the segments such as mining, mineral services and processing.
In the quarterly report ended March 2020, MIN noted the total iron ore production of 3.4 million wet metric tonnes (wmt) at the end of 31 March 2020 (Q3 FY20), an increase of 3% in comparison with the previous quarter (Q2 FY20) and up ~ 28% y-o-y. Iron ore shipments were down by 12% to 2.9 million wmt in comparison with Q2 FY20 and average revenue received per dry metric tonne iron ore during Q3 FY20 was US$ 75, 5% down from Q2 FY20.
During Q3 FY20, the joint project of MRL and Jiangxi Ganfeng Lithium Co., known as Mt Marion Lithium Project, had produced 111,000 wmt and shipped 99,000 wmt of spodumene concentrate compared to 124,000 wmt recorded in the earlier quarter period. Also, during Q3 FY20, Iron Valley produce rose by 20% to 1.7 million wmt versus Q2 FY20.
MIN stock was trading at AU$ 20.03, up by 1.934% (at AEST 2:32 PM) as on 4 June 2020.
Also, Read; Musgrave Minerals' Impressive Near-Surface Gold Intersections Fortify Starlight's RC Drilling Program
Australian renewable energy player, Infigen Energy Limited and Infigen Energy Trust (ASX:IFN) acknowledged the statement by UAC Energy Holdings Pty Ltd representing its aim to make an off-market takeover offer for the acquisition of all the Infigen stapled securities. Also, UAC has acquired an aggregate interest of 12.82% in Infigen Energy, and UAC Energy is aiming to make an all-cash takeover offer of AU$ 0.80 per stapled security of Infigen.
As soon as this announcement was released a considerable increase of 36.441% was seen in the IFN shares, at a price of AU$0.805 on 3 June 2020.
Also Read; Takeover Play for Infigen by UAC, Share Price Skyrocketed 33.051%
Infigen recently published its activity report for the quarter ended 31 March 2020 (Q3 FY20) and reiterated its FY 20 guidance which includes selling of ~1.9TWh of renewable energy generation by the end of FY20. Also, the Company restated that 100% of IFN's anticipated FY20 LGCs were contracted at an average sales price of AU$ 54 per certificate, Asset Operating Costs of ~ AU$50-55 million and Business Operating Costs of ~AU$25 million. Infigen had consolidated Net Debt of AU$ 454 million and unrestricted cash of AU$140million, as on 31 March 2020.

Source: Company announcement
On 4 June 2020, IFN was trading at AU$ 0.815, rising by 1.242% (at AEST 2:53 PM).