Summary

BNPL industry has grown multi-fold in the previous few years, offering simple, affordable and tech-based solutions.
AuMake, focused on delivering a contemporary shopping experience, has started supporting BNPL payment methods for e-commerce and in-store customers.
Splitit recorded a 321 per cent spike in May MSV, performing extremely well in North America and Europe, supported by strong partnerships with global e-tailers.
Openpay has received strong support from existing and new institutional investors for an AUD 33.77 million placement.
Buy Now Pay Later or BNPL, relatively new to the market, has revolutionised the payment systems industry. BNPL solutions enable customers to buy goods straight away and make the payment in instalments. Since its introduction, the BNPL space has secured significant update from both merchants and consumers.
Retailers and shoppers both are embracing the new fintech payment system, and as a result, the industry has expanded multi-fold. The number of users of at least 1 BNPL arrangement in 2015 was approximately 400,000, which increased to 2 million in the financial year 2018, according to a report by the Australian Securities & Investments Commission.
BNPL is a rapidly growing industry, and the COVID-19 crisis has only added to its growth, as now there is a high demand for contactless payments.
Afterpay Limited (ASX:APT) and Zip Co Limited (ASX: Z1P) are two prominent names in this segment, growing robustly on the increasing popularity of buy now pay later (BNPL) solutions. However, now many companies are entering this space and are expected to take the industry to new heights.
Do Read: Why Afterpay is on record Levels amid Coronavirus?
In this backdrop, let us discuss few ASX-listed companies in the related space.
AuMake Supports BNPL Payment System through Alipay and Tencent
Focused on delivering a contemporary shopping experience, AuMake International Limited (ASX: AU8) is a retailer that offers authentic and high-quality Australian and NZ products to Asian customers. Under the brand names of AuMake and Broadway, the Company operates 15 lifestyle stores, located in NZ and on Australia's east coast.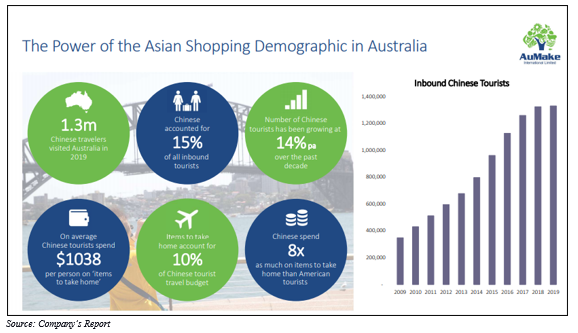 Apart from the brick and mortar store network, AU8 is growing in the online space through the Broadway Online platform. The online platform targets potential customers via the Company's travel network partners in China and the delivery of repeat product sales to tourists who have already been to its brick and mortar stores.
Must Read: The Changing Landscape for Retailers – AuMake Generates Online Sales worth $1.7 million Amidst Coronavirus Outbreak
Late-last week, AuMake announced that the Company now supports leading Chinese-owned BNPL payment methods for its e-commerce and in-store customers. Now, while doing shopping from AuMake, customers can buy using Alipay's BNPL "Huabei" feature. It allows shopping via the Alipay wallet to be paid using credit facilities. Huabei has more than 190 million users, with 93 per cent of them being the youngsters or below the age of 35. It also shows how popular BNPL is among the young generation.
IT giant Tencent is also developing its "Fenfu" BNPL credit feature, which is in the final stages of development. It will offer similar credit facilities to Huabei and could be used by its customer base of 1.1 billion.
BNPL has revolutionised the shopping experiences all over the globe, including China, and AuMake is pleased to support the BNPL service for growing online and in-store customer base.
AuMake is eyeing a younger Asian customer demographic that includes Free Independent Travellers segment, which is expected to grow in the post-pandemic era. The Company is committed to providing a contemporary shopping experience to the customers, and it will continue to assess initiatives that can add to such experiences.
On 10 June 2020 (AEST 11:17 AM), AU8 was trading at AUD 0.064, inching downward by 3.03% from its previous close, with a market cap of AUD 21.94 million.
Splitit Reports Merchant Sales Volume Growth of 321 per cent in May 2020
Splitit Payments Ltd (ASX: SPT) is a BNPL company that enables shoppers to buy goods and pay through an existing debit or credit card by breaking the cost into fee- and interest-free monthly instalments without additional applications or registrations.
The Company delivered MSV or Merchant Sales Volume of USD 25.8 million in May 2020 (USD 310 million annualised), up by a whopping 321 per cent as compared to May 2019, and up 39 per cent in April 2020.
In May 2020, North America MSV was up 336 per cent, while Europe MSV grew by 548 per cent as compared to the corresponding period of last year. The robust performance was supported by SPT's strong alliance with Canyon Bicycles, Nectar Sleep, Purple and other global e-commerce retailers.
With a total of 45K new shoppers added in April and May, total unique shoppers grew significantly to 290K. Active shoppers for 12 months increased to 136K, up by 27 per cent from 107K at the end of Q1 FY20.
Total number of merchants also grew from 862 at the end of Q1 to 964, up by 12 per cent. In May 2020, AOV stood at USD 939 from USD 737 in Q1 FY20.
SPT was trading flat at AUD 0.780 on 10 June 2020 (AEST 11:19 AM), with a market cap of AUD 274.84 million.
AUD 33.77Mn Institutional Placement to Further Boost Openpay's Growth
Openpay Group Ltd (ASX:OPY) is a well-established name in the BNPL sector. The Company teams up with merchants to offer buy now pay later repayment plans to customers for online, in-app, and in-store payments. Using OPY's BNPL offering, shoppers can buy anything and pay overtime without any interest cost. It operates in the markets of UK, Australia, and NZ.
OPY has announced to have received binding commitments and inbound interest from both existing and new institutional investors to subscribe for 14,069,742 shares, at an offer price of AUD 2.40 per share. The placement is targeted towards raising approximately AUD 33.77 million.
The issue price represents a 9.8 per cent premium to the 5-day volume-weighted average price (VWAP) of AUD 2.185 and a 12.1 per cent discount to the one-day VWAP of AUD 2.730. Also, there is a 20.5 per cent discount to the last closing price on 3 June 2020 of AUD 3.020, in context of over a 50 per cent increase in the Company's share price on 3 June 2020.
Funds raised through the placement will further be invested in growing the Company's presence in its core markets of UK and Australia, in addition to ongoing product development and facilitating strategic growth partnerships and alliances.
Recently, the Company also announced to have received up to GBP25 million in UK debt funding, while reporting its best month of growth during May 2020.
On 10 June 2020 (AEST 11:20 AM), OPY was trading at AUD 2.790, down by 4.778% from its previous close, with a market cap of AUD 274.83 million.
Interesting Read: BNPL Stocks Benefitting from the Boost in Contactless Payments- APT, SPT, SZL