Warren Buffet's flagship conglomerate Berkshire Hathaway Inc. was holding cash reverses of USD 128 billion as of 30 September 2019. And, this was despite the conglomerate purchasing stock worth USD 700 million during the quarter.
William Ackman or Bill Ackman, fondly known as "Baby Buffett", a prominent investor and CEO of Pershing Square Capital Management, who also runs Pershing Squares Holdings, Ltd.
Intriguingly, at the end of October 2019, Pershing Square Holdings, Ltd's USD 5,414.6 million portfolio consisted of companies from financials, industrials, insurance, restaurant, hospitality, RE Corp., and retail. On a YTD basis, the net performance of the portfolio is +46.6%.
Majority of the assets of the portfolio were allocated to companies with over USD 5 billion in market capitalisation, and a very small proportion was allocated to companies with a market capitalisation of above USD 1 billion.
More importantly, the portfolio is only holding long-only investments and with no short positions reported at the end of October 2019. Surprisingly, the portfolio is standing with positive returns for the first time in four years after recording negative returns in the past four years.
Clearly, the investment biggies of the world are hiding in cash or large cap investments further confusing the retail investors-who are seeking to find some direction in this liquidity charged global environment.
Growth Vs Value in Australia
MSCI Inc., formerly Morgan Stanley Capital International is an international indices operator based in New York City, United States of America. It is one of the most prominent index operators in the world, allowing investors to make informed decisions and providing transparency to the financial markets.
In Australia, few of the market participants have started to talk to about the shift to value, as they believe that the ongoing unprecedented run in growth may have fallen short of ammunition to fire further. For many good reasons, growth companies have outperformed value and benchmarks in the past five years.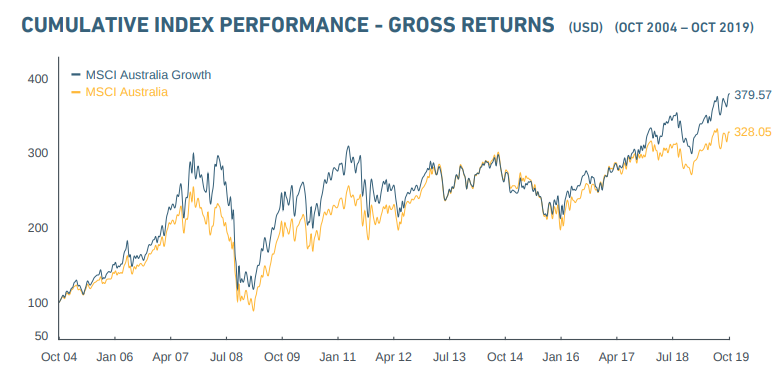 Growth Vs Australia Source: MSCI
In the past five years to 31 October 2019, based on gross annualised returns, the MSCI Australia Growth index (USD) has outperformed by MSCI Australia index (USD) by 3.31%. And, in contrast, MSCI Australia Growth index (USD) has outperformed the MSCI Australia Value index (USD) by 6.89%.
Value Vs Australia Source: MSCI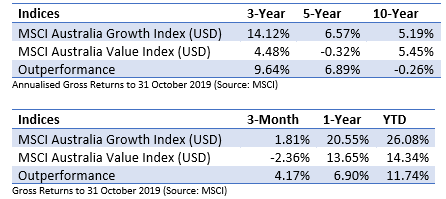 Growth Vs Value Source: MSCI
Moreover, the MSCI Australia Value index (USD) has only outperformed MSCI Australia Growth index (USD) in the past 10-year period based on gross annualised returns by 0.26%.
Australian Growth Firms
Commanding the highest median P/E among all capital markets in the world, the Australian growth firms might turn to sour flavours, as predicted by market participants. Despite multiple rate cuts in the US, the 10-year US treasury yield is inching towards 2 per cent mark, reaching a high of 1.945 per cent this month.
Increasing yields also indicate that there is sell-off in the bond markets; however, it is also equally important to note where is the money being headed out of the bond markets? Do investors prefer to hold cash to make the most when markets go extremely south? Or is it the time to catch flight for value investors?

Austria 100 Year Bond YTD Price Performance to 22 November 2019 (Source: Thomson Reuters)
As yields have plummeted on the year-to-date basis already, there has been substantial capital gains sitting in the pockets of bond investors (Ref above image: 100 year Austria Bond prices performance). The Austrian 100 Year bond has performed phenomenally well this year. And, the bond investors might prefer to take some profits, if yields go further lower.
The geopolitical uncertainty around the trade war, pose a wider risk to the movement in the yield curve. Not very long ago, the US ten-year treasury yield fell to a month low, after markets reacted to an anticipated delay in phase one trade deal between the US and China.
What is concerning for market participants in Australia is that the abundance of growth capital in the country.
Amidst such condition's questions do pop up:
Would the growth capital investors in the country follow the purported shift to value in the coming times?
And if the shift were likely, what is the fate of capital inflow into the Australian companies riding high on growth prospects?
Hold on, this might not be the end!
With interest rate-cuts already in play, probably, the times are approaching when the impact of these rate cuts in Australia could be seen. Moreover, the cyclicals may start to turn-up again slightly, as we are into the fifth month since the initial rate cut.
If cyclicals start to depict promising signs in the times ahead, then possibly, it could be a mid-cycle recovery. However, investors should carefully look at the recovery to avoid misrepresentation of the seasonal rise in some areas.
In addition, fiscal interventions are also highly desired at the present state of the economy as it would entice a wage growth story, stimulate the employment opportunities in the future, and thus the job gains.
The Commonwealth government could go all guns blazing as the country is posting a surplus in the trade, which is likely to add the government's ability to spend more. And, the government's policy measures for infrastructure development, productivity gains etc. would have positive ramifications to the whole country.
We should also appreciate the efforts of the Commonwealth Government that bought the personal tax cuts in July this year, as a part of its $158 billion plan for seven years. In addition, the first-home deposit scheme is set to kickstart in January next year, while Western Australian has a similar variant in place already.
Besides these, the economists in the country have given opinions to bring the scheduled 2022 tax cuts, under the $158 billion tax plan, to July 2020, meaning additional personal tax cuts for Australians along with an increase in disposable income.
Value Vs Growth
Investors should also note that growth is a component in deriving the value, impacting the results positively as well as negatively, stated Warren Buffet in his investment strategy – Growth at a reasonable price.
Investors looking to find value have to look for growth as well, and value and growth could not be parted sideways. Value stocks present value because prevailing trading prices of such stocks are relatively lower than the perceived intrinsic value by a value investor.
Conventional wisdom has always suggested that value stocks usually trade at a lower price-to-earnings ratio, lower price-to-book ratio compared to the similar companies in the space.
However, it could be a perception, belief or approach of an investor where he/she sees the value.
Investors like to have growth, and investment should yield better than the prevailing rate of inflation in order to maintain growth in purchasing power terms. Father of Growth Investing – Mr Thomas Rowe Price had stated that the earnings per share growth should be in excess of the prevailing rate of inflation in order to qualify as a growth stock.
However, the inflation levels are not similar like we had when Mr Price was active. Moreover, the inflation rates across the globe have come down significantly in the past 60 to 70 years. It is due to the fact that economies have become more efficient, more productive, more educated, and markets with asymmetric information are lesser than we had 60 to 70 years ago.
Value stocks may include stocks that are heavily discounted in the market in terms of the market price. A value investor usually finds investible opportunities when a turnaround is possible in such stocks, based on his/her beliefs or approach about the investment.
An investors' approach, perception, belief, thesis, theory and whatnot decide what's value for him. And, maybe sometimes, growth is where an investor finds value.
Are rich valuations justified?
The WAAAX basket comprises of, WiseTech Global Limited (ASX: WTC), Appen Limited (ASX: APX), Altium Limited (ASX: ALU), Afterpay Touch Group Limited (ASX: APT), and Xero Limited (ASX: XRO).
These stocks have delivered substantial gains on the year-to-basis. However, markets usually don't like rich valuations amid a wider sell-off. And, short-activist investors haven't been pleased with the financials of one of the stocks in the WAAAX basket.
How are shorts positioning?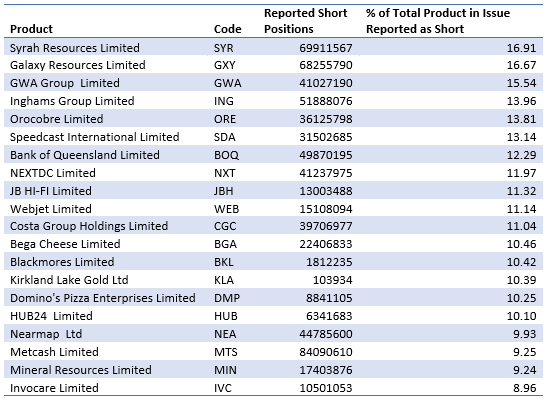 Most Shorted Stocks as of 18 November 2019 (Source: ASIC)
According to ASIC short positions report as of 18 November 2019, it appears that the market is extremely bearish on some lithium stocks, consumer staples, consumer discretionary, and technology, as these stocks are seeing build-up of short positions. This possibly reflects the nosediving medium-term lithium price forecasts, rich valuations, sluggish macro-fundamentals.
However, investors who intend to go contrarian and sell short the high value stocks should clearly understand that the market could stay irrational for longer duration than they could anticipate. This was beautifully summarised by the famous British economist John Maynard Keynes.

---
Disclaimer
This website is a service of Kalkine Media Pty. Ltd. A.C.N. 629 651 672. The website has been prepared for informational purposes only and is not intended to be used as a complete source of information on any particular company. Kalkine Media does not in any way endorse or recommend individuals, products or services that may be discussed on this site. Our publications are NOT a solicitation or recommendation to buy, sell or hold. We are neither licensed nor qualified to provide investment advice.