COVID-19 pandemic, which has been ravaging the world over the past three months, has brought the global economy to a standstill. The governments across the globe are dealing with this biological disaster, which has resulted in a financial breakdown due to sector-wide closures, production shutdowns, job loss and decrease in purchasing capacity.
With the rising number of COVID-19 by each passing day, the medical community and the first responders in every corner of the world are still struggling to treat the massive number of infected patients while staying safe themselves. This pandemic has resulted in overcrowded hospitals, scarcity of critical medical equipment's and more importantly, induced fear and panic across the globe.
ALSO READ: Search for COVID-19 Vaccine; Top 10 Names Across the Globe
It is said that crises always create opportunities for innovation. In order to deal with this level of pandemic, e-health has entered as a game-changer as it is critical in the process of flattening the curve of infections and at the same time limiting the spread of the virus and assisting in the treatment of infected individuals.
In recent months, as the pandemic exaggerated, the health-care community has switched to telehealth or e-health for help.
Let us delve deep-
In late March 2020, Australian government announces the expansion of telehealth services across the country. The government of Australia has been consulting extensively with the Australia Medical Association (AMA), Royal Australian College of General Practitioners (RACGP), ACCRM, RDAA, and other crucial peak bodies and associates of the medical and health profession in Australia, to ensure Medicare is responsive to the challenges during COVID-19 pandemic.
Coronavirus Puts Telehealth in Attention
Telemedicine or telehealth or e-health has been playing a crucial part in the battle against the pandemic. Telemedicine helps medical professionals for diagnosing, evaluating, and treating patients in remote locations through the use of telecommunications technology.
Now let us discuss artificial intelligence (AI), which has been serving a significant role in detecting the spread of the virus. AI-led telemedicine services are very much part of ongoing efforts for improving the healthcare services. As per an eHealth observatory survey conducted by the World Health Organization (WHO), artificial intelligence in the telemedicine field is directly supplementing innovations in the areas of tele-radiology, tele-pathology, tele-dermatology and tele-psychiatry.
ALSO READ: COVID-19 creates an opportunity for drone technology
Artificial intelligence is Empowering Telemedicine
Remote patient monitoring is another form of AI technology that has been helping health care professionals to carefully monitor patients while assuring their protection. Remote monitoring of the patient is a technique of healthcare delivery that uses the recent advancement in information technology for collecting the data from the patient.
In view of the ongoing pandemic, FDA has already approved the expanded use of remote monitoring technologies for decreasing the hospital visits, and hence diminishing the exposure to the virus and lessening the burden on healthcare service providers.
Medical robots prove to be a game-changer amid the coronavirus pandemic and have been helping physicians along with medical practitioners to communicate with a patient through a screen. Medical robots are equipped with a stethoscope that permits doctors to take the vitals of patients. This, in turn, reduces the risk of spread of viral infection among the staff in the hospital.
Genome sequencingcould be extremely valuable during uncertainty as with evolving technology, researchers will be able to do speedy sequencing for the genome of pathogens and the rate of discovering adequate therapies would also fast-track, thereby saving more lives in the process.
Now let us discuss three ASX listed stocks focusing on Telemedicine- 1ST, ONE, RAP
1st Group Limited Launched Integrated Telehealth & Telehealthclinics.com.au
ASX-listed leading digital health group 1st Group Limited (ASX:1ST) connects consumers to a variety of healthcare services providers and information.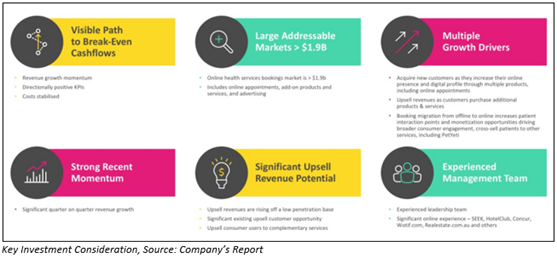 According to an ASX announcement dated 15 April 2020, the Group launched an integrated, clinically validated telehealth solution, which comprises "Telehealthclinics.com.au" directory powered by MyHealth1st, at the requests of its customers and in response to support Australian government for combating COVID-19.
Moreover, the Group disclosed that its healthcare customers and their staff are the frontier in leading the fight against COVID-19 and services via telehealth are safe, effective, and convenient.
On 29 April 2020, the Company disclosed its quarterly report for March quarter (ended 31 March 2020), highlights are-
On cash flow front- The Annual Recurring Revenue (ARR) increased by 6.5% on the previous quarter to nearly $5.26 million. The group has a strong financial position with available funds of nearly $3.4 million.
On operational front- The group launched integrated Telehealth & Telehealthclinics.com.au to simplify the experience for Australians in finding and using Telehealth services. The consultations started in April, and the group notified that it would deliver new usage fee revenue from Q4 onwards.
1ST stock improved by 3.333% to $0.031 on 13 May 2020, with the Company boasting a market cap of $12.74 million and ~ 424.62 million outstanding shares on ASX. The stock has delivered a positive return of 11.11% in last one month.
Oneview Healthcare's Digital Solution in Response for COVID-19
ASX-listed interactive healthcare technologies provider Oneview Healthcare PLC (ASX:ONE) is engaged in offering the services to patients, families and caregivers. The technology of the Company weaves a facility's existing unlike systems into a single unified platform, allowing healthcare facilities to involve patients in meaningful ways, advance communication, as well as streamline clinical workflows.
In mid-April 2020, the Company revealed that it had received first orders for new tablet, which is a cloud based solution, for COVID-19. Oneview Cloud is the new tool provided by the Company that intends to assist medical professionals in managing patients who are hospitalised in a better way during and after the pandemic by enabling visits, virtual rounds, as well as interpretation services.
The tablet would also offer patients with up-to-date information related to COVID-19 pandemic and the information from education and entertainment sectors like the content offered by Amazon Prime and Netflix.
On 13 May 2020, ONE stock closed the day's trading at $0.052, with a market capitalisation of nearly 9.18 million and 173.21 million outstanding shares trading on ASX.
ResAppDx-EU Under Evaluation at COVID-19 Respiratory Clinic
ASX-listed leading digital health care player ResApp Health Limited (ASX:RAP) offers smartphone-based applications for management and diagnosis of respiratory system related diseases. ResAppDx-EU is ResApp's diagnostic kit for detecting acute respiratory disease, and it has Therapeutic Goods Administration (TGA) grant in the Australia and CE Marked in the European Union.
According to an ASX announcement date 11 May 2020, ResAppDx-EU, a smartphone-based diagnostic kit by ResApp has been under evaluation at the COVID-19 respiratory clinic in Brisbane, that is funded by Federal Government.
It is noteworthy to mention that to assist during the COVID-19 pandemic, the Company has now offered the clinic a license for the clinical use of ResAppDx-EU without any cost through to 1 September 2020.
This smartphone-based diagnostic kit is being used by healthcare professionals at the clinic to triage patients who present with respiratory symptoms and helping in the identification of the severity of illnesses such as asthma and COPD exacerbations, lower respiratory tract infections, and pneumonia.
On 13 May 2020, stock of RAP fell by 2.857% to close the day's trade at $0.170, with the market capitalisation of $128.65 million and nearly 735.12 million outstanding shares on ASX.
Note: All currency in the above article is in Australian Dollar, unless otherwise specified.