So far this year, technology sector has aided to drive worldwide markets and the trend is expected to persist for some time. From unveiling of innovative latest technologies to the implementation of their large scale know-how, the sector is expanding enormously.
The sector seems to be riding high backed by the strong growth prospects and is seeing a continuous implementation of artificial intelligence (AI), machine learning (ML), deep learning (DL) capabilities.
The Australian government has set aside ~$30 million for the development of nation's AI sector and other emerging technologies. The implementation of AI technology can be seen across different sectors including healthcare, banking &finance, aerospace, communication, e-commerce, etc.
S&P ASX 200 inched up 76.5 points (1.1%), closing at 6683 5 December 2019 with the positive sentiment building across global trade scenario and RBNZ ruling requiring major Aussie banks to lift their 'tier 1' capital ratios to 16 % of risk-weighted loans. This would mean additional $NZ23 billion to be held in New Zealand to shield its economy from a banking crisis.
The technology sector soared the most, up by 1.44% to 1427.7.
From a global perspective, the Technology Select Sector SPDR Fund have recorded a growth of ~41 on a year-to-date basis. Whereas, Dow Jones Industrial Average and S&P 500 went up ~18.5% and ~24%, respectively, over the same time period.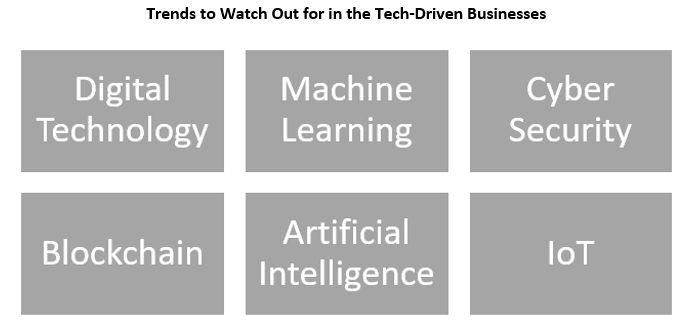 The coming of 5G wireless networks appears encouraging, facilitating the low-level latency wireless broadband services along with faster speeds. Notably, 5G networks is ten times faster than 4G networks. Therefore, companies which provides radio-frequency chips are truing more towards this wireless connectivity and is well set to drive the 5G tide.
Besides, the ever-growing demand to secure cloud platforms, amidst increasing instances of cyber- hacking and attacks, drives demand for this sector. The latest economy is shielded from cyber-security threats and Australia is considered as a hub for worldwide competitive cyber security industry. The increasing Cybercrime is likely to cost more than $1 billion to Australians every year.
In addition, we note that companies are seeking to create a powerful ecosystem of digital specialists to assist clients in an enhanced way across all verticals in addressing their needs for digital transformation.
Furthermore, the blockchain technology is being quickly implemented by a plethora of industries through the initiatives commenced by tech companies. It is quicker than the legacy technologies and boosts smart payment systems, safeguard financial transactions, modernize government agencies and institutions coupled with identifying critical illnesses.
Finally, the increased execution of AI and machine learning to automate business practices all is also driving the technology sector.
Top Picks
We have, therefore, selected two technology companies that are well-poised to gain from the aforementioned trends.
Appen Limited (ASX: APX)
Founded in 1996, Appen Limited is a provider and developer of quality data solutions for artificial intelligence and machine learning and artificial intelligence applications. The company has a hold of knowhow over 180 different languages, more than 1 million expert contractors, and a strong foothold in the innovative AI-based data annotation platform in the industry. The company's solutions aid the security, quality and speed required in global automotive technology, retail, financial services and manufacturing.
The company recently issued an announcement referring to 1.15 million fully paid ordinary shares scheduled to release from escrow on 09 December 2019.
Strong FY19 Financial Performance
The company recently reported its financial presentation for the half year ended 30th June 2019 with the following key-takeways:
Financial Summary (Source: Company Report)
Cash balance for first half of FY19 came in at A$70.8 million as compared to A$23.6 million in the year-ago period. Cash flow from operations for the period was $31.8 million, up from $14.5 million reported in the year-ago period.
Outlook for FY19
The company upgraded FY19 earnings guidance, now expecting underlying EBITDA for FY19 to be in the range of $96 million to $99 million, up from the previous guidance of $85 million - $90 million.
The company expects FY19 earnings to benefit from higher monthly relevance revenues and improving margins. The Company reiterates its prior ARR guidance for FY19 to be in the range of $30M - $35M (at A$1=US$0.74).
Appen Limited has a market cap of $2.74 billion with ~ 120.98 million outstanding shares. The company's stock closed at $22.990, up by 1.37% relative to the previous close on 5 December 2019.
The Citadel Group Limited (ASX: CGL)
The Citadel Group Limited is a software and technology company that is involved in providing secure enterprise information management in order to boost decisions making process across the Health, National Security, Defence and Other organisations.
Shareholders' Update
One of the directors in the company, Mark McConnell acquired 51,530 ordinary shares (Indirect interest) at a consideration in three parts: 37,252 ordinary shares for $3.8742/ share, 4,375 shares at $3.88/share and 9,903 at $3.91 per share.
Another director in the company, named Anne Templeman-Jones acquired 3,333 shares at $3.60/share.
Director Peter Leahy AC acquired 10,000 ordinary shares (Direct and indirect interest) at a value consideration in four parts: 3,500 at $3.55 per share, 2,500 at $3.59 per share, 2,901 at $3.60 per share and 1,099 shares at $3.61 per share.
With 5 years of experience in The Citadel Group Limited, Mr Kevin McCann AM, the Chairman of the company has opted to resign from its post and also as director of the Company.
FY19 Financial Highlights
The company recently reported its financial presentation for FY2019:
In FY19, Software/SaaS Revenue recorded a surge of 23% year over year and came in at $34.2 million. The upside can be attributed to higher investments along with the development of software and platform resources.
On a segmental basis, health and technology revenue increased 7.1% to $19.6 million and 20.7% to $35 million, respectively, on a year over year basis. However, knowledge segment revenue plumped 25%.
Gross profit margin was 45.5% as compared to 52.1% in the year ago period.
Cash and cash equivalents came in at $14.021 million at the end of FY19.
Total debt for the period was $12 million.
Financial Summary (Source: Company Report)
Outlook:
For FY20, the company expects a positive return to revenue and EBITDA. It expects a Low double digit Growth in organic revenue. Margins are expected to be in line with FY19. Further, it expects Noventus contribution to be $18m in revenue and $2m in EBITDA.
The company is devoted towards protecting people and data secure. CGL expects to create long-term value for its shareholders. The company expects growth in recurring SaaS and software-based services revenue on the basis of greater implementation of Citadel 2.0 strategy.
The Citadel Group Limited has a market cap of $200.68 million with ~ 49.31 million outstanding shares. The company's stock closed at $4.180, up by 2.7% relative to the previous close on 5 December 2019.
---
Disclaimer
This website is a service of Kalkine Media Pty. Ltd. A.C.N. 629 651 672. The website has been prepared for informational purposes only and is not intended to be used as a complete source of information on any particular company. Kalkine Media does not in any way endorse or recommend individuals, products or services that may be discussed on this site. Our publications are NOT a solicitation or recommendation to buy, sell or hold. We are neither licensed nor qualified to provide investment advice.