Australia has a huge concentration of elderly population, and as per Australian Institute of Health and Welfare, 15 per cent of the total population of 3.8 million Australians were 65 years and above in 2017. This means that 1 out of every 7 Australians is an aged citizen, and around half of them are women. The proportion is projected to grow steadily over the coming decades, partly due to an increasing life expectancy and demands retirement safety and fulfilment of financial needs.
Adhering to the needs of this considerable proportion of old-age citizens in the country, Australia has been pursuing a three pillar approach to the provision of retirement incomes, which consists of tested and publicly funded Age Pension, Superannuation Guarantee arrangements and voluntary private savings especially for the low income earners.
Superannuation in Australia: According to the Australian government, the objective of superannuation is to give retirement savings for the Australians, that would boost their complete retirement income, taking it to more than the Age Pension individually would offer. The concept of superannuation in Australia dates back to the 19th century, when the Private superannuation was provided to the salaried, rather than white-collared employees. The Compulsory superannuation commenced as a part of the 1985 Prices and Incomes Accord. The concept has undergone various amendments ever since. In 2019, the Superannuation Guarantee reached 12 per cent. It is anticipated that by 2024, the preservation age would reach 60.
Finance in Australia: The financial system in Australia comprises of arrangements that address the lending and borrowing of funds along with the transmission of possession of financial claims. ADI's, banks, financial markets (debt, equity and derivative), payment systems (cash, cheques, EFTPOS, RTGS), life and general insurance- all form part of the Australian financial system.
Of late, the world economy is facing confluence of risks, which has left its mark on individual countries. The UN believes that the Global growth is expected to remain at 3 per cent throughout 2019 and 2020 period. As expressed by the Reserve Bank of Australia, which is the country's central bank, the Australian financial system has remained resilient and its ability to withstand shocks continues to strengthen amid these volatile times. Positive steps are being taken in the Royal Commission Era, along with the APRA's reforms, to address deficiencies around the financial culture and governance of the country. Misconduct in the Banking, Superannuation and Financial Services Industry, which is a challenge to the economy is being presently highlighted and fixed in all the affected institutions.
Let us have a look at 5 Superannuation and Finance Companies, CGF, WBC, AMP, FXL and HUB, which are listed and trading on the ASX, and understand their stance amid the dynamic situation of the Australian economy:
The below table highlights the key achievements of the companies in discussion, during 2019: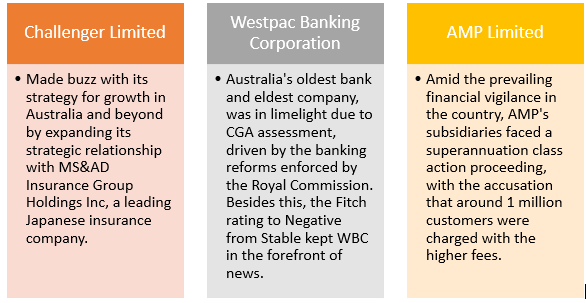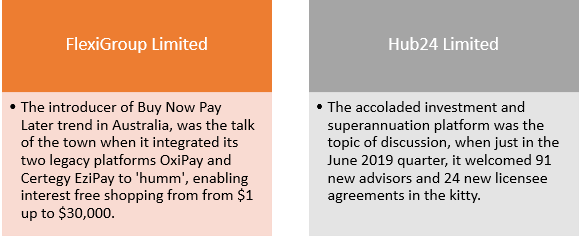 Let us now understand the nature of the business that these companies adhere to, and the products and services that they provide:
Challenger Limited
A multi-faceted financial services organisation, with core businesses in annuities, funds management and administration platforms, Challenger Limited (ASX: CGF) is Australia's largest provider of annuities. CGF caters to over thousands of Australian retirees, providing them with the dependable and certain income payments, whilst protecting them against adversities of the market and risks pertaining to inflation.
CGF Products: The company's product range includes fixed income managed funds, lifetime annuities, aged care solutions, superannuation products and term annuities.
Westpac Banking Corporation
One of the Big Four banks of the country, Westpac Banking Corporation (ASX: WBC) is the country's first bank and oldest company with over 13 million customers. It is one of the largest banks in New Zealand as well and has a portfolio of financial services brands and businesses.
WBC Divisions: Its five customer-facing divisions include Consumer Bank, BT Financial Group Australia, Business Bank, Westpac New Zealand and Westpac Institutional Bank. Besides these, the Group has divisions of treasury, group technology and core support.
AMP Limited
A renowned wealth management company, AMP Limited (ASX: AMP) was established over 170 years ago in Australia and has wide clientele in Asia, the Middle East, Europe, the United Kingdom and North America, with the goal to aid customers in managing their finances and accomplish their goals.
AMP Solutions, Services and Businesses: The company offers solutions and services in the varied fields of financial advice, investment management, life insurance, superannuation, retirement income, self-managed superannuation funds, investing and banking. The business wing of the company includes Australian Wealth Management, AMP Bank, AMP Capital, Sold Businesses and New Zealand Wealth Management.
FlexiGroup Limited
A diversified financial services group, FlexiGroup Limited (ASX: FXL) provide a wide range of innovative finance products to individuals and businesses. The company operates in ANZ and Ireland. Few of its partners include of Flight Centre Travel Group, Harvey Norman and AGL Solar. In 2019, the company inked a fresh product partnership with New Zealand's Farmers- the biggest department store chain.
Services Offered: The company offers consumer and commercial leasing, interest-free finance and no interest ever payment plans.
HUB24 Limited
Providing a comprehensive range of investment options, with enhanced transaction and reporting solutions, HUB24 Limited (ASX: HUB) is known for its award-winning platform solution, which enhances the value for money and customer experience and provides a technology for advisors to manage and add value to their clients.
HUB's Subsidiaries: The wholly-owned subsidiaries of HUB24 Limited include HUB24 Custodial Services, Agility Applications and Paragem.
Having acquainted ourselves with the companies, lets take a quick look at their latest stock performance, as on 12 August 2019 (at AEST 12:52 PM):
| | | | |
| --- | --- | --- | --- |
| Company | Stock Price (A$) | Stock Performance (%) | YTD Return (%) |
| Challenger Limited (ASX: CGF) | 6.525 | Down by 0.685 | -28.04 |
| AMP Limited (ASX: AMP) | 1.865 | Down by 3.368 | -20.90 |
| FlexiGroup Limited (ASX: FXL) | 1.595 | Down by 0.312 | 18.52 |
| Westpac Banking Corporation (ASX: WBC) | 28.38 | Up by 0.603 | 15.24 |
| HUB24 Limited (ASX: HUB) | 11.090 | Up by 2.212 | -6.55 |
---
Disclaimer
This website is a service of Kalkine Media Pty. Ltd. A.C.N. 629 651 672. The website has been prepared for informational purposes only and is not intended to be used as a complete source of information on any particular company. Kalkine Media does not in any way endorse or recommend individuals, products or services that may be discussed on this site. Our publications are NOT a solicitation or recommendation to buy, sell or hold. We are neither licensed nor qualified to provide investment advice.
With the pandemic continuing to affect the globe, healthcare companies are evaluating their lead compounds for COVID-19 treatment. Future revenue for these stocks depends on the probability of launching an approved treatment in the market.
CLICK HERE FOR YOUR FREE REPORT!