Superannuation (Super) encourages people to accumulate funds for retirement while they are working to provide them with a steady income stream. The Super is then invested in a range of assets to grow the balance to help people when they retire. Employers must contribute to a super account for its employees.
Superfunds are stepping in negative territory this year after coronavirus pandemic wreak economic havoc on the country. However, the damage caused by coronavirus is not as bad as many feared.
Superfunds are taking steps to reduce the impact of adverse market conditions on retirement savings and position it for long-term growth.
Super hit by falling share market
Movements in the share market affect the unit prices of all Super investment options except cash. Any changes in the unit price are bound to affect the overall value of the superannuation balance. Share markets have fallen more than 30% in most of the global markets between 20 February and 30 March 2020. However, the markets have been making a partial recovery.
The anticipated fall for Super comes amid rising investor concerns that the government scheme of early access of superannuation could bode badly for the Australian share market.
During April, investor sentiment improved and grew optimistic on flattening of coronavirus cases, easing of lockdown and reopening of the economy, which led to a rebound in share markets. However, the full impact of the virus on various businesses and the economy still remains uncertain.
ALSO READ: Super funds likely to embrace potential consolidations?
All investors must be well aware that any investment decision involves specific risk and return, implying the possibility of capital losses contingent on the chosen investment option and its performance over time. Any fluctuations in the investment market can impact performance.
The Triple S balanced fund has recorded negative returns 3 times since its inception in 1995 with the 4th bar reflecting 2019-20 financial year to date entering into negative returns in 11 years. However, the magnitude of loss still cannot be determined before the end of FY 2019-20 i.e. 30 June 2020.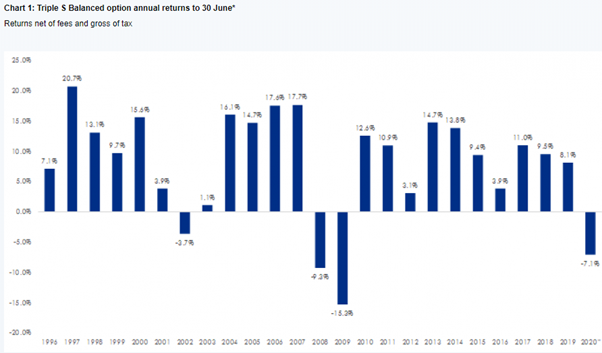 Source: SuperSA
Analysts claim that the median growth fund has fallen over 10% during February and March but recovered about 3% in April as global markets showed partial recovery. While conservative funds are low by about -1% whereas all growth funds are around -6% lower. They expect high volatility to linger as investors can still react sharply to any news.
The contradiction between buoyancy on large government stimulus measures and opening up of economies but negative sentiment on economic data and forecasts has been impacting investment markets recently. A crucial concern causing distress amongst investors is a likelihood of global demand slump across sectors as the countries reopen their economies.
Super funds affected by the coronavirus scheme
Australian government allowed financially affected individuals by COVID-19 to pull out money from their superannuation early with the withdrawal of up to $20,000 from super in this financial year- $10,000 before 30 June and further $10,000 from 1 July. Superannuation funds have seen the highest proportion of withdrawal under the early access scheme.
Analysts believe that pulling out money early from super funds could drag returns on some funds that get a large number of early withdrawal requests like funds with significant exposure to unlisted assets that are hard to sell could bear the prime impact. There have been only 3 financial years that witnessed negative returns for the super since 1993.
Market experts have stated that superannuation returns for the first 10 months of the financial year were in the negative territory standing at about -3% due to COVID-19 impact in this year. Negative returns will severely affect people who planned to retire early o are currently in retirement.
Superannuation funds are set to witness their first financial year of negative returns in 10 years, thanks to coronavirus giving a blow to the Australian cohort who are on the verge of retirement.
APRA statistics
The Australian Prudential Regulation Authority (APRA) is an independent statutory body that regulates institutions across insurance, banking and superannuation and is accountable to the parliament of Australia.
Since the launch of Australian government's early access of super scheme, APRA has received about 1.3 million applications out of which 94% payments were made within 5 business days and has made payments of about $9 billion.
The funds that reported to receive the highest number of applications for pulling out money early from Super were Sunsuper, REST, Cbus, AustralianSuper, BT and HOSTPLUS.

Source: APRA
From the period of the commencement of early release scheme on 20 April to 10 May, payments made to the eligible members have taken an average of 3.3 business days to pay after the application is received from the Australian tax office while average payment since inception of the scheme has been $7,546.
APRA got early release data submissions from 177 funds for the end of 10 May 2020. About 140 funds finalised more than 90% of the payments in 5 business days guidelines issued by APRA.
Super expectations
Australia is progressing towards a recession along with the global economy, but it is unknown how long the recession will persist and when the recovery will begin. Several investors are selling out of more risky options like options with large allocations to assets like shares and property to less risky ones like cash and options with higher allocations to the fixed interest which can be costly in future as it locks in the losses that arise from weak investment markets. Further, there is also a possibility to miss future growth by being out of the market when recovery happens and a higher risk of not meeting retirement saving goals. Hence, adequate financial advice is highly essential before the switch to any conservative option is made.
The equity markets are expected to stay volatile for some time as long as the virus is not contained and continues to disrupt the global economy. However, past experiences show that markets do recover eventually.
Hence, one must take a long-term view as superannuation is a long-term investment that generates return over multiple years. There is a possibility that the current financial year can produce super with negative returns, but it is not certain.