The Australian economy has been impacted significantly due to the COVID-19 pandemic. However, in the present scenario, things are getting back on track, and the government is discussing options for easing the restrictions. The country, in the last couple of weeks, has made significant progress in controlling the spread of SARS-CoV-2. The impressive job done by the government is reflected on the Australian stock market performance.
If we look at the benchmark index performance, S&P/ASX 200 improved slightly by 0.35% on 13 May 2020 and settled at 5,421.9. However, the index performance has been more impressive on a QTD basis with a return of 6.80% indicating that the economy is moving in the right direction.
Let us look at some ASX-listed stocks that are under discussion and have a glance at their recent activities amid the economy's path to recovery.
Telstra Corporation Limited
Telstra Corporation Limited (ASX:TLS), a provider of telecommunications and information services, was recently in the news when the Company announced that it anticipates a non-cash impairment and the write down of carrying value of its Foxtel stake (35%).
Telstra assumes there would an impairment charge worth ~AU$300 million against the investment in the FY20 results. This is anticipated to write down the TLS' share value in Foxtel from AU$750 million to ~AU$450 million.
The CEO of Telstra Andrew Penn highlighted that Foxtel has been providing world-class content, and for several years, it has been experiencing industry disruption. He also stated that COVID-19 has an impact on the global sports as they are halted, pubs are shut, and advertisers are bound to reassess their investments.
TLS confirmed in the announcement that the expected non-cash impairment charge would not have any effect on the FY2020 results.
Stock Information:
On 13 May 2020, TLS shares closed at AU$3.130, up 1.294% compared to the previous close.
Australian Finance Group Ltd
Mortgage broking Company, Australian Finance Group Ltd (ASX:AFG) on 13 May announced an AU$60 million equity raising to strengthen its capital position as well as support its future growth.
Equity Raising and Financial Position:
The fully Underwritten Equity Raising would be conducted at AU$1.15 per share via AU$45 million 1 for 5.5 pro-rata accelerated non-renounceable entitlement offer. The outstanding AU$15 million of the equity raising would be through institutional Placement.
Some AFG Directors and Management have committed to subscribe for AU$5 million of the Equity Raising and to sub underwrite up to AU$690,000 of the Retail Entitlement Offer.
Apart from this, the Company has also extended the duration of its two key originating warehouse facilities, and it has AU$546 million of undrawn funding capacity.
Australian Finance Group's Trading Update:
In April 2020, the operating results of the Company were strong. However, due to COVID-19, the Company expects that there might be some economic uncertainty moving forward and would have a negative impact on lodgements and settlements during 1H FY2021.
Due to COVID-19 uncertainty, access to wholesale funding markets as well as funding terms was impacted. Because of this, the Company expects that there might be a need for additional capital to support as well as grow the AFG Securities Pty Ltd.
Post the completion of the equity raising, the Company would continue to have a conservative balance sheet. It would not have any corporate debt and proforma unrestricted cash and cash equivalents of AU$112 million.
Stock Information:
On 13 May 2020, AFG shares closed at AU$1.390, in line with the previous close.
GWA Group Limited
GWA Group Limited (ASX:GWA), the supplier of building fixtures and fittings to residential and commercial premises in the previous announcement on 9 April 2020 highlighted that the business experienced disruption in the business post the lockdown announced in the UK and New Zealand.
However, 79% of the Group's revenue comes from Australia, and the business is this region continued to perform to the Company's hopes with the trading trend in line as highlighted earlier by the Company.
The Company has a diversified supply network, and because of the outstanding support of the suppliers, the Company was able to meet the supply requirements during COVID-19 period.
Decreased Remuneration of Board and Group Executive Amid COVID-19:
Considering the existing market situation, GWA Group decided to reduce the fixed remuneration of the Board and Group Executive by 20%, effective from 1 April 2020 through to 30 June 2020.
Secured additional AU$33 million Facilities:
The Group was able to secure AU$33 million facilities via members of its existing bank syndicate. The increased facilities would help the Company in taking advantage of any opportunity that may arise.
By securing AU$33 million facilities, the Group's total facilities stood at AU$283 million. As at 31 March 2020, the Company's net debt, after paying an interim dividend of AU$21 million, was AU$176 million.
Credit Suisse Holdings ceased to be substantial holder in GWA:
On 17 April 2020, the Company released an announced where it updated that Credit Suisse Holdings (Australia) Limited ceased to become a substantial holder in GWA.
Stock Information:
On 13 May 2020, GWA shares closed at AU$23.650, down by 1.497% compared to the previous close.
Carnarvon Petroleum Limited
Carnarvon Petroleum Limited (ASX:CVN), oil and gas exploration and production Company announced that the Company has made with the Dorado field development with respect to advancing work on the Floating Production Storage and Offtake (FPSO) vessel as well as the wellhead platform (WHP).
The Company received multiple expressions of interest (EoI) for the wellhead platform.
The Field Development Plan, as well as the Offshore Project Plan, are advancing on schedule. Depending on the market conditions, a final investment decision on the project is scheduled for 2021.
Stock Information:
On 13 May 2020, CVN shares closed at AU$0.230, down by 2.128% compared to the previous close.
Sezzle Inc
BNPL player, Sezzle Inc. (ASX:SZL) on 13 May 2020, released Goldman Sachs Mini Conference presentation where the Company discussed its response to COVID-19, it's positive results and healthy capital position.
Response to COVID-19:
For Employees, the Company announced a mandatory work from home and suspended all business travels. SZL provided them with all necessary systems required to support a fully remote team. It also approved infinite sick time for any employee experiencing any symptoms.
For consumers, SZL expanded fee forgiveness and payment flexibility programs. It allowed Sezzle shoppers up to three postpones per order.
Q1 FY2020 Highlights:
Underlying Merchant Sales (UMS) improved 321% YoY to US$119.4 million.
Active customers increased by 326% YoY.
Active Merchant growth soared 27% QoQ.
Merchant fees grew 5.7% of UMS.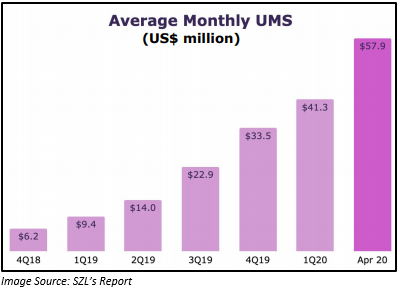 Stock Information:
On 13 May 2020, SZL shares closed at AU$2.220, down by 2.632% compared to the previous close.
Eclipx Group Limited
On 13 May 2020, Eclipx Group Limited (ASX:ECX) announced its 1H FY2020 results for the period ended 31 March 2020. It also updated on its Simplification plan and the Group's Response to COVID-19.
1H FY2020 Highlights:
Group Statutory NPAT during the period was AU$13.2 million for 1H FY2020. A significant development made by the Company on losses of AU$120.3 million for 1HFY2019 and AU$221.2 million for 2H FY2019.
Revenue from continuing operations during the period was AU$336.396 million, dropped 4.9% as compared to the previous corresponding period.
NPAT for the period was AU$15.527 million, up 12.8% on pcp.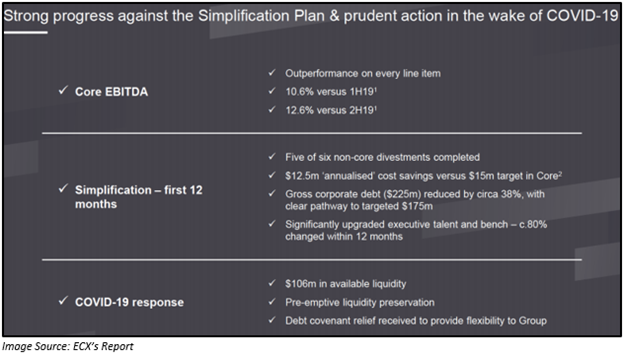 Stock Information:
On 13 May 2020, ECX shares closed at AU$0.870, up 4.819% compared to the previous close.