Retail investors have been on a trading spree since the COVID-19 pandemic grappled markets, inducing extreme volatility over the recent months. Making money in a short span appears attractive to retail investors, but day trading and punting on stocks could prove to be a disaster as well.
Related: Australian Retail Investors And The Market Turmoil
Even the masters of investing games make mistakes as they are humans too. Since too many people have been copying successful investors, when decisions of the successful investors do not yield expected outcomes, the damage is often widespread.
Investors, especially retail investors, need to understand that resources, capabilities, information, and intellect posed by their idols are something that they do not possess. There is a difference between getting inspired and copying your master, and both could result in varied outcomes.
As a retail investor, just because your idol is investing in cyclical businesses does not mean you should invest in those businesses because your investing idol definitely has more loss suffering propensity than you.
Investing decisions of a retail investor are often influenced by a number of people, including idols, friends and acquaintances. Just because your friend circle is buying heavily into one business does not validate your action to pump money in the same business. Following the crowd may yield returns sometimes, but the strategy might not be effective over the long run.
As humans, we often crave for widespread acceptance of our ideas or beliefs, and we are likely to favour circles that validate our thinking. However, an investor should pay more attention to the voices that disagree on their convictions that will allow to uncover things, which may have been overlooked.
Related: Understanding Asset Bubbles and Their Various Stages
Going back to history, there had been many instances where herd behaviour destroyed capital and lives, for instance, the Tulip Mania of Netherlands erstwhile Holland. The tulip market was booming aggressively in the late 16th century, and everyone started to cultivate tulips. But when the Dutch tulip bubble burst, fortunes were lost.
Investors should try to avoid herd behaviour in markets. One can listen to everyone, but take decisions independently, which might require deep understanding of potential implications of the decision.
Thinking and taking time would allow an investor to take best decisions, and this includes challenging your own views multiple times with multiple people. A fast decision is often a bad decision and taking ample time to challenge different perspectives will likely deliver better results.
Even anonymous feedback is helpful when your mind is blocked with too much of rationale and ideas. One should also try to avoid making decisions at times of stress and distraction, which will likely prevent from considering potential unfavourable actions.
Preserving capital is perhaps foremost requirement of investors, and when capital preservation comes with acceptable returns, it often delivers the satisfaction you may require from the decisions that were made to yield such results.
Getting inspired from your idols and executing processes in a way that fits your circumstances should be the stance that retail investors must take during their investing journey.
Retail investors' activity during the pandemic
Recently, the Australian Securities & Investments Commission (ASIC) released a report titled 'Retail investors trading during COVID-19 volatility'. The paper compares the activity of retail investors between February 2020 and April 2020 (focus period) and August 2019-February 2020 (benchmark period).
During the focus period, average daily trading activity across retail brokers according to the paper surged to $3.3 billion from around $1.6 billion in the benchmark period. Also, the paper unveiled that retail broking houses were the net buyers of securities in the focus period.
It was noted that there was a sharp increase in unique investors or new client accounts. Around 4.6k new accounts per day were recorded during the focus period, equating to around new 140k accounts that were earlier not observed compared to around 1.3k new accounts per day and 34k new identifiers in the benchmark period.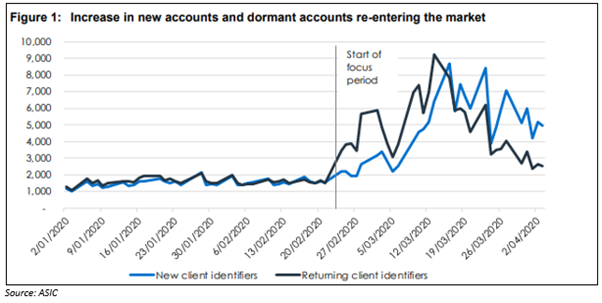 Number of clients who did not trade in the past six months and returned to trading activities during the focus period reached around 142k.
In a sample of 12 licenced CFDs, retail clients lost just above $234 million on a net basis between 16 March and 22 March 2020. These 12 CFD providers account for ~84% of the market share.
The paper also noted increased trading activity in geared ETPs during the focus period, with one geared ETP witnessing trading volumes up by 16 times. Meanwhile, the body also cited widening discount between traded price and net tangible asset of listed investment companies and listed investment trusts.
A sharp fall in market capitalisation and increase in trading volumes were recorded for the Australian Real Estate Investment Trusts, indicating that implications of the pandemic were acknowledged by REIT investors.