The banks are likely to be forced to put the knife in their dividends as the lender's profits begin to feel the pressure from various fronts. The coronavirus pandemic has hit the profit margins by driving down interest rates and will undoubtedly affect credit growth and push more businesses into trouble with their loans. Hence the uncertainty has forced the banks to put extra bad debt aside for the firms that go bankrupt.
Here is a look at how WBC and ANZ have performed during the past months and their plans to overcome COVID-19 induced crisis.
Westpac Banking Corporation (ASX: WBC)
Recently Westpac Banking Corporation released its interim financial results for the period ending 31 March this year.
WBC mentioned that its statutory net profit has fallen to $1,190 million, down by 62% for 1H20 period, with cash earnings standing at $993 million, down by 70% excluding notable items. This was due to high impairment charges along with financial crime regulator AUSTRAC provision and other noteworthy items including estimated customer refunds, payments, costs, etc.
Westpac also announced the deferral of its interim dividend and would not be paying any dividend in June this year, accepting APRA's guidance on dividends. It also considered the uncertainty in economic and financial conditions that might build over in the next 6 months period.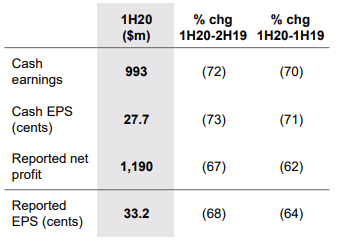 Source: Westpac 1H20 results, ASX
COVID-19 impact
COVID-19 crisis significantly affected Westpac's performance in 1H20 affecting its employees, customers and the broader economy. The approach of the bank remains focused on the safety of its people, assistance for customers and helping the economy during this challenging period.
Westpac has deferred payments on 105,000 Australian mortgage accounts along with a total loan value standing at $39 billion. Further, the bank has also helped Australian businesses by deferring repayments on 31,000 loans accounting for a total value of $8.2 billion.
Westpac entered this period with strong balance sheets, high capital levels and sound funding. The key capital ratio of the bank, Common Equity Tier (CET) 1 capital ratio was 10.8% on 31 March 2020, which places it on top quartile of all the banks globally on an internationally comparable basis. The CET 1 ratio was 14 bps higher than 30 September 2019 showing share purchase plan, institutional placement and earnings for the half-year partially offset by the payment of final 2019 dividend and higher risk-weighted assets.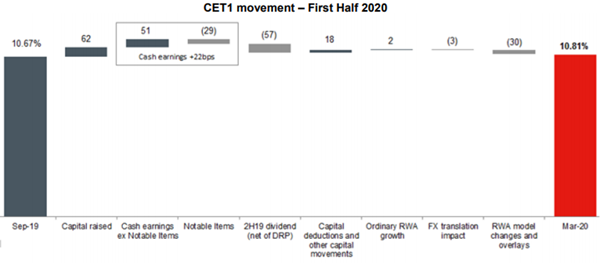 Source: Westpac 3 pillar report, ASX
However, earnings have already been impacted by anticipated higher bad debts and slowing economy can affect the earnings further. Many shareholders will be affected due to corrosion in the value of their investment and deferring of dividends by the bank.
Outlook ahead
Peter King, CEO of Westpac, stated that Westpac would continue to back government support packages made to assist businesses, consumers and economy of Australia to help sail through the pandemic. The bank is determined to support as many customers as possible once the economy reopens. However, Australia is set to face the worst economic contraction in 2020 with recovery expected only during the December quarter.
Westpac economists predict the unemployment rate will peak to 9% in June with the rate dropping to ~7% in December 2020.
The CEO asserted that Westpac remains in a strong position. It has maintained its capital position and liquidity ratios above the regulatory requirements. While customer deposits have risen $19 billion and funded loan growth increased by $5 billion over the half period lifting the deposit to loan ratio to over 75%.
The bank has also increased provisions for expected credit losses to $45.8 billion and $900 million for a potential penalty relating to AUSTRAC civil proceedings brought against it on 20 November 2019 for breaching anti-money laundering laws.
On 5 May 2020, Westpac was trading at $16.055, up by 1.807% (at AEST 12:09 PM).
Australia and New Zealand Banking Group Limited (ASX:ANZ)
In its lately released six months results, Australia and New Zealand Banking Group Limited has declared a 51% slump in cash profit at $1.5 billion for the period ended 31 March 2020, which was due to $1 billion in extra reserves for coronavirus losses. The bank has announced impairment charges of $1.67 billion in total. While the common equity tier-1 capital ratio was noted at 10.8%, as on 31 March.
ANZ has also suffered a loss of $815 million on the value of its Asian investments due to coronavirus and deferred its dividend payments due to COVID-19 uncertainty. ANZ paid a dividend of 80 cents per share in the pcp, but now since earnings per share are also down by 50 cents, the board of the bank has deferred the decision on the amount of pay out to shareholders due to ambiguity regarding coronavirus. The bank's board agreed on APRA's guidance that delaying the dividend decision was apt at the present time.
ANZ has launched support packages for retail and commercial customers. The bank has received requests from about 105,000 customers with $36 billion worth of home loans, whereas 15% of commercial lending customers have been granted repayment deferrals on loans worth $7.5 billion. It also assisted home and business customers by reducing rates.
Source: ANZ's half-year presentation 2020, ASX
Outlook
As per Shayne Elliot, CEO, ANZ, "ANZ has entered the crisis in good shape with a strong balance sheet and simplified its business. It has assisted 180,000 customers with deferrals on a loan payment and provided $16 billion in additional lending majorly to its long-term investment-grade institutional customers to support them in COVID-19."
He stated that the months ahead would be difficult with uncertainty regarding how deep the coronavirus crisis will be and how long the recovery will take.
On 5 May 2020, ANZ was trading at $16.31, up by 0.991% (at AEST 12:38 PM).
With the economic uncertainty looming in, more loans are expected to become bad, and capital adequacy can be under attack in future. However, if the downturn is short, then the banks might keep dividends unchanged.