Sluggish prelim retail numbers as expected…
After a strong March for overall retail sales led by panic buying in supermarkets, the latest preliminary data on retail sales by the Australian Bureau of Statistics (ABS) suggested that retail turnover was down by 17.9% in April 2020.
On a seasonally adjusted terms, retail turnover fell by $5,383.3 million or 17.9% to $24.72 billion, marking the strongest fall in turnover ever recorded. Likewise, the turnover was down 9.4% over the year.
During the month, food retailing was down 17.1% over the previous month, but 5% higher compared to same month last year. As households loaded supplies in March, the sales in April were subdued across categories, including in supermarkets and grocery stores.
In April, online sales constituted 10% of the total retail turnover. And, the discretionary retail categories continued to lag as restrictions on people movement were in place. Categories like personal accessories, apparel, and food services were down by approximately 50% compared to the same month last year.
The Australian Bureau of Statistics reckoned categories that were highest gainers in March and experienced fall in April. Still, the turnover numbers for those categories are better than same month last year. More importantly, this is a preliminary data that is subject to revision in final release.
This sort of fall in retail sales was expected, as Australian households might have purchased essential and necessary items for a few months in March to embrace lockdowns and refrain from going out of their premises frequently.
But Consumer Sentiment is picking up…
In May, Westpac-MI Index of Consumer Sentiment was up 16.4% to 88.1 compared to the previous month. This survey was conducted in the first full-week of May, which included Government' plan to scale back restrictions.
A 16.4% gain in the index is the largest ever monthly gain in the history of the survey. But the index is down 7.6% against the average of six months (September to February). States that have contained the virus effectively and floated milder restrictions experienced greater turnaround.
With the prospects of earlier-than-expected re-openings visible, the respondents were optimistic on the economy over the next 12 months. The survey showed that respondents have turned positive for making a major household purchase now.
Unemployment expectations index reversed from a dramatic increase in the previous month, with the index down 13.4% in the May survey. As lockdowns are being scaled back by the authorities, households have a view that job opportunities will be better now.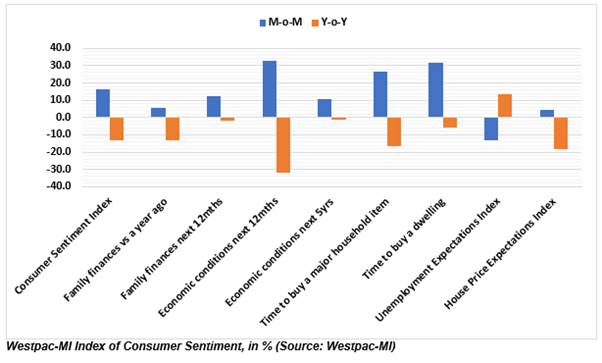 Respondents were also inclined to buy a dwelling now, and the index was back in positive territory with a jump of 31.8% in the May survey. But housing prices expectation gained 4.6% after a large fall of 50% in the previous month.
Bill Evans, Chief Economist at Westpac, believes that the Aussie economy may surprise with a quick recovery as indicated by the survey results. Additional endorsements of faster-than-expected economic recovery will likely bode well for markets.
Related: Retail Industry Embraces Re-openings and Digital Shift amid COVID-19 Disruptions
Wesfarmers scraps Target stores post review…
Wesfarmers Limited (ASX:WES) has completed the first phase of Target review, which includes complete review of Kmart stores. The company has unveiled plans to convert some of outlets under Target Country and Target to Kmart stores.
The conglomerate intends to restructure Target store support office, close several large format Target stores as well as around 50 small format Target Country stores. Also, it continues to assess the available options for the rest of Target stores having commercial viability.
Wesfarmers has also reported a number of significant items for the 2020 full-year results:
Kmart Group would incur ~$120-$170 million (pre-tax) of costs and provisions to account for Target store closure and related costs.
Non-cash impairment of approximately $430-$480 million (pre-tax) to be incurred by Kmart Group concerning Target.
Industrial and safety division would incur an approximate non-cash impairment charge of $300 million (pre-tax).
$290 million gain on sale of 10.1% sale in Coles (pre-tax) and a $221 million (pre-tax) gain due to reassessment of the remaining Coles stake.
More importantly, the above items are subject to audit review. Also, Kmart Group would bear one-off costs of around $120-$140 million, concerning conversion and related activities.
Overall restructuring of the group would be undertaken over the next twelve months, and these steps would deliver better in capital, with Kmart Group continuing to make investments in digital channels.
For those team members who would be impacted by Target store closures, the group is looking for opportunities in the other parts of its business, including Bunnings, Officeworks, Catch and Kmart.
As most of the costs would be incurred as non-cash impairments, the group believes that it would not impact dividends, debt facilities and credit rating.
On 22 May 2020, WES last traded at $38.860, down by 0.051% from the previous close.
Myer provides update on its stores…
Myer Holdings Limited (ASX:MYR) has reported that 24 of its stores have commenced trading over recent weeks, while online sales remained strong amid this period.
Starting from 27 May, the company would be commencing trading at all of its stores, excluding a store in Western Australia, which would start after completing refurbishments. All of its stores in Australia would have click and collect services available.
The company is also taking steps to reduce costs, for which discussions with landlords and suppliers are underway. All stores will implement necessary measures like frequent cleaning, hand sanitisers, social distancing, and contactless payments.
On 22 May 2020, MYR last traded at $0.290, up by 7.407% from the previous close.
Federal Court ruling on casual workers…
A Federal Court verdict on casual workers has paved the way to avail benefits received by normal workers, including annual leaves and sick leaves. But industry groups have voiced out enormous costs associated with the decision.
Casual workers are paid an extra 25% largely to account for the benefits that are not received by them. As businesses are increasingly looking to cut cost at the backdrop of COVID-19, the need of casual workers around businesses could be massive to capitalise on benefits provided in hiring casual workers.
The decision by Federal Court could prompt employers to convert casual workers to full-time employees, which would increase the cost to employers at a time when cash flows are under pressure.
While the incumbent Government may look to amend the Fair Work Act, the opposition is ready to have concrete arguments to restrict any change in the Act in the face of latest judgement by the Court.
Prominent retailers are already incurring charges and paying back dues to workers that had not been paid in full, and reviews are underway. Law firms are also targeting businesses that employed casual workers for a long time just to evade the additional costs.
(All currencies in AUD unless or otherwise stated)