Screening of stocks is a process in which an investor "screens" stocks based on specific criteria which would help the investor build a portfolio to achieve a better return in the future. Generally, investors prefer to pick those stocks which are less volatile yet deliver decent returns for the risk undertaken. While screening a stock, one should follow a systematic process to maximize the chances of constructing a well-balanced diversified portfolio.
Some of the important features of good business include:
A sustainable competitive edge,
Excellent financial track record along and
A Sound management team
It is a known fact that in Australia the majority of the listed companies are from the resources space. Keeping the portfolio diversified becomes even more important.
Information Technology or IT is fast becoming an interesting sector to watch out for in Australia. In this article, we would be discussing 8 IT stocks for 2019 and 2020.
The number of parameters that investors use to screen stocks is in plenty. Following are some of the popular ones.
Stock screening parameters:
Valuation
Valuation is a very important parameter for long term investment success. It is rather common sense that given a chance one would love to buy an asset at a lower price.  Few of the popular valuation ratios used for screening stocks are
PE
Price to Book Value
EV/EBITDA
PE or Price to Earnings is a ratio that helps the investor know as to how many times of earnings is, he/she paying to own the stock.
Price to Book value lets the investor to gauge the price that he/she pays in relation to the book value of the company.
Enterprise Value to EBITDA (Earnings Before Interest Tax Depreciation and Amortization) is a very popular ratio used to value a business among its peers.
Operating Margins
Good business is characterized by good operating profit margins, and this could be possible due to certain competitive advantages that a business may enjoy. Few important operating margins are;
Operating Profit Margin
Return on Equity
Operating Profit margin measures the operating profit- EBIT (Earnings before Interest and Tax) in relation to the Earnings of the company. Higher operating margins could suggest better pricing power or lower operating costs that the business might enjoy.
Return on Equity (ROE) is a popular measure to gauge the efficiency of the management in prudently using the equity capital to generate good returns for its investors. Consistent and high ROE is favored.
Balance sheet Ratios
It is important for the investor to consider the profit and loss statement to make a business judgement. However, it is even more important for long term investment success to consider the balance sheet elements while understanding the business. Few of the ratios that consider balance sheet elements are
Current Ratio
Debt to Equity ratio
The current ratio is calculated by dividing the current assets by current liability. It is an important ratio to gauge the liquidity of a company.
Debt to Equity ratio is a very important ratio that helps the investor to understand the business taking the debt and the equity into consideration. Many companies get into trouble when they take too much debt to fund their growth.
Let's look at some interesting Information Technology companies.
Integrated Research Limited
Company Overview:
Integrated Research Limited (ASX: IRI) is a leading international developer of proactive management software (performance management) that is used for important IT infra, payments as well as communications systems.
Business:
The company is into the business of providing its clients with understandings, monitoring as well as support to keep payment hubs, unified communications ecosystems as well as contact centers running as usual.
FY2019 highlights:
The company reported a 92% growth in Payments.
Unified Communications declined by 7% to $51.0 million
Europe business increased by 19%
Revenues from ordinary activities increased by 11% to A$100.820 million
NPAT increased by 14% to $21.851 million
Final dividend for FY2019 was 3.75 cents per share (fully franked).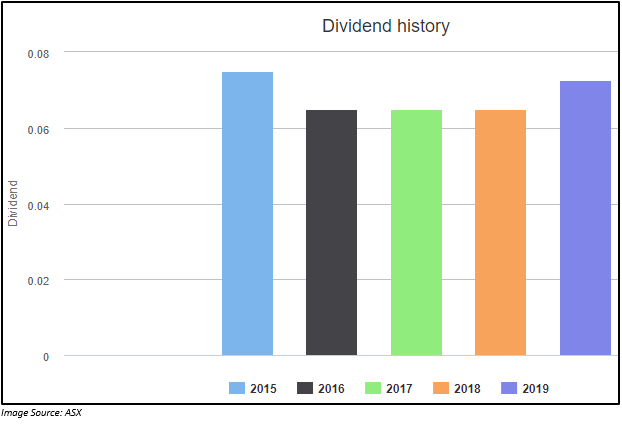 Outlook:
The company's growth is driven by expanding the capabilities delivered into existing markets and customers, expansion of sales and service capabilities into new markets into various geographical locations.
In FY2020, the company intends to focus on new customer acquisition and its long-term cloud plan to support its future growth.
Ratios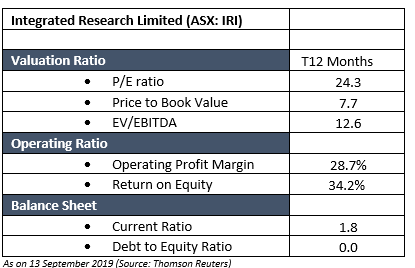 Computershare Limited
Company Overview:
Computershare Limited (ASX: CPU)is known for its proficiency in high-integrity data management, transaction processing and reconciliations in huge volume, payments as well as stakeholder engagement since 1978.
Business:
CPU is a global market front-runner in transfer agency and share registration, proxy solicitation, mortgage servicing, and employee equity plans among other services. The company also takes care of corporate trust, class action along with other diversified financial as well as governance facilities.
FY2019 Highlights:
The revenue of the company from the continuing operations increased by 2.5% to $2,346.003 million.
The NPAT of the company increased by 38.5% to $415.732 million.
A final dividend of 23 cents per share declared for FY2019.
Outlook:
The company expects its management EPS to rise by ~ 5%.
Ratios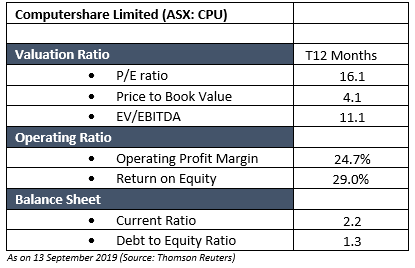 Hansen Technologies Limited
Company Overview:
Hansen Technologies Limited (ASX: HSN) is the leader in providing solutions related to billing and customer care to industries like Energy, Telecommunications and Pay-TV since 1971. Most of the companies across the globe prefer CX Product Suite of HSN to have a secure, precise as well as reliable billing experience.
FY2019 Highlights:
The company's revenue in FY2019 was up by 0.2% to A$231.324 million.
The NPAT for the period declined by 25.6% to A$21.465.
2019 final dividend was 3 cents per share.
Outlook:
The company to focus on finalizing the integration of the Sigma business into the broader Hansen platform.
To develop cross-selling opportunities in the utility market and leverage the investment in the intellectual property of Sigma.
Ratios
WiseTech Global Limited
Company Overview:
WiseTech Global Limited (ASX: WTC) offers software solutions to the logistics industry internationally.
Business:
Through its platform CargoWise One, the company helps in organizing as well as coordinating important facets of delivery for all modes of transportation. CargoWise One platform gives a high-levels of automation as well as visibility and also helps in organizing the processes across the business of its clients.
FY2019 Highlights:
Total revenue increased by above 57% to $348.3 million
Operating profit increased more than 37% to $80.2 million
NPAT increased by 33% to $54.1 million.
WTC's dividend increased by 18% to 1.95 cents per share
Outlook:
WTC expects that in FY2020, its revenue growth would be in the range of 26% to 32% and EBITDA growth to be in between 34% to 42%.
Ratios: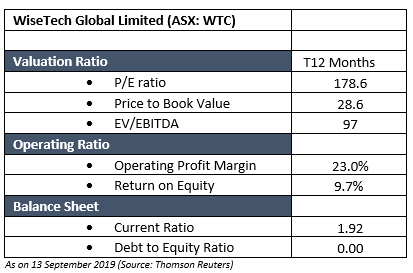 Xref Limited
Company Overview:
Xref Limited (ASX: XF1) is a company which brings comfort, security as well as value to the hiring process.
Business:
The company, through its platform, helps in reducing recruitment time via automated reference check. High-volume hiring can be managed easily via Xref's bulk-reference feature. The platform keeps hiring managers in the know-how and helps them in improving the insights, with simple sharing of the reference report.
The platform has a unique multi-touch fraud algorithm which works back-end and keeps an eye on suspicious activity and tracks candidate and reference IP address, device and browser used along with the date and time Xref was accessed.
The platform also supports identifying top candidates, gather relevant feedback and view insights.
FY2019 Highlights:
XF1's sales increased from $7.1 million in FY2018 to $10 million in FY2019, representing a growth of 42%
The company reports continuous growth in the international sales which by FY2019 end was 19% of the total revenue
Recognised revenue increased by 66% to $8.04 million.
The number of active users of the platform increased by 55% during FY2019 to 6,021.
The company acquired RapidID in FY2019.
Loss in FY2019 was $8,181,826.
Outlook:
In FY2020, the company would be looking at bringing in new business from its core offering, further platform features and tools, and new products.
Ratios:
Altium Limited
Company Overview:
Altium Limited (ASX: ALU) is a company that is engaged in developing and selling computer software for the design of electronic goods.
FY2019 Highlights:
The company in FY2019 reported strong revenue growth of 23%;
The EBITDA margin was up from 32% to 36.5%;
EPS increased by 41% to 40.57 cents;
Operating cash flow improved by 42% to US$69.1 million;
Dividend per share for FY2019 was 34 cents per share;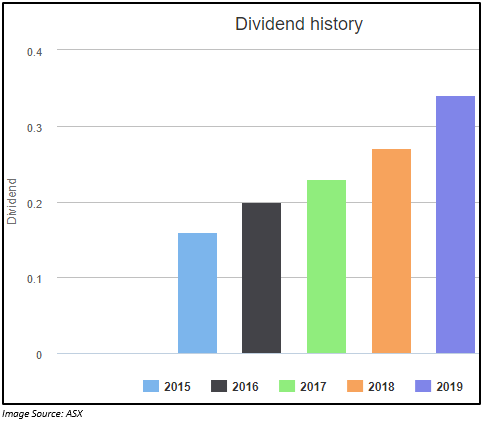 Outlook:
ALU is assured that it would be able to attain US$200 million revenue in FY20 and also commits to a higher EBITDA margin with a lower cap of 37%. ALU would also focus on achieving 100,000 Altium Designer subscribers by 2025. It would continue to look for partnership along with M&A opportunities to aid its long-term vision.
Ratios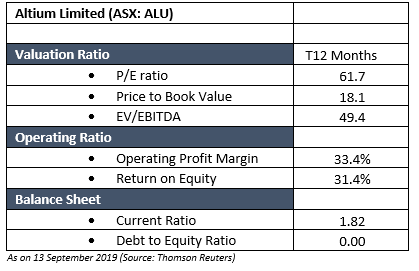 Link Administration Holdings Limited
Company Overview:
Link Administration Holdings Limited (ASX: LNK) is one of the largest providers of services in Australia's superannuation fund administration industry. Australia's superannuation fund ranks amongst the fourth largest pension pool in the world.
FY2019 Highlights:
Revenue increased by 17% to $1.403 billion. Out of the total revenue, 80% is from the recurring revenue.
Operating EBITDA increased by 6% to of $356 million.
Statutory NPAT increased by 123% to $320 million on the prior corresponding period (pcp).
LNK declared a fully franked final dividend of 12.5 cents per share. Thus, the dividend for FY2019 reached 20.5 cents per share.
Outlook:
In FY2020, LNK RSS revenues of $480m-$500m and operating EBITDA of $60m-$70m, Global transformation is expected to deliver $50m of annualised savings by the end of FY2022. Company to do a on-market buyback of up to 10%.
Ratios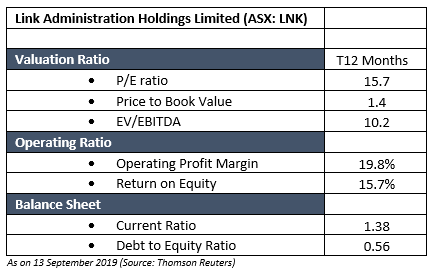 Appen Limited
Company Overview:
Appen Limited (ASX: APX) a company from the machine learning and AI space, provides linguistics services.
Business:
APX provides superior, human- annotated data that is required to control machine learning and artificial intelligence.
IH FY2019 Highlights:
Revenue of APX in the reporting period increased by 60% to $245.1 million.
Statutory EBITDA went up by 48% and underlying EBITDA by 81% to $46.3 million.
Underlying EBITDA margins went up from 16.8% to 18.9%.
85% of the revenue to $39.9 million that was generated by the company was from its organic growth.
The company declared a partially franked dividend of 4 cents per share.
Outlook:
The company in the 2H FY2019 would focus on strengthening its place in a high growth market by making investment in the technology, sales & marketing, government markets and China. The company expects its full year underlying EBITDA to be towards the upper side in the range of $85 million to $90 million.
Ratios
---
Disclaimer
This website is a service of Kalkine Media Pty. Ltd. A.C.N. 629 651 672. The website has been prepared for informational purposes only and is not intended to be used as a complete source of information on any particular company. Kalkine Media does not in any way endorse or recommend individuals, products or services that may be discussed on this site. Our publications are NOT a solicitation or recommendation to buy, sell or hold. We are neither licensed nor qualified to provide investment advice.
There is no investor left unperturbed with the ongoing trade conflicts between US-China and the devastating bushfire in Australia.
Are you wondering if the year 2020 might not have taken the right start? Dividend stocks could be the answer to that question.
As interest rates in Australia are already at record low levels, find out which dividend stocks are viewed as the most attractive investment opportunity in the current scenario in our report.
CLICK HERE FOR YOUR FREE REPORT!