As Australia prepares to further re-open the economy after an apparent win in the battle against the spread of Covid-19, the lockdown and social distancing restrictions are gradually being relaxed to send people back to work and get the businesses operating again.
At the forefront of this transition are certain well-known names such as shopping centre operator Scentre Group, which has successfully been operating in all 42 Westfield Living Centres, as well as insurance giant Suncorp, which has continued to provide financial assistance to customers and remains solid with a strong liquidity position.
Let's see how these companies have been sailing through one of the most challenging periods in Australian economic history.
Good Read: Conventional Way of Re-opening Economy in Uncertain Times – US, UK, Australia and China
Scentre Group (ASX:SCG)
Real Estate sector player, Scentre Group is the owner and operator of Westfield shopping centres in Australia and New Zealand with interests in 42 Westfield Living Centres, housing over 12,000 outlets and ~$56 billion of total assets under management (AUM) as at 31 December 2019.
March quarter 2020 Update: Recently, the Group announced its update for the quarter ending 31 March 2020, informing that the operational performance was strong through January and February 2020, while the Group's business context and operating environment shifted in March 2020 as a result of the reactions to the COVID-19 pandemic.
Scentre Group has been following the advice being provided by the country's health authorities to adapt to the situation in Australia and New Zealand, and observing various health precautions across all its centres, while applying the most stringent and high standards of cleanliness and hygiene in its day-to-day operations.
Thus, the Group is confident about people continuing to visit its centres while at the same time, urging all shoppers to practice good hygiene and physical distancing.
Scentre Group is also working rapidly to support the government in reopening the economy and thus, more and more of its retailers are reopening their store networks to engage with the customers once again. During the March Quarter 2020:
All 42 Westfield Living Centres continued to remain open and operating while ~57% of the retailers are also open now and trading, and more are expected to reopen over the next few weeks.
A new drive-through, contactless click and collect service called Westfield Direct was launched by the Group during this period. This service is available across all the Westfield Living Centres to provide a safe and easy solution for customers to purchase their liked products.
The Group also closed around 496 leasing deals during the quarter, representing ~80,000 square metres of the gross lettable area.
A range of initiatives implemented to target reduction of more than 25% in centre operating expenses during this pandemic phase.
Due to Covid-19 impact on the business, the Group Board agreed to a 20% reduction in base Board fees; and the Senior Leadership Team (including Peter Allen, the Group's Chief Executive Officer, and Elliott Rusanow, the Group's CFO) agreed to a 20% reduction in their fixed remuneration, effective 1 May 2020. These arrangements would be reviewed in August 2020.
In April 2020, in light of the COVID-19 pandemic and its impact on capital markets globally, the Group obtained additional unsecured bank facilities (term duration- 2 years) that increased the Group's available liquidity position to $3.1 billion as at 1 April 2020. Besides, considering the extra refinancing of bank facilities, the amount of debt maturing through to December 2021 has been further reduced to $1.9 billion.
Although, customer visitation at Scentre Group's centres fell during March and April to a low of 39% of the previous year's level, there has been an increase in customer visitation in the recent weeks and most significantly over this last weekend, as more retailers reopen.
SCG stock was trading on 14 May 2020 at AU$ 2.040, down 3.774% (at AEST 2:06 PM), with a market cap of ~ AU$ 11 billion. SCG has generated a positive return of 2.42% in the last one month.
Suncorp Group Limited (ASX:SUN)
Brisbane, Queensland-based Suncorp Group Limited is a well-known finance, insurance, and banking corporation with a robust capital position and strong funding and liquidity, supported by the Group's A+ credit rating and balance sheet strength.
March Quarter 2020 Update: Through this uncertain period, Suncorp Bank has played a vital role in helping customers, and announced a range of industry-wide financial support measures such as lower fees and access to working capital, loan repayment deferrals and a new 3-year unsecured SME Support Loan to help customers/ businesses sail through the crisis. A number of staff were also redeployed into customer-facing roles to cater to the increased customer issues and demands during the early phase of Covid-19.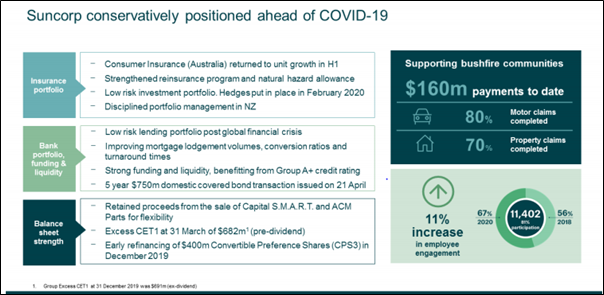 Source: Suncorp's May 2020 Investor Update
During the reporting period, there was no change in total lending as agribusiness lending was offset by a reduction in retail and commercial lending. Besides, there was a contraction in Home lending to $278 million, down 0.6% with continued competition for acquisition and retention of mortgage customers.
Although, the Group's business lending grew $19 million or 0.2%, a fraction of agribusiness customers experienced relief from intense drought conditions in Queensland and NSW, especially cropping and mixed farming operations. As of quarter end, the Group's impairment losses amounted to 91 basis points of gross loans and advances (annualised, primarily depicting an economic overlay of $133 million in response to Covid-19.
Notwithstanding the volatile and unprecedented business landscape, Suncorp remains strongly positioned with robust capital levels including a risk-weighted CET1 ratio of 9.02% (within the target range of 9%-9.50%), and strong growth of $1.2 billion recorded in at-call deposits during the quarter on the back of customer-focused initiatives including zero account-keeping fees and competitive deposit rates, as well as enhanced digital banking provisions, with over half of the new deposit accounts now being opened online.
SUN stock was trading on 14 May 2020 at AU$ 8.53, down 3.288% (at AEST 2:20 PM), with a market capitalisation of ~ AU$ 11.12 billion. The Company has a high annual dividend yield of 7.94%.