Retirement planning is essential for individuals to effectively manage their cash flow and liquidity when they would no longer be working and experiencing many changes related to health, income, lifestyle and finances. People who do have aggressive saving habits and enough untouched income while working, are all likely to be financially independent after retirement.
In today's era, most middle-class income earners leave behind a surplus for saving, thereby building an adequate amount of wealth to be able to retire comfortably. Moreover, advancements in health care and increasing longevity, call for retirees to ensure that their assets live as long as they do, and cash keeps pouring in to meet the necessary expenses.
A typical individual in a developed country may anticipate living for 20 years more even after he retires in his 60s. For leading a quality life as a retiree and spend those golden years doing whatever one wants to, it is highly recommended to begin retirement planning as soon as one starts earning, which almost nobody does, to accumulate maximum funds for a beautiful post-retirement life. Nevertheless, it can never be too early or too late to start with retirement savings.
Common challenges for a person planning for retirement may include-
Lack of general awareness and financial literacy regarding avenues for savings.
Starting out late.
No access to employer-sponsored saving plans.
Having to pay off student loans.
Lack of discipline to max out your savings.
Volatile market conditions such as falling interest rates.
Amendments in the central, state, and local tax rates and regimes.
Inflation and health care costs.
Significant life events like death of a spouse, addition or loss of a dependent.
Marriage may also impact one's savings and cash flow.
[ Must Read: Is Gold Suitable For Your Retirement Needs ]
Let's discuss some tips that you may find helpful while pursuing the retirement you envision:
Focus on starting immediately and compound interest. Earnings that are reinvested create even more earnings.
Start with your workplace and match your employer's criteria for a 401(k)-contribution plan.
Add an individual retirement account (IRA) to help build your nest egg and let it grow through recurring investments from a savings or checking account.
Cut spending and invest the difference. Must sound less fun, but it is a solid practice for saving more in retirement.
Where could you allocate your money today to have steady streams of income flowing? Retirement income can be obtained from a variety of sources and at different times, which may require efficient management.
Stock Market Saviours: Look to the stock market, which may be volatile, but has various avenues for putting your money to work and get enhanced returns in the long term. If one does choose to engage in the stock market, then diversification of portfolio is the key to mitigate risks. Some popular financial instruments to invest in include bonds, stocks, exchange-traded funds (ETFs), commodities, and real estate investment trusts (REITs).
Dividend Stocks are a good bet. Dividends are a proportion of a company's profits or surplus paid out to the shareholders. Companies that pay dividends, small or big, usually are high quality businesses with good current financial health plus attractive future prospect, which is what the investors planning for retirement look for- to build wealth year after year. In Australia, the four leading banks that boast of dividend yields over 5% include National Australia Bank Limited (ASX: NAB), Westpac Banking Corporation (ASX: WBC), Commonwealth Bank of Australia (ASX: CBA), and Australia and New Zealand Banking Group Limited (ASX: ANZ).
Consumer Staple Stocks constitute the stocks of companies offering indispensable everyday things like personal hygiene, groceries, and cleaning supplies, which are all basic amenities independent of economic cycles (boom or recession) and a good place to inject your money. Woolworths Group Limited (ASX: WOW), Coles Group Limited (ASX: COL) and Metcash Limited (ASX: MTS) are some of the leading consumer staple companies in Australia that also offer juicy dividends.
Annuities: Maintains monthly liquidity. It is a contract signed between an insurance company and the individual, whereby the latter has to pay a lump sum amount or series of payments to receive regular disbursements, like monthly, commencing at a time specified in the contract.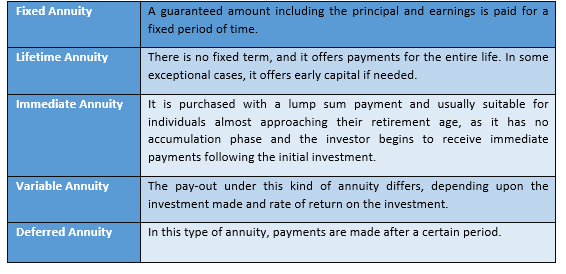 Pension Funds: Pension funds, also known as superannuation funds in certain regions, are investment pools like plan, fund, or scheme that pay for the retirement commitments of an employee who opts for it. The concerned organisation invests in pool of funds on behalf of the employee. Certain corporations and all levels of government offer pensions. The ROI becomes an income source for the worker whenever he/she may retire.
You may start right away and stop yourself the question, Do I have enough money to retire? Retirement saving is not a challenge if you begin at the right time. How will you be better off, Well?
Saved money can help you in emergencies, health wise or wealth wise.
One can also contribute to meeting the needs of family members–be it educational or monthly expenses.
You can even live out your dream of travelling the world – basis your own hard-earned money.
Most importantly, if your retirement planning is spot on, you do not have to depend on anyone financially, which is very liberating as an individual.
You can also gift things to your grandchildren, or simply choose to help your loved ones in times of need on the back of retirement funds.
Lastly, with a strong income stream in place, you can choose to retire and bid goodbye to your workplace instead of vice versa!
Read more: All About Retirement In A Warren Buffett Context ; Some Good Dividend-Paying Stocks To Secure Your Retirement
---
Disclaimer
This website is a service of Kalkine Media Pty. Ltd. A.C.N. 629 651 672. The website has been prepared for informational purposes only and is not intended to be used as a complete source of information on any particular company. Kalkine Media does not in any way endorse or recommend individuals, products or services that may be discussed on this site. Our publications are NOT a solicitation or recommendation to buy, sell or hold. We are neither licensed nor qualified to provide investment advice.