Initial Public Offering allows the listing of a company's stock to publicly traded market. Increasingly, in the IPO market, which is capable of delivering outperformance amid highly optimistic market sentiments, and has come under scrutiny, following a growing scepticism for IPOs this year.
As such, Masayoshi Son – Founder of SoftBank, has come under pressure, following the withdrawal of WeWork IPO, one of his portfolio companies. Mr Son is globally renowned for his seed capital investments, having promoted present-day giant like Alibaba, and more.
However, these two names from the Australian IPO charts have been doing well. Ecofibre is a profitable business, operating in a high-growth, underdeveloped sector like hemp within cannabis. Whereas, Osteopore is a healthcare equipment developer with an attractive product line-up.
Ecofibre Limited (ASX: EOF)
A profitable business
The company is involved with activities like breeding, cultivating, processing and distributing hemp products. In March 2019, the company completed its Initial Public Offering (IPO) and raised $20 million in the process.
It provides its products in both the United States and Australian region. In the US, the company produces hemp nutraceutical products for human and pet consumption, and topical creams and salves, while in Australia, the company produces homegrown and processed hemp food products, including protein powders, dehulled hemp seed and hemp seed oil. In addition, the company is working with Thomas Jefferson University (TJU) in the US, developing hemp-based products in textile and composite materials.
Hemp & Marijuana are two legally separated products, and the legal barriers applied to Marijuana & Hemp are distinguished in the USA. Hemp is cannabis with less than 0.3% Tetrahydrocannabinol (THC). Street Marijuana could have THC in excess of 20% and could be 50 to 75 times stronger than the hemp extract.
In addition, the major cannabinoid involved in the hemp extract is cannabidiol, alternatively called CBD oil. More importantly, the company is engaged in the development of hemp-based products, and mostly grows and processes hemp oil.
The company is focused on the rapidly changing global hemp market, and it believes that significant opportunities are present across multiple segments and geographies. Its brand 'Ananda' is dedicated to health & wellbeing segment, and Hemp Black is committed to improving the functionality, and sustainability of a range of industrial products.
Ecofibre does not sell or produce recreational marijuana products. Recreational Marijuana is nationally legal in the two countries- Uruguay & Canada. Most of the countries have decriminalised recreational marijuana, and recreational marijuana products are available in some of the states in the US.
Whereas, hemp is a federally legal product in the US, and the company believes that it offers scalable growth. The company is focused on the attractive markets with Ananda Health – US, Ananda Food – Australia, and Hemp Black would serve globally.
Among its brands, Ananda Health is in the relatively more developed period with profitability, cash positive, and potential to scale up. Ananda Food & Hemp Black remains as developing brands, having required net cash investment during the year ended 30 June 2019.
Ananda Food operates a fully commissioned supply chain with the capability to increase its focus on sales & marketing operations. Hemp Black is at the pre-commercial stage, and it is starting to commission its supply chain.
In the year-ended 30 June 2019, the company has come out of losses and posted a profit after income tax of $6 million compared to a loss of $8.6 million in the previous year. Although, the profit after tax included a tax credit of $1.4 million, and profit before income tax was $4.59 million for the period.
The company has witnessed revenue growth of 519% over the year and reported revenue of $35.6 million compared to $5.7 million in the previous year. The gross profit increased to $25.8 million compared to $2 million in the previous year, and gross margin increased to 72% from 34% in the previous year. The financial results for the period included the impact of IPO costs, which was $0.8 million on a pre-tax basis.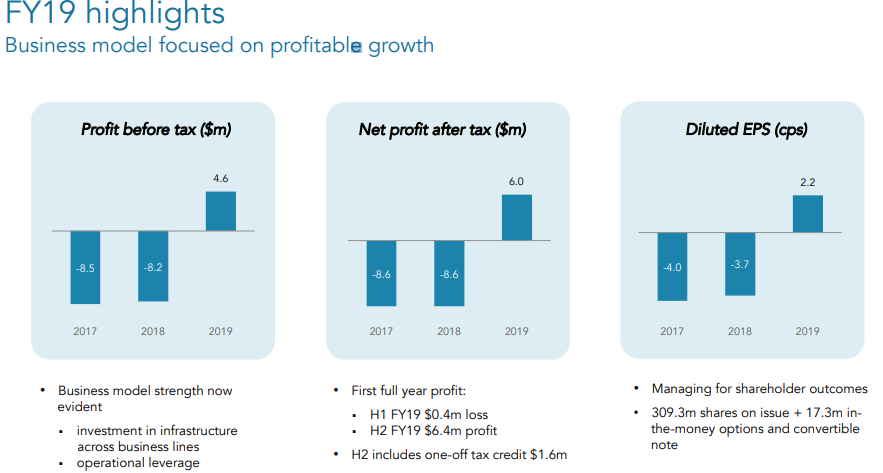 Source: Company's Report
It was said that the profit for the current year was the result of significant ongoing investment over the last three years to commercialise the company's capabilities. Sales growth has depicted positive signs for the company, rising from $6 million in the first quarter to $12.3 million in the last quarter.
The company was able to achieve growth due to the continued increase in the number of US independent pharmacies that sell Amanda Health products. As a result, the channel account for approx. 70% of the revenue, and no single customer represent sale volume of more than 4% of revenue across the Ecofibre group.
On 9 October 2019, EOF last traded at $3.25, up by 1.246% relative to the last close.
Osteopore Limited (ASX: OSX)
Healthcare equipment developer with 3D printing tech
Med-tech company, Osteopore Limited is commercialising a range of bespoke products, specifically facilitating bone healing across multiple therapeutics areas. Its patented technology enables bone regeneration via 3D printing and biodegradable material.
In September 2019, the company debuted on the Australian Stock Exchange, and it would be quite premature to judge the performance of the company at present. However, the stock has given a return of 42.07%, in the last five days period (as on 9 October 2019). As a health care equipment company, the market is likely to be upbeat for the stock amid moderating growth in the advanced economies.
According to exchange filings, the company had raised $5.25 million before costs, backed by strong demand from institutional investors, high net worth individuals, and sophisticated investors.
It issued a total of ~26.25 million shares at an issue price of $0.2 per share, and the company was listed on the ASX at a market capitalisation of $20.2 million. It is said that the funds raised by the company would be used to pursue growth strategies, and a focus on enhancing the focus on Osteoplug, Osteomesh and Osteostrip.
The company is looking to increase market penetration for the above-mentioned products in the emerging international markets, along with developing new growth opportunities through utilising its expertise in regenerative medicines & medical polymers. It intends to expand its sales & marketing footprint in Australia, Asia, Europe & the USA.
These aforementioned products of the company, having FDA and CE Mark registration, are being sold to hospitals globally. Osteopore has been successful in the commercialisation of the products and has till date attained more than 20k successful surgical procedures.
The company has an ambitious target to become a leader in 3D printed medical implants and facilitate natural tissue regeneration through its capabilities. It is also targeting to obtain required regulatory clearance in target jurisdictions, including Australian TGA, and US FDA, CE Mark for the second-generation registration.
In addition, the company intends to expand product capability, particularly in dental, orthopaedic, and long bone market segments. It would also establish local representatives' offices in key target markets to secure licensing arrangements with local manufacturers and distributors.
On 9 October 2019, OSX last traded at $0.98, down by 4.854% relative to the last close.
---
Disclaimer
This website is a service of Kalkine Media Pty. Ltd. A.C.N. 629 651 672. The website has been prepared for informational purposes only and is not intended to be used as a complete source of information on any particular company. Kalkine Media does not in any way endorse or recommend individuals, products or services that may be discussed on this site. Our publications are NOT a solicitation or recommendation to buy, sell or hold. We are neither licensed nor qualified to provide investment advice.