The year 2020 - The world is at the edge of witnessing an economic domino effect, worst since the great depression which began in 1929 and lasted for ten years. The economic downturn began in the US crashing NYSE and wiping millions of investors from Wall Street. COVID-19 outbreak started in December 2019 at Wuhan, Hubei province of China, the centre of the epidemic has now been extended to more than 210 countries and territories. As per Johns Hopkins Coronavirus Resource Centre, the total confirmed cases as of 17 April 2020 have reached around ~2.16 million with 144,221 death and recovery of 543,732 patient.
The precautionary measure to curb the severe impact of COVID-19 is creating a vicious cycle, drowning the social and economic environment at lightning speed and questioning the world's sustainable development. The commodity demand fell with a lockdown in China, followed by other countries along with the imposed travel restrictions. The falling oil and gas prices have held the economy by the neck. Further, social life is also challenged after confining people within the four walls of a home, affecting the hospitality sector and to some extent, the service sector.
Good read: Copper Falls Close To 3-Year Down as Virus Stops Global Economic Growth.
The economic indicator, copper, fell by 12% between 16 to 31 January 2020. The price further tumbled hovering around by difference of around +/-1% from US$5569 per tonne (LME price) on 31 January to US$5530 per tonne as on 13 March 2020. Post which price further fell by 17% from 13 March to US$4617.5 per tonne on 23 March 2020, reaching a three-year low since 24 October 2016.
The price rebounded on 24 March 2020 by 4% to US$ 4789.5 per tonne from previous day LME price, which is further rallied by 10% between US$ 4617.5 on 24 March to US$ 5098.5 per tonne on 16 April 2020. The surge in price is due to the control over the Coronavirus and Chinese market reopening. Also, the announcement of factory expansion activities in China has inhibited the copper demand increment confidence among the investors. Along with global cut in interest rate, i.e. quantitative easing policy to boost the economy has supported the price to some extent.
LME Copper Price (US$ per tonne)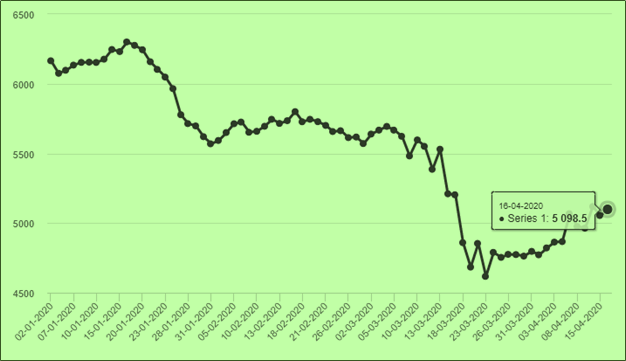 Source: London Metal Exchange
Interesting Read: Copper- An Evolving Gold for ASX Copper Stocks; Prolonged-dated Spreads in Contango.
The Chilean copper commission Cochilco (Comisión Chilena del Cobre), the world's largest copper producing country has dwindled the copper price forecast for 2020 by 16% from previous predicted value of US$2.85/lb to US$2.45/lb announced on 3 April 2020. The decline in copper price forecast is because Cochilco expects the adverse effect of Coronavirus in Q2 and Q3 on developed countries, tumbling copper demand in the future. Cochilco anticipates overall copper demand to fall by 1.7%, i.e. 417,000t in 2020, whereas global supply is projected to shrink by 1.2%, i.e. 255,000t.
What's the Viewpoint of Copper Price by Australia, the Second Largest Copper Resource Holder in the World?
The Department of Industry, Science, Energy and Resources anticipates copper LME to hover around US$5989 per tonne in 2020, which is expected to increase at a CAGR of 2.0% from 2019 to US$6916 per tonne in 2025. The world copper production is expected to grow at a CAGR of 2.5% from 20.512Mt in 2019 to 23.805Mt in 2025. The consumption is likely to surge at a CAGR of 2.3%, lower by 0.2% from production, from 23.506Mt in 2019 to 26.896Mt in 2025.
The price of copper fell by 27% in three months from the maximum on 16 January to lowest on 23 March 2020 due to the rise in US dollar, reduced Chinese industrial activity and pessimistic sentiments around the world GDP due to the COVID-19 pandemic. The stalling demands at the start of the year have resulted in stockpiling of copper, tumbling the copper price further in 2020. Having said that, the consumption is expected to increase in the outlook period of 2020-2025 after the easing of the effects of COVID-19, resulting in the modest recovery of copper price.
Economic Growth Outlook to 2025
During the outlook period, OECD economic growth for 2020 is anticipated to fall from 2.9% projected previously before COVID-19 outbreak to 2.4% post the COVID-19 pandemic. The IMF, on the other hand, predicts the world economic growth to increase to 3.3% in 2020 and 3.4% in 2021 assuming the COVID-19 outbreak eases in the second half of 2020. Growth is likely to recover slowly over the outlook period, reaching 3.6% in 2025.
The copper price is likely to increase between 2020 to 2025 on the assumption that the outbreak will ease in 2H2020. The price is expected to grow gradually on the back of government support and demand to come from the advent of EVs and Infrastructure development which is likely to increase in the coming years.
Also, it is notable to mention that economic growth is anticipated to increase at a CAGR of 3.09% between 2019 to 2025. The rise in world economic growth gives a positive signal for copper since it is often termed as doctor copper to detect the pulse of economic growth and vice-versa.
Must Read: Point of View for Metals & Mining After Impact of COVID-19
---
Disclaimer
This website is a service of Kalkine Media Pty. Ltd. A.C.N. 629 651 672. The website has been prepared for informational purposes only and is not intended to be used as a complete source of information on any particular company. Kalkine Media does not in any way endorse or recommend individuals, products or services that may be discussed on this site. Our publications are NOT a solicitation or recommendation to buy, sell or hold. We are neither licensed nor qualified to provide investment advice.