Digitalisation imposes a lot of upcoming changes and trend in technology-driven world. The spectrum of this includes - introduction of 5G networks, smart-connectivity solutions and wearables, artificial intelligence, machine learning, rapid adoption of cloud, Internet of Things, autonomous cars, gaming, drones, cryptocurrencies, leading to increase in demand and development of electronic device, semiconductors and chipmakers industry.
In this competitive and customer-driven world, it is amazing to see Amazon, Apple, Google, Zigbee coming together to work on connected home project for the sake of getting safe, reliable, and flawless devices to use smart home applications. This joint association of companies will leverage their technologies to help manufacturers in simplifying the development process, producing compatible devices, and implementation of unified protocol.
The above-mentioned parameters for the change at present time are well absorbed by some of the biggest firms in the technology domain around the globe. To begin with, NASDAQ, the US-based stock market has above 3,300 entities listed on it, with higher weightage given to tech companies from across the globe. It also has a technology specific index named as NASDAQ-100 Technology Sector Index (NDXT).
Moreover, the United States, itself has the highest count of companies (which is 42 percent) while viewing the world's largest technology companies (154 in total) as per the latest market report.
The performance statistics of NASDAQ are as follows:
As on 31 December 2019, out of all the sectors, technology came out as the best-performing sector (as per the NASDAQ report).
NDXT has generated 46 percent return in 2019, and 16 percent in last 6 months, which has come out as best performance of NDXT in over a decade.
Within technology, semiconductor stocks have proven to be the best one. Such as 100 per cent return generating stocks are Advanced Micro Devices (AMD), Cirrus Logic (CRUS) and Lam Research (LRCX) in 2019. Also, there has been 61 percent rise in iShares PHLX Semiconductor ETF (SOXX).
As per NASDAQ, while analysing the top 10 best-performing technology stocks in the year 2019, the positive return ranged from 176 percent to 500 percent for Ultra Clean Holdings and Cardlytics, respectively. The ranking of the tech stocks is as follows:
Cardlytics (500%)
Enphase Energy (466%)
Diebold Nixdorf (340%)
Digital Turbine (304%)
Sea Limited (247%)
Telaria (230%)
Shopify (195%)
Snap (191%)
Lattice Semiconductor (178%)
Ultra Clean Holdings (176%)
US-based big four technology companies which outperformed NASDAQ index are GAFA namely Google (1%), Apple (96%), Facebook (48%), Amazon (2%).
Apple: NASDAQ - listed and 33-year-old, Apple Inc. (AAPL) is the world's largest tech company with ranking of top 1 amongst 184 tech companies, as per the latest market report.
Financial Highlights:
In April 2019, the Company released FY2019 report for the period closed September 28 this year. Highlights of the same are as follows:
From the beginning of May 2019, quarterly Apple's dividend increased from $0.73 to $0.77 per share and raised its current share repurchase program authorisation from $100 billion to $175 billion.
Owing to partially higher sales of Home Accessories, Wearables and Services and the decline in sales of iPhone, the total net sales of the Apple declined by 2 percent.
Outlook:
On the upcoming plan front, the company is going to set a new bar for technology integration in the automobile sector by introducing self-driving car.
The company's current P/E ratio is 25.22x (as on 6 January 2020), while its 2019 Actual P/E Ratio was 25.21x and 2020's estimated P/E ratio is 22.89x.
Other than Apple's plan for self-driving cars, other prominent developments are Alexa launched by Amazon, Google's Echo or Lens, Gmail providing smart compose etc are a few examples of application of artificial intelligence holding the most vital potential for future.
Impact on ASX Tech Shares
The impact of such a phenomenal performance of NASDAQ index is felt on Australia Stock Exchange (ASX) Tech stocks as well.
The table below indicates the positive return of some of the players from technology domain (as on 6 January 2020).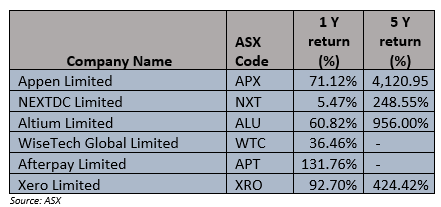 Launch of a new technology index in February 2020: To enhance the visibility of tech sector and spread awareness of the small payers in this sector, a new index for technology companies on ASX will be launched during the next month, named as S&P/ASX All Technology Index (XTX).
A term WAAAX is used for tech companies of Australia which is an abbreviation for "W" for WiseTech Global Limited, first "A" stands for Appen Limited, second "A" represents Altium Limited , and the third "A" for Afterpay Limited , and finally "X" stands for Xero Limited.
Two Stocks in Radar to have a glimpse of tech stock of Australia are as follows.
Altium Limited (ASX:ALU)
An ASX listed information technology company, Altium Limited is a manufacturer of PCB data management software and component, PCB design software, which helps broad range of companies in designing next-generation electronic systems and products. The company provides AltiumLive which is industry's conference for PCB engineers and designers.
CBA becomes Substantial holder
On 2 January 2020, ALU notified the market that Commonwealth Bank of Australia (ASX: CBA) has become a substantial holder in ALU with 447,734 fully paid ordinary shares or person's votes, with the voting power of 0.34% effective 31 December 2019.
Address by Chairman during AGM
On 6 December 2019, ALU updated the market with its Chairman's address to its shareholders during the Annual General Meeting held on the same day, wherein he enlightened on the use of global electronics industry and bringing the change in everyday exercises, with its upcoming plans in line with 5G technology, Big Data, Cloud Computing and Artificial Intelligence.
He also mentioned about the financial performance of the company in comparison to FY 2018, where the revenue and net profit has increased by 23 percent and 41 percent respectively.
Stock Performance –
On 7 January 2020, the stock of ALU last traded at $ 34.860, moving up by 1.573% compared to its previous closing price. The company has outstanding shares of around ~ 130.97 million. Also, ALU has a market capitalisation of nearly $ 4.49 billion, while the 52 weeks low and high price of the stock was noted at $ 21.120 and $ 38.490, respectively. The stock has delivered a positive return of 60.82 percent in the last one year.
Afterpay Limited (ASX: APT)
An information technology company, Afterpay Limited is a payment company utilising technology to make purchasing easy for customers. With nearly 4.3 million active customers and around 30,600 on-boarded active retail merchants, the company is operating in Australia and oversees.
Regulatory Update:
On 2 January 2020, APT updated the market that it has applied for the license to expedite its prospective expansion in future into other service offerings in the USA, allying with APT's business model.
Stock Performance
On 7 January 2020, the stock of APT last traded at $ 29.990, moving downwards by 0.925% compared to its previous closing price. The company has outstanding shares of around ~ 260.66 million. Also, APT has a market capitalisation of nearly $ 7.89 billion, while the 52 weeks low and high price of the stock was noted at $12.350 and $ 37.410, respectively. The stock has delivered a positive return of 11.07 percent in the last six months.
---
Disclaimer
This website is a service of Kalkine Media Pty. Ltd. A.C.N. 629 651 672. The website has been prepared for informational purposes only and is not intended to be used as a complete source of information on any particular company. Kalkine Media does not in any way endorse or recommend individuals, products or services that may be discussed on this site. Our publications are NOT a solicitation or recommendation to buy, sell or hold. We are neither licensed nor qualified to provide investment advice.