Medical cannabis uses the marijuana plant or chemicals extracted from the plant for the treatment of diseases and symptoms, the plant (cannabis) possess over a hundred different chemicals called cannabinoids. There are a few forms of cannabis present in the world with pharmaceutical grade cannabis, which is approved by regulatory organisation like Therapeutic Goods Administration (TGA). The next form includes controlled and standardised herbal cannabis and lastly, unregulated and illegal cannabis without any concentration limits.
Cannabinoids are chemicals related to delta-9-tetrahydrocannabinol (THC), which is the main mind-altering element and Human body also produces cannabinoids, which regulate pleasure, concentration, memory, thinking, appetite etc. The two main cannabinoids in cannabis are THC and CBD. THC increases the appetite, decreases pain, inflammation and reduces nausea while CBD is not associated with toxification; hence, it is not used for recreational purposes.
Some side effects associated with the use of medical cannabis include difficulty with concentration, loss of balance, problems with thinking and memory, drowsiness and dizziness. Smoking of medicinal cannabis is not recommended as it is a harmful way of taking cannabis due to carcinogenic substances being inhaled directly to the lungs.
Canopy Growth Corporation (TSE: WEED)
Canopy Growth Corporation is the first publicly traded cannabis company of North America, and it constitutes to S&P/TSX Composite Index. The company operates with its subsidiaries, and it was also the first Canadian producer approved to export dried cannabis to Germany wherein Canopy's wholly owned subsidiary continues to supply products to German pharmacies. It had been reported that the company had signed a strategic relationship with fortune 500 beverage alcohol supplier to launch new products in the market.
Softgel is one of the products of the company, designed for the people who want to consume their medical cannabis in the pill form; these softgels are available in a variety of medicinal concentrations, from micro to full doses with more products in the pipeline.
WEED last traded at CAD$ 55.26 down by 0.81% from the prior close.
Aurora Cannabis Inc. (TSE: ACB)
Aurora Cannabis Inc. (TSX: ACB) is engaged in the production & distribution of medicinal cannabis with a funded production capacity of over 500,000 kilograms per year. ACB has an expanding group of subsidiaries as well as strategic partnerships/ investments to leverage the use of advanced technology, global outreach and high yield production techniques. Aurora has been dedicated in expansion with operations in more than 24 countries across five continents, and the current focus of the company is on diversification through acquisition, strategic partnerships & R&D.
Aurora Cloud CDB [HYBRID]
It is the newest innovation for medical patients in Canada, and it is a high CBD, low THC, cartridge discreetly houses 1mL of cannabis oil, which contains over 550 mg/mL of CBD and less than 30 mg/mL of THC. The product is provided in a child-resistant glass cartridge, which can be used with Universal 510 battery packs for vaping.
ACB last traded at CAD$10.13, up by 0.50% from the prior close on 13 June 2019.
Hexo Corp. (TSE: HEXO)
Hexo Corp. is a consumer-packaged goods company based in Canada. It is partnering with fortune 500 companies to leverage their distribution networks and capacity for providing cannabinoid isolation technology, licensed infrastructure and regulatory expertise to these established players. The company has operations in Canada along with a foothold in Greece to establish production, processing and distribution for Eurozone.

Elixir – Cannabis Oil Sublingual Spray
It is Canada's only peppermint medical cannabis oil sublingual spray. Elixir is discreet, convenient and easy to use smoke-free medicine along with a child-resistant bottle. It is delivered in fresh peppermint spray traditionally used for freshening breath and helping with digestive tract pain.
HEXO last traded at CAD$7.52, down by 3.71% from the prior close on 13 June 2019.
Aphria Inc (TSE: APHA)
Aphria Inc is based in Ontario, Canada. It produces and sells medical marijuana, which includes capsules, oral solutions & vaporizers. The company provides the most natural growing conditions for the development of its plants and ensures patients receive clean, safe and pure medical cannabis product.
The company's product includes Sativa-Hybrid, Indica, Sativa & Hybrid. Aphria™ controls the growing process through water sampling, nutrient profiling, integrated pest control management and record management to keep track of every step in the growing process. Aphria™ products are broadly tested in labs for potency level and check for impurities such as microbiological contaminants, heavy metals, pesticides.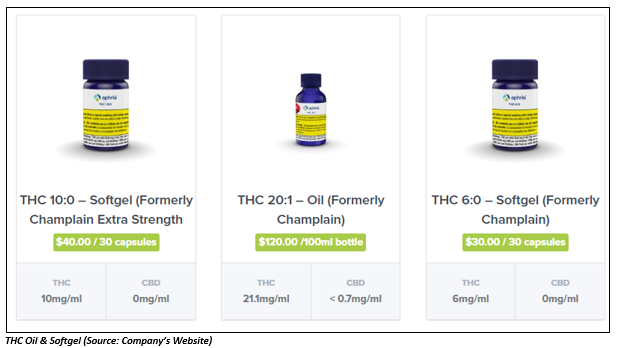 APHA last traded at CAD$6.79, down by 2.44% from the prior close on 13 June 2019.
Cronos Group Inc. (TSE: CRON)
Cronos Group Inc operates international production & distribution across five continents. It aims to build disruptive technology through advancing cannabis research, technology and development of products. PEACE NATURALS™ is the group brand for medicinal cannabis, which offers products that include dried flower, oil, classics, originals, caryophyllene, limonene, myrcene etc.
CRON last traded at CAD$15.44, down by 5.62% from the prior close on 13 June 2019.
MGC Pharmaceuticals Ltd (ASX: MXC)
MGC Pharmaceuticals Ltd is an ASX-listed BioPharma company based in EU, and it is focused on production & development of Phytomedicines in the most effective and consistent manner. The core strategy of the company is to develop and supply high cannabinoid products to tap the growing demand in medical markets across Europe, Australasia and North America.
The company has developed indication specific formulations for Phytotherapeutics with a range of products wherein the formulation of THC varies, and the solutions are proven significantly to impact the wellness.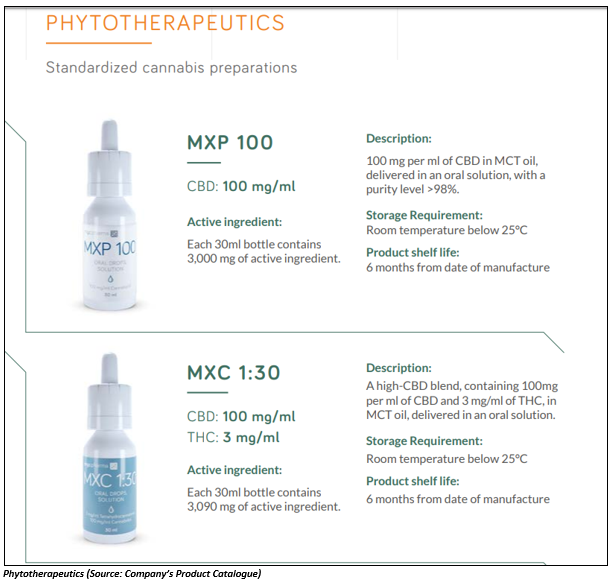 MXC last traded at AUD 0.05 on 17 June 2019, down by 3.846% from the prior close.
AusCann Group Holding Limited (ASX: AC8)
AusCann Group Holding Limited is a pharmaceutical company with the expertise to operations across all aspects of the medicinal cannabis value chain, from cultivation to sale of pharmaceutical cannabinoid. AusCann is a fully integrated medical cannabinoid company with established channels across raw material, product development, manufacturing and distribution sales.
The initial focus of the company lies within chronic pain & cannabinoids with its proprietary capsules as its product. AC8 expects that proprietary final dose form capsule to solve dosing problems that pertain to current oils & capsules in the market. AusCann asserts that capsules are easy to administer, familiar & enables controlled dose to manage pain without side effects.
AC8 last traded at AUD 0.37 on 17 June 2019, down by 2.632% from the prior close.
Cann Group Limited (ASX: CAN)
Cann Group Limited (ASX: CAN) is Australia's first company to be granted with Cannabis Research Licence by the Australian Government's Office of Drug Control (ODC) in February 2017. Cann Group cultivates cannabis from two R&D facilities in Victoria and supplies cannabis to various industry participants. Aurora Cannabis Inc. (TSX: ACB) hold 22.9% strategic interest in the company and signed an offtake agreement with the company.
In April, CAN reported that the company would supply GMP processed dry flower, extracted resin & manufactured medicinal cannabis products, and necessary export license had been secured from ODC. The company expects that export would meet the growing global demand for GMP grade medical cannabis products. Subsequently, CAN notified about the partnership with IDT Australia (ASX: IDT) in providing manufacturing support related to cannabis-based product formulations.
CAN last traded at AUD 2.070 on 17 June 2019, up by 0.976% from the prior close.
Creso Pharmaceuticals (ASX: CPH)
Creso Pharmaceuticals (ASX: CPH) is a pharmaceutical company engaged in the delivery of quality products for animals and humans derived from cannabis. In Switzerland, CPH launched the first innovative products for humans and animals derived from cannabis – anibidiol® and cannaQIX®. CPH is currently amid acquisition by Canadian listed, PharmaCielo Limited.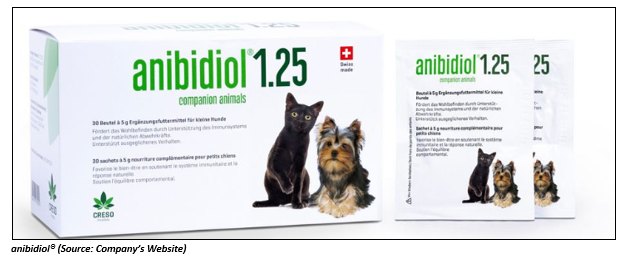 anibidiol® is a complementary feed for small dog and cat with hemp oil to promote well being through supporting the immune system natural response.
CPH last traded at AUD 0.505 on 17 June 2019, up by 2.02% from the prior close.
THC Global Group Limited (ASX: THC)
The group operates under farm to pharma model and holds all three licenses to operate its domestic medical cannabis subsidiary. THC has significantly capacity of growing cannabis in its two sites along with industry-leading pharmaceuticals biomanufacturing facility, which makes the group in a prime position to capitalise on the growing domestic patient market and international export market.
In Australia, the group operates two world-class medicinal cannabis growing facilities with access to Australian cannabis strains as well as global imported strains. The Southport facility of the group is production ready for large scale pharmaceutical grade cannabis production for serving domestic as well as global markets.
THC last traded at AUD 0.460 on 17 June 2019, down by 3.158% from the prior close.
---
Disclaimer
This website is a service of Kalkine Media Pty. Ltd. A.C.N. 629 651 672. The website has been prepared for informational purposes only and is not intended to be used as a complete source of information on any particular company. Kalkine Media does not in any way endorse or recommend individuals, products or services that may be discussed on this site. Our publications are NOT a solicitation or recommendation to buy, sell or hold. We are neither licensed nor qualified to provide investment advice.