Summary

To manage liquidity position amidst the crisis, many companies either deferred, slashed or cancelled dividend payments
Investors suffering income losses in the form of dividend cuts are eyeing dividend stocks offering growth
ALS Limited announced a final dividend of 6.1 cents per share while delivering strong revenue growth and underlying NPAT within the FY20 guidance
Forging the path to economic revival amidst a crisis often takes drastic yet initiative measures that might appear shocking under the ordinary course of events. The unprecedented mishap, COVID-19, which is the 'once in a century' crisis, has assimilated the psychological growth worth of a decade for human society.
The uncertainty of future events, especially about upcoming infection situation in the world has forced people to change their approach. Measures are being taken to ensure the survivability in tough economic landscapes, when jobs are lost in large numbers, and the future appears hazy.
While the people have "switched on" their conservative attitude, businesses are keenly eyeing cost-reduction methods for sustaining amidst the critical times.
The closure of number of business activities under strict lockdown measures and the reduction in demand at both international and domestic levels have forced firms to adopt a 'money-saving' attitude. It is indeed followed by jobs being slashed, compensations reduced, returns declined and guidance withdrawal.
ALSO READ: Dividend stocks amidst unpredictable markets: AGL, SYD, WGB, APA; Guidance withdrawal amidst an air of uncertainty - MGX, ARB, ED1, TYR, AUB, BOQ
As the Government rolled out its plans towards reopening the economy in several stages in a "COVID-safe environment", Australian businesses are gradually recommencing their operations. While the economy is slowly making its way back to revive its glory, investor focus remains on dividend and stock growth.
ALSO READ: Morrison Government's 3 Step Reopening Plan for Economic Recovery
With this backdrop, let us look at the current dividend scenario and how the ALS stock is placed amidst the existing scenario.
Dividend Scenario
Dividend Crunch Amidst the Pandemic
People's search for stable income flow has picked up momentum, as they strive to attain balance during these hard times. Howsoever lucrative a consistent income stream amidst a critical time might sound, dividend investing during the COVID-19 pandemic has got tougher. And, dividend cuts/deferral appear as a bitter concept for investors who had been waiting to stabilise their financial unsteadiness.
Dividend investors are facing a considerable dividend crunch emergency, as a large number of companies either deferred, cancelled, or cut their dividends. Stockbroker Ord Minnett data has indicated dividend deferrals and cuts worth $9.72 billion so far in the Australian market.
ALSO READ: Guide to investing in Dividend Stocks
Major Australian banks made efficient savings through dividend cuts, as number of banks either reduced a substantial amount of dividend or deferred dividend distribution.
An Interim Solution
While all the three alternatives (cuts, deferrals, and cancellation) are unwelcomed by investors, given the current turbulent situation, investors are looking for a significant proportion of income that can assist in their financial management.
With a similar perspective, many companies, post the evaluation of current impact and forthcoming effect, decided to give a reasonable dividend, thereby providing a win-win situation for both the investors and the business. The investors to balance their income stream are looking for stock appreciation that can make up for the losses in their income.
Investors, along with pay-out ratio and dividend yield, are also evaluating the growth of dividend stocks that can undeniably enhance their portfolio attractiveness. Many investors remained under the radar, owing to their conspicuous role in battling and surviving the crisis.
Amidst the time when long queues were formed outside supermarkets, development of related innovative solutions in the tech space as well as in the pharmaceutical and other areas remained as one of the critical focus. The supportive yet critical testing industry has grown in demand during the circumstances.
Must Read! Guide to Build Emergency Proof Portfolio
Let us discuss ALS Limited (ASX: ALQ), which caters to various industries with laboratory testing, inspection, verification and certification solutions. Its operations in diverse sectors on a global scale further enhance the operational excellence of the Company.
On 29 May 2020 (AEST 11:47 AM), ALQ stock was trading at a price of $7.240 and gave one-month return of 10.73%. The dividend update and full-year performance results announced on 27 May 2020 coincided with the consecutive two-day rally of the stock on 27 May and 28 May 2020.
Dividend Payment
ALQ demonstrating its prudent capital management focus along with strong liquidity position announced a final dividend of 6.1 cents per share, which is 70% franked. For FY19, the Company had paid a final dividend of 11.5 cps. The total dividend for FY20 was reduced from 22.5 cps in the previous year to 17.6 cps.
The Company indicated a pay-out ratio of 45% for FY20 ended 31 March 2020. The liquidity preservation remained the central elements of decisions, as ALQ waits for the economic environment to stabilise. Additionally, focus remains on generating cash through leveraging the outstanding progress the Company made during FY20.
Financial Performance
ALS FY20 performance demonstrated revenue growth of 10% from continuing operations over the previous corresponding period to $1,832 million. The revenue growth corresponds to increase in revenue from organic growth (5.1%), acquisition and divestment (1.9%) and favourable currency impact (3%). Meanwhile, the Company registered an increase of 6% in EBIT when compared with the same period a year ago.
Projected liquidity was noted at around $650 million, which also includes increased bank facilities worth $200 million. While underlying NPAT increased by 4.3% to $188.8 million, statutory NPAT was down by $24.8 million compared to FY19, owing to net effect of one-off gains and impairments.
The FY20 performance was primarily attributed to strong organic growth registered under the life sciences and industrial segments, in addition to growth from key acquisitions in the life sciences segment.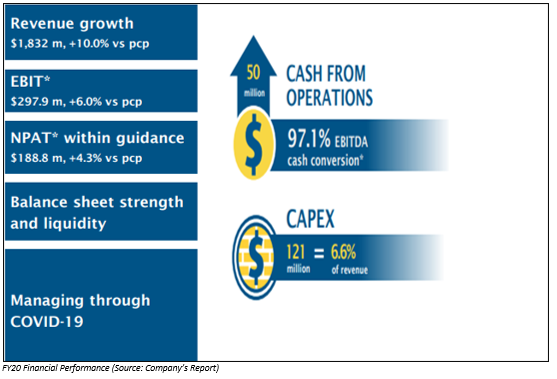 COVID-19 Outlook and Key Undertakings
The diversified portfolio of ALS in terms of businesses and geographies allowed the Company to continue its operations in many 'essential segments' of the businesses. The management has leveraged 'a hub and spoke model' for aligning cost base to client demand, with the model employing cost-effective and timely delivery in a network arranged like a wheel.
The Company reported a decline in revenue of 9% year-on-year during April 2020, as the period primarily coincided with lockdown conditions when the economy downturns were witnessed.
Reopening of the economies with relaxation in few restrictions sends a positive signal. However, the Company reported that currently, it would be too early to gauge the impact on its material volume. Meanwhile, ALS is looking forward to driving its long-term growth through its innovation capacity that saw the launch of testing services for COVID-19, bolstering trends in the structural markets and disciplined acquisition strategy.
Interesting Read: Guide to Portfolio Strategies and Investment Avenues to Wade Through COVID-19 Crisis
(NOTE: Currency is reported in Australian Dollar unless stated otherwise)