When we talk about technology, people usually connect it with the physical devices that are electrical or digital. However, technology rings in far more than that. Now when the world is shifting towards online platforms, usually on mobile and using the technology in different ways, over the period, a paradigm shift has been witnessed in the absorption of technology across the world. Technology disruption is expediting- A robust convergence of technological trends is paving the way for propagating it further.
Various technologies are briskly unfolding into commercial products as they can be diffused faster than ever before, given its base established globally. This creates an exemplary circle for technology companies that can monetise new technologies at an evolving pace, enabling put back of profits for reinvestment in the emerging environment.
According to CSIRO, digital innovation is expected to contribute worth AU$315 billion over the next decade towards the gross economic value in Australia.
Through this article, let us enrich ourselves with one of the buzzing technology Quantum Computing that beholds the possibility of becoming a big business which is ready to be enfolded in Australia.
CSIRO has put together a roadmap to help Australia seize this opportunity of quantum technology. The Roadmap highlights the opportunities, which needs a response and what needs to be done so as to seize the maximum out of this opportunity and spot a four billion-dollar opportunity for Australia.
According to a new roadmap brewed by CSIRO, Australia's government agency for scientific research, the quantum technology industry will generate US$4 billion annually and 16,000 jobs by 2040 in Australia.
A 2040 vision for Australia's quantum industry, Source: CSIRO
When this Quantum technology is broken into sectors, CSIRO expects generation of AU$2.5 billion and 10,000 jobs in the computation, and AU$8 million and 3,000 jobs in communications and AU$9 million and 3,000 jobs in sensing and measurement.
But what exactly does the term Quantum computing imply? It is an area of computing that is based on the growth of computer technology established on the principles of quantum theory illustrating the behaviour of energy and material on the atomic and subatomic (quantum) levels.
Classical versus Quantum Computing
In case of Classical computing, logical operations are carried out using the definite position of a physical state which are usually binary (such as on or off, up or down, 1 or 0 called as a bit) by the computers.
However, in the case of quantum computing, operations are generated as qubit through the usage of an object's quantum state.

Source: CSIRO
Now, let us enrich our discussion by having a look at the Key players using the technology perspective to contribute to industry growth by enabling productivity improvements in diverse industries such as Silicon Quantum Computing and Q-CTRL, as well as the emerging players with the latest collaboration in the industry which includes Pawsey Super Computing Centre and Quantum Brilliance.
Let us further deep dive into this new partnership:
Quantum Brilliance has joined forces with Pawsey Super Computing Centre for the development of the first supercomputing hub, as well as implements recommendation from the Growing Quantum Technology Industry in Australia. The partnership would aid in developing quantum expertise among Pawsey's staff; provide access to a quantum emulator at Pawsey, and to teamwork with Australia's leading researchers.
The companies are positive about the collaboration and anticipate that it would provide a range of growth opportunities to the Australian scientific community.
Did you read; First Au Commences 3D IP Survey at Gimlet
There is a wide range of sectors that uses Quantum computing. But what are these prospective utilities? These utilities are such as:
Accelerating machine learning and improvisation of complex systems would support powerful computers to perform feature mapping, an essential aspect of machine learning on data structures with a difficulty level beyond the capabilities of modern classical computers
Helps in coding information in the properties of cautiously engineered quantum systems known as quantum it's and take benefit of quantum phenomena to produce a new form of computation
Computing supports in speeding up the development process of drug and advanced materials via chemistry simulation, as well as supports in developing effective and sustainable industrial processes
By commercialising these technologies, new opportunities will be posed, such as the generation of global economic value by allowing new products, optimisations, and productivity gains in industries such as materials and jobs across various sectors. The nation comprises of robust research capabilities in quantum information science and hardware development required for the development of software stack needed and the hardware to enable functional computing applications. Also, The Country has attracted significant international players such as Microsoft and Rigetti Computing with established local presence in Australia to benefit from Australia's quantum capabilities.
But the question is, how well Australia is prepared to grab this opportunity?
For almost two decades, Australia has been growing its world-class quantum research and development institutions. And, there has been an upsurge in the companies and new start-ups that have been engaged in the commercialisation of the solutions developed in research labs.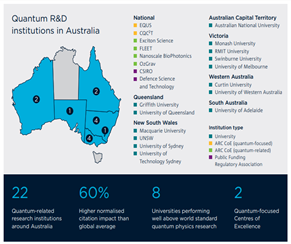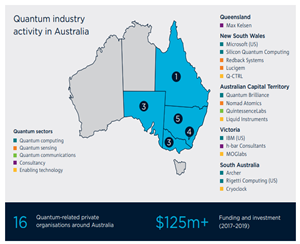 Source: CSIRO
Did you read; ASX: An Attractive Market for US-based Firms? Are There Any Challenges?
Though Australia looks well prepared, there are numerous challenges that it must overcome to capitalise on its quantum strengths and facilitate the long-term growth of this evolving market. Few of the challenges include of the following:
Intense competition for talent worldwide
The industry is in search of extremely trained and competent personnel with varied capabilities consisting of quantum-associated R&D (research & development), hardware& software engineering, precision production & nanofabrication, tech commercialisation & business abilities. Further, it will be important for the nation to ensure that it can attract, develop, and retain skilled people in these areas.
Infrastructure accessibility
The nation needs to invest in infrastructure facilities, as well as on trained and skilful individuals to function them. This is important for the country to build upon its quantum research & development strengths and enhance its ability to prototype and test quantum technologies.
Significant material and component supply
The developers of (quantum technologies) need to take the initiative to involve with their supply chains along with categorising and tackle areas of risk. The challenge also reported a possible prospect for the tech industry in the Australian region to source crucial inputs into the quantum technology supply chain worldwide.
Must watch; Portfolio Positioning and Strengthening | Webinar
Despite the challenges, this emerging technology poses various opportunities to be in terms of economic growth, productivity improvement, and job creation. Australia has an amazing ecosystem in quantum space, skill in this game-changing (quantum) tech that hovers the revolution in an array of industries.