Australia has around 4,200 confirmed cases of novel coronavirus, as on 30 March 2020. Business, as well as the economy, is expected to be further hit by growing cases of coronavirus in the country.
Do Read: COVID-19 Pandemic: An Economic Emergency to be Dealt With
The benchmark index S&P/ASX 200 has dropped significantly from 7162.50 on 29 February 2020 to 4546 on 23 March 2020. Though it closed at 5,181.4 after moving up by 7% on 30 March 2020. The market during this pandemic period is highly uncertain with stocks witnessing several ups and downs in the recent few months.
In this current scenario, it is normal for investors to panic; however, one should remain positive, as this phase will also not last long like several other market uncertainties in the past. This outbreak of novel coronavirus would also have an expiry date.
When you consider from the economy perspective, the economic cycle works in four phases - expansion, peak, contraction and trough. During the expansion phase, there is a rapid growth in the economy, with increase in production and inflationary pressure.
Then comes peak, wherein growth reaches its maximum level. At peak, there is a certain level of imbalance in the economy, which requires correction. At this point, the correction happens through a period of contraction where the growth slows down, employment rate tumbles, and the price becomes stagnant. When the economy reaches its lowest position, we call it as a trough, and that is the time during which growth starts recovering.
This theory is applicable in business as well as investment.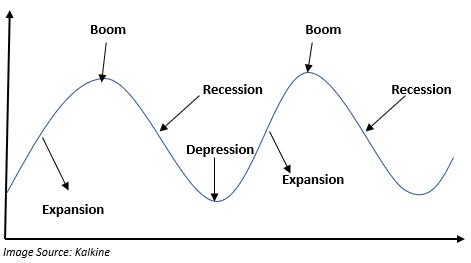 In the present scenario, there is uncertainty surrounding the extent of COVID-19 spread and the market is bearish. One cannot give assurance regarding how long COVID-19 would last.
Such situations can only be dealt with patience. Globally, people experienced similar crisis in the past during the time of the 2008 financial crisis; however, the market bounced back when the things were favourable. To know about it,click here.
Prospect of Technology Sector Amid COVID-19
The sector that performed very well in the year 2019, registering growth of 33.47%, undoubtedly has a brighter futurein the years ahead.
Though, in the present scenario, things don't seem favourable for the technology sector,owing to the outbreak of coronavirus, the sector holds potential to grow after the market correction. It is the digital era, and the technology sector will play a significant role in the recovery process of the market.
Prices of several stocks are on a roller coaster ride over the past few months. And, at this juncture, investors might prefer to park their funds in the stocks of those information technology players that are engaged in business related to emerging technologies and are presently undervalued.
In this article, we arediscussing two such IT juniors listed on ASX with growth potential.
Disclaimer- Please note that the below should be regarded as presentation of facts, not recommendation.
Codan Limited (ASX: CDA)
South Australia-headquartered, Codan Limited (ASX: CDA) is a technology developer, engaged in solving communications, safety, security as well as productivity problems of its clients. Its core portfolio includes rugged and reliable electronics solutions.
The Company was founded in the year 1959 and operates from Canada, USA, Ireland, UAE and South Africa. Its customers include aid & humanitarian businesses, security & military groups, mining firms & governments. CDA's products are sold in over 150 nations and the Company have a global network of dealers, distributors & agents to provide solutions to its customers anywhere in the world.
According to a company announcement dated 19 March 2020, CDA has a strong balance sheet with cash in excess of $65 million. Also, its sales and profits for the third quarter of FY20 remain strong and consistent with the run rate in the first half.
1H FY2020 Highlights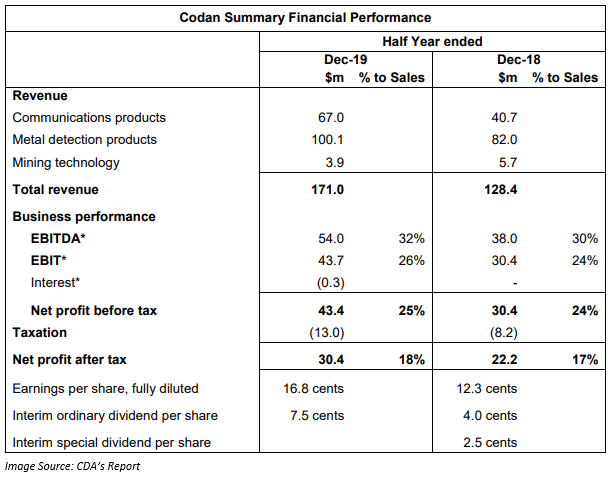 Other than this, CDA has been a consistent dividend payer for the past 5 years.
FY2020 Outlook
Strong backorders for Vanquish™, due for delivery inH2FY20;
Continued strength of gold detecting sales. The run rate remains steady with 1H FY2020;
In 1H FY2020, communicationsprovided $21 million in large deals and same volume is expected in the second half of the financial year.
Stock Information
The stock of CDA closed the day's trade by inching upward 5.372% to $5.100 on 30 March 2020. The stock has delivered a negative YTD return of 33.61%; however, in the past 5 days, it has delivered a return of 21.91%. CDA has a market cap of $871.17 million, PE ratio of 16.13x and annual dividend yield of 2.58%.
Class Limited(ASX: CL1)
Class Limited (ASX: CL1)is engaged in developing as well as providing cloud software solutions for the Australian wealth accounting market since 2009.
Its software allows accountants, administrators as well as advisers to boost profitability, fuel business growth and give better client service. Its product portfolio includes cloud based SMSF administration softwareClass Super, powerful cloud software solution Class Portfolio, and leading platform in the fintech spaceNowInfinity.
The Company in 2018 and 2019 was recognised as Accounting Innovator of the Year andin 2019, Software Services Innovator of the Year (50+ employees) in the Fintech Business Awards. It is also the winner of Overall Satisfaction SMSF Software consistently from 2015 till 2019. CL1was also the winner of Value for Money from 2017 till 2019.
The Company delivers technology platform to 3,500 wealth accounting firms. It has 583,000 investor accounts and entities and has 7 products with 250 bank/platform integrations. The Company has $280 billion worth assets on platform, $50 billion worth deposits on platform and $180 billion worth retirement assets.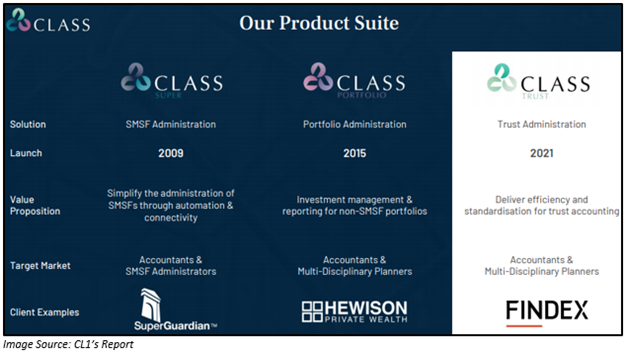 The customers of Class Limited have a strong interest in its products. As per data provided by the Company in its investor presentation, 39% of customers are extremely interested and 33% are very interested, while 23% are somewhat interested, 3% not very interested and 2% are not at all interested.
If we look at the performance of the Company in 1H FY2020 ended 31 December 2019, revenue from ordinary activities had grown by 6.6% to $20.490 million. However, profit declined by 29.9% to $3.061 million.
The balance sheet of the Company witnessed growth in net asset base from $28.897 million at the end of June 2019 to $30.630 at the end of December 2019. The Company also reported an increase in operating cash inflows during this period by ~ 42% to $6.679 million.
However, there was also an increase in cash outflow in investing activities due to a rise in the payments for investment property as well as for property, plant and equipment.
Net cash and cash equivalent with the Company by the end of 1H FY2020 stood at $16.990 million.
Other than this, the Company has been a consistent dividend payer for the past five financial years.
FY2020 Guidance -CL1 is targeting 14% revenue growth in FY20 includingNowInfinity, from which product revenue is expected to be ~ $7 million.
Stock Information
The stock of CL1 has delivered a negative YTD return of 48.29%; however, return for the past 5 days was noted at 15.22%. At the end of day's trade on 30 March 2020, CL1 stock settled at $1.130, up 6.604% from its previous close. CL1 has a market cap of 130.12 million, PE ratio of 16.13x and annual dividend yield of 4.72%.
---
Disclaimer
This website is a service of Kalkine Media Pty. Ltd. A.C.N. 629 651 672. The website has been prepared for informational purposes only and is not intended to be used as a complete source of information on any particular company. Kalkine Media does not in any way endorse or recommend individuals, products or services that may be discussed on this site. Our publications are NOT a solicitation or recommendation to buy, sell or hold. We are neither licensed nor qualified to provide investment advice.