About NASDAQ:
NASDAQ is a global electronic market for trading stocks as well as the benchmark index for US technology stocks. It is the first electronic stock market in the world. Its technology powers more than seventy marketplaces in fifty countries. NASDAQ started operations on 8 February 1971. It was created by the National Association of Securities Dealers (NASD).
About Australian Stock Exchange:
Australian Stock Exchange (ASX) is one of the top ten exchanges in the world, in terms of market cap. ASX provides trading, clearing, settlement and depository services across various classes of assets such as equities, derivatives, ETFs and options, as well as managed funds. ASX holds a market cap of ~ $1.5 trillion. It was founded in the year 1987 and is headquartered in Sydney, NSW.
Currently, ASX is putting huge efforts so that the foreign companies get listed on the Australian Stock Exchange. It is investing its time and money to help start-up companies grow. ASX is also investing in incubators and accelerators and in mentoring the start-up companies.
Sources say that there are around 20 companies from Israel that are listed on the ASX. The Israeli companies prefer to raise funds either through private equity, venture capital or through mergers.
Recently, there was a buzz in the market that there are at least eight fast growing technology stocks that intend to get listed on the ASX. Of the total eight, five are from the US. According to sources, these eight companies with a market cap of $500 million to $1 billion are planning to get listed on the ASX in 2019. Recently, Life360, a San Francisco based company which provides location tracking services, got officially listed on the ASX.
In 2018, the small technology sector in Australia performed better than the US digital giants Facebook, Apple, Amazon, Netflix and Google. The ASX200 IT sector increased by 20% in 2018.
There is also a buzz in the market that Life360's competitor Sezzle might also try getting listed on the ASX in the coming months.
The success of the Australian technology companies (WAAX) such as WiseTech (ASX:WTC), Afterpay (ASX:APT), Altium (ASX:ALU) , Appen (ASX:APX) and Xero (ASX:XRO) is inspiring US companies to get their stocks listed on the ASX. Further, these stocks are also being observed by offshore companies and investors with a strong presence in the US. Many of the US investors are making trips to Australia to access the local market. Other than the United States, companies from Singapore and Hong Kong are also considering the ASX to get their stocks listed. This is a positive sign that many tech stocks outside Australia wish to get listed on the ASX.
Technology companies eyeing ASX Listing:
Whispir Limited: Whispir Limited is a global scale software-as-a-service (SaaS) company, which provides a communications workflow platform so that businesses and people can interact automatically. The Whispir platform helps in automating, personalizing as well as layering the communication with smart workflows. Its cloud-based platform, through its technology, assembles all email, text messaging, and web chatting in one easily accessible space.
Whispir Limited was founded in 2002 and is headquartered in Melbourne, Victoria. The company has WSP as its proposed ASX code, while its proposed listing date is 19 June 2019.
QuickFee Limited: QuickFee Limited is majorly engaged in providing payment platform and SME lending through the provision of finance.
The Professional Fee Funding platform of the company enables offering an alternative finance and bill payment option to the clients so that the invoices are paid in a timely manner and in full within three business days.
QuickFee Limited was founded in 2009 and is headquartered in Baulkham Hills, New South Wales. The company is proposed to get listed on the ASX on 3 July 2019 under the proposed ASX code of QFE.
Some Popular Tech Stocks on ASX
LiveTiles Limited: LiveTiles Limited (ASX: LVT) comprises a team of passionate members who focus on creating transformative enterprise solutions and intelligent designs. The company enables development of true intelligent workplaces and designs compelling user experiences that make the most of productivity across the board. The company serves commercial, government and education markets across the United States, United Kingdom, Europe, Middle East and Asia-Pacific.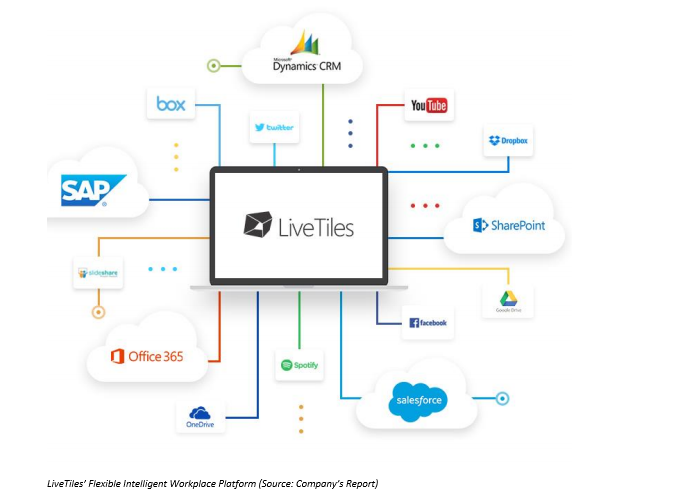 Recent Updates:
On 5 June 2019, LiveTiles Limited released an announcement on ASX related to the launch of its AI-driven, data-centric security solution. The company developed the solution in association with its alliance partner Nucleus Cyber.
The company entered into a strategic partnership with Nucleus Cyber on 25 October 2018. Since the collaboration, the two companies have worked together and combined their technologies to make this unique market offering available.
As part of the collaboration, LiveTiles will promote as well as sell the solution to enterprise customers. The solution will be a premium feature of the company's Intelligent Workplace Platform. Various security tools, user training and complicated configurations existing within the system will get replaced by a streamlined AI-powered solution that works effectively across the Office 365 platform of Microsoft and simultaneously provide protection against the threat of malicious insiders.
The company finds that the addressable market is significant for this type of security solution and aims at more than 400,000 customer organizations and more than 85% of the Fortune 500 companies that use the SharePoint Online of Microsoft as a part of Office 365 subscription.
Stock Performance: By the end of the trading session on 19 June 2019, the price of the shares of LVT was A$0.450, down by 2.174% as compared to its previous closing price. LVT holds a market cap of A$300.77 million and approximately 653.86 million outstanding shares.
9 Spokes International Limited
9 Spokes International Limited (ASX: 9SP) is a company operating in the IT sector, providing small businesses with the best technology and meaningful understandings at the tip of their fingers. Founded in 2011, the company serves as Software as a Service provider.
Recent Updates: On 17 June 2019, 9 Spokes International Limited announced that its recent banking partner contract with Bank of New Zealand, which it achieved through the Microsoft One Commercial Partner co-selling partnership, has started progressing in the first month since launch.
Nearly one month ago, Bank of New Zealand (BNZ) went live with white label 9 Spokes platform, and an excellent user traction was seen during this period. The effective collaboration between BNZ and the company, in addition to the strong go to market activation, has resulted in early success.
The user adoption rates in the first month were at the strongest level, seen to date. The company also highlighted that its relationship with Microsoft is beyond co-selling, and it extends to enabling technologies. The company expects to announce deeper technology partnerships with Microsoft.
As part of One Commercial Partner program, Microsoft provides incentives to its sales team to co-sell the platform of 9SP to important global banking groups. Through this model, the company would be able to enter into new markets as well as grow itself at a faster rate by pitching into strong customer relationships along with the technical expertise of the enterprise sales teams of Microsoft worldwide.
Stock Performance: By the end of the trading session on 19 June 2019, the price of the shares of 9SP was A$0.016. 9SP holds a market cap of A$15.18 million and approximately 948.89 million outstanding shares.
---
Disclaimer
This website is a service of Kalkine Media Pty. Ltd. A.C.N. 629 651 672. The website has been prepared for informational purposes only and is not intended to be used as a complete source of information on any particular company. Kalkine Media does not in any way endorse or recommend individuals, products or services that may be discussed on this site. Our publications are NOT a solicitation or recommendation to buy, sell or hold. We are neither licensed nor qualified to provide investment advice.