"Do not put all your eggs in one basket" is a good adage that is relevant for investors while making their investment decisions. The importance of protecting the permanent loss of capital while undertaking one's investment journey is probably one of the most underrated aspects in the hyper-active investing world. At the stock selection level, the investors can fundamentally screen the companies and then decide to buy or sell a company. Thus, taking adequate care of loss of capital due to poor stock selection. Additionally, the investors can also protect their capital at the portfolio level with a balanced portfolio and this is where portfolio diversification comes to play.
The modern portfolio theory also supports the idea of diversification of the portfolio. Equity portfolio diversification is achieved not just by adding a greater number of stocks to one's portfolio, but by adding a diverse set of companies whose business risks are also diverse, meaning they are not affected equally by a Marco event. A stock's beta is carefully considered while building a diversified portfolio, companies with good dividend yields, are also traditionally given more weight while taking diversification into the picture. Companies from different industries are considered while making a portfolio allocation decision.
The readers must also note that diversification is also achieved at the asset class level and more on that could be read here.
With new product launches and other strategies, small caps listed on ASX are looking to expand their business and boost their footprints.
Let us have a look at the recent updates from three diversified small caps – LAA, CL8 and CLB – majorly engaged into consumer consumption segment to get an overview, on how they are planning to move ahead soon.
LatAm Autos Limited (ASX: LAA)
Headquartered at Quito, Ecuador, LatAm Autos Limited (ASX: LAA) is the operator of a platform for online classifieds and content, serving the automotive industry in Latin America. The company is majorly focused on facilitating the buyer-seller contact and critical information required for the auto acquisition process. The company serves its clients in six nations across Latin America. LAA was listed on the ASX in December 2014.
LAA's Market Presence (Source: Company's Website)
As per an announcement with ASX on 14th June 2019, LatAm Autos Limited notified its shareholders regarding a pro-rata non-renounceable Rights Issue. The company plans to direct the funds raised towards its ongoing working capital expenditure, which covers technology, marketing and personnel expenses, in addition to costs associated with the rights issue and the placement. The company eyes to raise up to A$6,572,271 with the non-renounceable one for every four Rights Issue for nearly 119 million fully paid ordinary shares at an issue price of A$0.055 per share. The issue also covers one free attaching new option for every two new shares subscribed for and issued.
LAA submitted the prospectus detailing rights issue's terms and conditions with ASX on 14th June 2019. The company will send the prospectus, along with a personalised Entitlement and Acceptance Form, to all eligible shareholders on 24th June 2019, giving them brief details about the Rights Issue along with the key dates, the proposed use of funds raised, and some information related to the ASX listing rules.
Rights Trading:
As it is a non-renounceable Rights Issue, the rights cannot be sold or traded. Also, only eligible shareholders, who have a registered address in New Zealand or Australia, as of 20th June 2019 at ASET 7:00 PM, can participate in the rights issue. The closing date to submit application money for the entitlement is 3rd July 2019.
Stock Performance:
On 14th June 2019, the shares of the company last traded at A$0.058, down 7.937% from its last close. It has generated a negative 6-month return of 55.00%, and its one-month return is at a negative 34.38%.
Collaborate Corporation Limited (ASX: CL8)
Collaborate Corporation Limited (ASX: CL8) is a provider of mobility solutions. The company focuses on 'peer-to-peer' or 'sharing economy' and 'collaborative consumption' business model. Incorporated in 1996, the company is headquartered at Sydney, Australia. The company operates through business segments, including DriveMyCar, MyCaravan, Carly, Peerpass and Mobilise.
On 14th June 2019, Collaborate Corporation Limited notified that it had inked a memorandum of understanding (MoU) with Sydney-based start-up iungo Pty Ltd (www.iungo.com.au) for the implementation of a vehicle analytics solution. The platform to be designed will benefit peer-to-peer car rental business DriveMyCar and car subscription business, Carly as they will give the data to their fleet owners including dealers and manufacturers. The new platform will enable vehicle owners to make informed decisions when to retire a vehicle or make new vehicle additions. The solution will also allow fleet owners to provide an additional level of service, data and security to their customers, which in turn would boost their fleet size, according to a statement made by Collaborate's CEO, Chris Noone.
MoU Terms:
CL8 will not make any payment towards the product development costs. iungo is unlikely to receive payments for the product development, though payments, at a standard rate for this type of platform, related to the purchase of in-vehicle hardware devices and network access are expected to be made. Meanwhile, Carly will take a call regarding the price to be charged from vehicle owners for the product.
Solution Features:
The vehicle analytics solution will offer vehicle suppliers access to enhanced vehicle security by providing data related to driving style including speeding acceleration, real-time car location and critical alerts such as vehicle crash and battery/engine faults. Moreover, the platform will provide driver behaviour data and data related to kilometres travelled. Owing to data access, automation of vehicle management processes will result in time and cost efficiencies.
Mobility Solutions (Source: company's Website)
Stock Performance:
The stock of CL8 last traded at a price of A$0.010 (as on 14th June 2019) with a market cap of A$5.78 million and 722.54 million outstanding shares. Its EPS was recorded negative at A$0.004. The company reported negative returns for the past one year, six months and three months, reaching 45.66%, 38.46% and 33.33%, respectively.
Candy Club Holdings Limited (ASX: CLB)
Founded in 2015, Candy Club Holdings Limited (ASX: CLB) is engaged in the speciality market confectionary business. As the operator of wholesale and direct-to-consumer subscription businesses, the company intends to become a global leader in the speciality market candy segment. The company focuses on custom programs, exclusives and promotions to meet the needs of its increasing customer base. It is headquartered in Los Angeles, California, United States.
In an ASX update on 14th June 2019, Candy Club Holdings Limited announced the official launch of its online store. The e-commerce store will feature the company's new arrivals and best-selling products, catering to more than 250,000 existing and former subscribers. The online store will allow subscription-based customers to buy products on an ad hoc basis. Going forward, visitors on the site can avail the products without the need to purchase a subscription.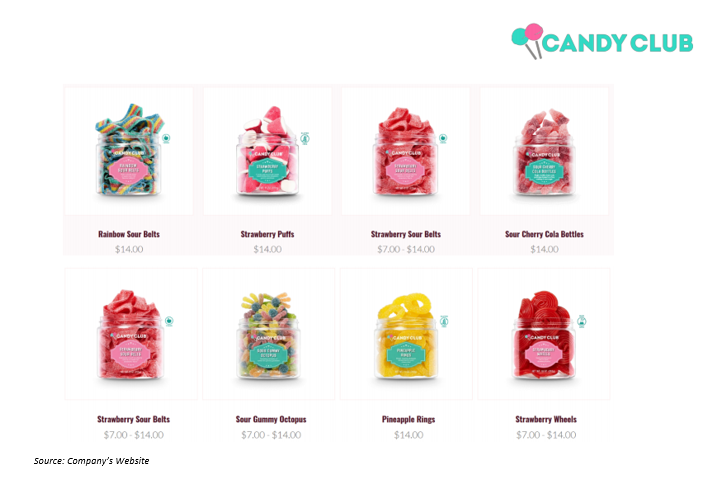 CLB Products (Source: Company's Report)
The new store would enable the company to boost its customer base by adding new customers, as well as serve its existing and previous subscribers. According to the company's CEO Keith Cohn, the e-commerce site would be a hit among customers, who prefer to purchase candy for special occasions. Cohn also unveiled that CLB made a minimal investment to develop the site, since the company has an already existing highly targeted customer base. Moreover, there will be a minimal customer acquisition cost on product sales on the online platform.
How customers will be approached?
Initially, in order to optimise electronic direct mail (EDM), CLB will shoot emails to a fraction of its previous subscriber base. Additionally, an in-house marketing team can reach out to the company's nearly 1 million social media followers to market the new online store
In another announcement made by the company on 8th May 2019, the company gave updates regarding its CY2018 annual general meeting and released a presentation as well. As per the presentation, the company closed its initial public offering in the first quarter of 2019. The company also launched a traditional B2C e-comm model in the second quarter of 2019, while it unveiled a financing line up of up to $1.4 million (the first quarter of 2019). The company now has a business to customer marketing tie-ups with Amazon, Verizon and State Farm.
Stock Performance:
With a market cap of A$12.66 million and over 139.09 million outstanding shares, CLB stock last traded at A$0.091(as on 14th June 2019) unchanged from its previous close. Its three-month return stands at -43.13%, while its one-month return is -39.33%.
---
Disclaimer
This website is a service of Kalkine Media Pty. Ltd. A.C.N. 629 651 672. The website has been prepared for informational purposes only and is not intended to be used as a complete source of information on any particular company. Kalkine Media does not in any way endorse or recommend individuals, products or services that may be discussed on this site. Our publications are NOT a solicitation or recommendation to buy, sell or hold. We are neither licensed nor qualified to provide investment advice.