Introduction:
There are two ways of fund raising which is practised in the business world, namely through equity funding and debt funding. Equity shareholders are the owners of the business while for debt funds, lenders charge a fixed rate of interest on the amount of funds borrowed by the company. Fund raising activities include taking a loan from the lender while the business can raise equity capital by issuing a proportional stake to outside investors.
Types of Fund Raising:
There are two types of fund raising which are widely practised in the business world. These are disused below:
Fund Raising through Equity: In this type of fund raising, the management opt to receive funds in lieu of new shares issued by the company. Equity fund raising activity involves sale of common or preferred shares of the company at pre-determined prices. In the Equity segment, there are two modes of fund raising which is practised by the businesses, namely through private equity (PE) and initial public offering (IPO). Investors choose to value the company based on their business prospect and future earnings capabilities. The equity shareholders enjoy voting rights and participate in shareholder meetings. They are also entitled to attend the Board meetings held by the company in case the stake is substantial. In case of profits earned by the company, equity shareholders are entitled to dividends, in case dividends are declared by the company.
Fund Raising through Debt Option: The debt instruments or notes are issued to the lenders who are entitled to receive interest on a periodical basis. This option does not come with any voting rights. The debt instrument is entitled to a fixed interest which is payable by the company and periodic repayment of principal. During the dissolution of the business, the debenture holders get the first payment from asset sale. During abnormal profits of the company, the debt holders are not entitled to get extra payout from the company like equity holders.
Importance of Fund Raising:
The above fund-raising activities are commonly practised by the business houses and the importance of fund-raising activities are as stated below:
Fund raising activity brings resources and capital into the business, and the business can invest in new ventures or can re-invest across the existing product portfolio. For business expansion across new geographies or in a new industry, a business requires funds and optimized allocation of funds becomes a crucial factor for the company.
The business can opt for fund raising to meet its short-term working capital or to fund its long-term growth plans.
To turn a loss-making segment into a profitable one, a business requires capital infusion and hence, fund raising becomes relevant.
During a tepid business scenario, the business requires to continue its operations amidst current losses for a certain period of time. Thus, the company might choose to fund it from its internal accruals or can opt for capital raising.
For a new venture, the primary capital which is required is the seed-funding. As the company is new to the market, it would not have any reserves and requirement of funds is a necessity to commence its operations.
Fund raising activities are also necessary during merger and acquisition activities of any business. Even if the parent company has reserves in its balance sheet, the company will not invest the entire amount at a time. Thus, requirement of capital raising becomes inevitable and the firm can choose for the best instrument available.
However, in many cases the management of the company chooses to convert the bond holders to equity share, primarily to increase the overall equity participation in the business. In many cases, to reduce gearing, management may intend to convert the existing debt to equity.
Orion Minerals Limited (ASX: ORN)
Orion Minerals Limited operates in mining and exploration activities and primarily focuses on the evaluation and procurement of base metals. The company explores metals like gold and platinum-group element projects in South Africa. ORN has a stake a in Fraser Range Nickel-Copper and Gold Project in Western Australia and the Walhalla Polymetals Project in Victoria.
On 22 October 2019, the company informed that it has opt for a trading halt till 24 October 2019 as the Management will announce a proposed fund raising programme in coming days. As per Management commentary, the funds are likely to utilized for next phase of investment for Prieska Project:
The business would require funds for permitting, concentrated marketing and project financing and ongoing optimization studies.
The business is targeting commencement of construction within early 2020.
Orion will focus on evaluating by-product production and sales of Barite and Pyrite in the coming quarters.
During September 2019, Orion announced that it has received conversion notices from all convertible noteholders. The company also informed that the Note holders also suggested to convert the convertible notes held by them into fully paid ordinary shares of the company. As per the company's update a total of 232.69 million convertible notes worth $6.05 million which were issued on 17 March 2017 was converted into 222,307,679 ordinary shares. This is in addition to 10.3 million convertible notes which were converted into shares in April 2019.
FY19 Operating activities for the period ending 30 June 2019: The operating activities commenced during FY19 by ORN are listed below:
ORN completed its foundation phase bankable feasibility study (BFS) during June 2019 which includes 2.4Mtpa underground and open pit mining operation at Prieska Project.
The business is looking to enhance its growth pipeline through Ayoba discovery in coming quarters.
ORN informed about completion of Landmark black economic empowerment agreement.
As per the company updates, ORN declared drilling commencement on Fraser Range Targets.
During the year, Anglo American sefa Mining Fund became a shareholder of the company and holds a 3.62% stake.
The company also successfully established Employee and community trusts in the Prieska Project.
During September 2019, as per the update, Masiqhame received Ministerial consent for the transfer of controlling interest to Orion.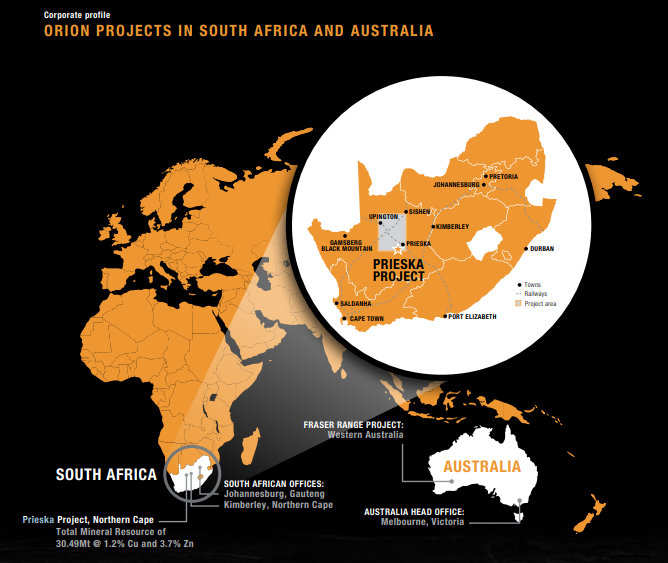 Snapshot of Orion's Projects (Source: Company's Reports)
Stock Update: The stock of ORN closed at $0.027 with a market capitalization of $66.77 million on October 21, 2019. The stock has delivered mixed return of 3.85% and -22.86% during the last three months and six-months, respectively.
---
Disclaimer
This website is a service of Kalkine Media Pty. Ltd. A.C.N. 629 651 672. The website has been prepared for informational purposes only and is not intended to be used as a complete source of information on any particular company. Kalkine Media does not in any way endorse or recommend individuals, products or services that may be discussed on this site. Our publications are NOT a solicitation or recommendation to buy, sell or hold. We are neither licensed nor qualified to provide investment advice.