Our dear silvery-white metal, Lithium has been brewing excitement among investors on China's love affair with electric cars.
The market players have taken their magnifying glass to look through the lustre of this white gold in the highly competitive commodity space. But, without much ado, let us talk about the lithium stocks and the relation between lithium and electric vehicles.
Lithium is a key component in green energy storage technologies and forms a crucial raw material in the manufacturing of lithium-ion batteries, installed in electric vehicles (EV). Needless to say, we are in the generational shift where cars are running on electric power, machines are becoming smarter and quicker than human brains, and money is being transferred digitally.
In this scenario, Lithium is trending as a next-generation metal for its use in electric vehicles as the world is on the verge of facing serious concerns over future oil supplies. Therefore, demand for future lithium resources would likely be dominated by the battery sector, particularly in the EV market.
Is the boom all about Lithium's use in Electric Vehicles?
Lithium is a versatile metal and, therefore, used for a wide range of purposes. Its use in the glass and ceramics industry is quite a famous one. For instance, lithium is required in glass lenses such as those in car headlights to reduce thermal shocks on being exposed to rapid temperature changes. Its application varies greatly from its use in the manufacture of lightweight alloys for the aeronautics industry to its use in the form of lithium carbonate in medication to treat mental illness.
Factors Affecting Lithium Prices:
The expected scale-up in the EV market is prospective to put supply pressure on existing lithium market, which could lead to a bull-run in lithium prices over a long-term. But prices are also dependent on the cost of production, which greatly varies with the method applied for lithium extraction, alongside other discussed factors.
Method of Extraction- Lithium could be extracted from hard rock mineral ore sources (such as petalite, spodumene and lepidolite) or from mineral-rich brines containing lithium. It has been recorded that the cost of extracting lithium from hard rock mineral is extremely high compared to the cost associated with the production from brines. As a result, the majority of lithium on the market today is sourced from brines distributed globally with a major existence across China and the Salt Lakes located in Chile, Bolivia and China.
However, now the market eyes heavy reliance on mineral deposits, an expensive extraction method, as lithium production from brines has come close to exhaustive levels.
Type of Lithium- Lithium production chains are evolving rapidly, with a shift in the market towards the use of hard rock deposits as the lithium production from brines has come close to exhaustive levels. In contrast of this backdrop, production of lithium hydroxide is taking an uptake relative to the production of lithium carbonate, due to its relatively cheaper cost of production compared to the latter.
The majority of Australian lithium producers are focused on the production of lithium hydroxide, steering oversupply in the market that well explains the ongoing decline in lithium hydroxide prices. But it worth noting that spodumene concentrate is more readily available than battery-grade lithium hydroxide, and the latter is recognised to be the higher margin product.
Market experts have, however, drawn some optimism over the outlook period, where the surplus supply is projected to gradually close with the prices expected to start turning around after 2020. The trend could well be seen in the present as it was recorded in recent months that spot prices have fallen more sharply than contract prices, with the latter responding more slowly to oversupply.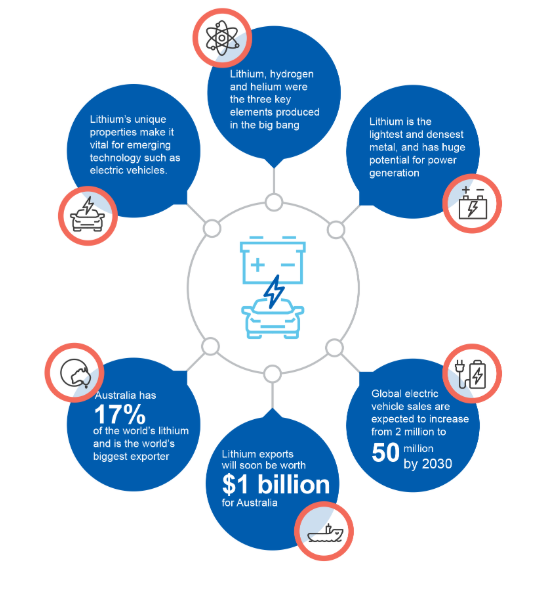 Source: DIIS
The production outlook remains on the upward trajectory! It is predicted in the market that lithium production can grow for the near two-three years, thereby widening the oversupply of lithium resources and rising price concerns.
World Consumption- Japan is positioned as the largest importer of refined lithium, ahead of South Korea. Japanese imports are associated with the nation's emerging role as a producer of electric vehicle technology used by firms such as Panasonic and Tesla.
Imports are broadly drawn from suppliers in Chile, China, Australia and European Countries. The maximum portion of lithium produced annually is consumed in the making of rechargeable batteries followed by Ceramics industry. Many countries like China, Germany, South Korea, Australia and the US. are investing in facilities to target lithium ramp-up in lithium production.
Source: Galaxy Resources, EVTank, BNEF
One of the latest updates contributing to lithium consumption includes the announcement by China Tower, the largest base station operation, with 1.8 million towers. The announcement said that China Tower has ceased using lead acid batteries by the end of 2018 and has switched to lithium battery systems.
Source: Galaxy Resources AGM Presentation
Electric Vehicle Sales- Global growth in electric vehicles continues to be led by China, with Rest of The World markets also delivering strong increases. It was recorded that global electric vehicle sales exceeded 2 million vehicles in 2018, where China reported NEV (Neighborhood Electric Vehicle) sales of 1.26 million, an increase of 61.5% on 2017 (Source: Galaxy Resources AGM Presentation).
Tesla maintains leading shares in the US market, whereas China market seems still to be dominated by domestic brands, including BAIC, Chery and BYD, among others.
The research institutions have projected that China's NEV Sales would reach 1.8 million and 2.6 million vehicles in 2019 and 2020. Current forward projections imply that average battery capacity per NEV will be 50KWh and 55KWh for 2019 and 2020.
News from overseas: 'Albemarle slashes its Australian investment plan'
The lithium-enthusiast investors and the lithium industry, itself, is busy talking about the breaking news on Albemarle's decision to reduce its Australian investment plans. The news flared up on Friday, when the NYSE-listed lithium giant-Albemarle-got vocal on its plan to reduce the number of lithium hydroxide processing 'trains', slated to be build in Australia, from seven to two.
US-based Albemarle Corporation is a chemical company, which plays a dominating role in lithium industry. The company has revealed its plan to cut its investment by ~US1.5 billion, it planned to seed on the land of Australia over the next five years.
Albemarle's decision to step back from building processing facilities alarmed investors at the latest signs of slow-moving lithium market. But Albemarle placed its concern for shareholders' demand on the forefront.
Albemarle told media that this move comes in response to the requirement of free cashflows to fulfil its shareholders' demand, rather than a reaction to the lithium market. However, the change would witness the considerable reduction in Albemarle spend at Kemerton in Australia's south-west, where it originally planned to build five trains including three trains of each having the production capacity of up to 25,000 tonnes of lithium hydroxide a year.
In the latest announcement, Albemarle has outlined its new plan to build just two trains at Kemerton, and no trains at Wodgina, where it originally planned to build two trains. The media report states that the new plans would now allow Albemarle and MinRes, together, to be able to produce ~50,000 tonnes per annum of lithium hydroxide from Australia, compared to the previous estimated capacity of 175,000 tonnes per year.
Let's have a look at some ASX-listed lithium stocks:
Galaxy Resources Limited (ASX: GXY)- Galaxy Resources with a code GXY on stock exchange is one of the premier lithium suppliers globally. The company owns a world-class project portfolio, with the diversified exposure across brine lithium and hard rock assets in Australia, Canada, and Argentina.
GXY-owned Mt Cattlin is positioned as one of the projects having lowest cost spodumene operations, producing a high-quality lithium concentrate and positive cash margins.
Mt Cattlin Production & Sales Statistics (Source: Galaxy Report)
As at 30 June 2019, Galaxy Resources' cash balance stood at US$176.3 million.
GXY stock price surged up 4.724% to last trade at $1.330 on Friday, 9 August 2019. The stock closed at a price to earnings multiple of 2.430x with a market capitalisation of $519.86 million.
Mineral Resources Limited (ASX: MIN)- Mineral Resources reported a reduction of 15% in the Spodumene concentrate production from the Mt Marion Lithium Project in Q4 FY19 compared to the previous quarter. However, the company announced that the proportion of high-grade 6% spodumene concentrate product grew from 66% in Q3 FY19 to 69% in Q4 FY19.
The report read that Wodgina Lithium Project's three-stage project is well on tract to deliver 750,000 dry tonne spodumene concentrate per annum. Train one is ready, train two commissioning underway and train three's construction in progress, told MIN. The company expects to deliver first ore in Q1 FY20.
MIN closed at $14.540, down 1.624%, on Friday, 9 August 2019.
Orocobre Limited (ASX: ORE)- Orocobre recently launched its Naraha Lithium Hydroxide Plant located in Japan. This marks the commencement of construction at the Naraha site to deliver ow-cost battery grade lithium hydroxide.
The company believes that the Naraha Plant presents one of the unique plant design, which is to be built in Japan for the conversion of primary-grade lithium carbonate feedstock from the Olaroz Lithium Facility into purified battery-grade lithium hydroxide.
Orocobre Managing Director and CEO Mr. Martín Pérez de Solay stated that Naraha would cement Orocobre position as a global lithium chemicals producer operating at a lower levels of the e lithium cost curve.
ORE stock price surged up 10.256% to last trade at $3.010 on Friday, 9 August 2019.
Also Read: Lithium Industry And Three Australian Names- AJM, CXO, LI3
---
Disclaimer
This website is a service of Kalkine Media Pty. Ltd. A.C.N. 629 651 672. The website has been prepared for informational purposes only and is not intended to be used as a complete source of information on any particular company. Kalkine Media does not in any way endorse or recommend individuals, products or services that may be discussed on this site. Our publications are NOT a solicitation or recommendation to buy, sell or hold. We are neither licensed nor qualified to provide investment advice.