There is no doubt that the technology sector has a bright future in the upcoming period. Things are getting digitised, and fintech industry is playing an important role in reshaping the Australian economy. It is providing new and exciting opportunities for customers as well as businesses. FinTech has become increasingly global, and on this front, the Australian government had taken measures for this industry to remain at the top of any international development.
As reported by Austrade during January 2020, Austrade entered into a partnership with Trade & Investment Queensland, NSW Treasury and Global Victoria to provide a Europe Fintech bootcamp which is driven by Austrade's Europe Landing Pad. The objective behind this program was to support the fintech, regtech, insurtech, as well as blockchain businesses to expand their presence in Europe and the United Kingdom.
However, post COVID-19 outbreak, the entire world has slowed down, and people have restricted themselves to their homes. Currently, most of the businesses are impacted by this pandemic. Small businesses have been impacted the most during this period, especially the companies who are in the emerging stage and requires support from the venture capitalist. In such a situation, it might be possible that the businesses of these small firms might close. There is also a possibility that there would be a drop in the transaction volume for a short duration. Thus, it would impact their revenue and profit.
But there are areas where there is still a hope which includes advanced analytics, application of big data, Blockchain technology.
In this article, we have chosen a few fintech and core technology companies and pointed out some important points that these entities experienced during the period. Let's take a look at them:
FlexiGroup Limited (ASX: FXL)
FlexiGroup Limited provides various financial solutions to consumers, as well as the businesses via a network of retail and business partners.
FXL recently provided a trading update for the 3Q20 for the period closed 31 March and following are the pointers from the same-
Points to note about FlexiGroup during COVID-19:
FlexiGroup has switched to reprioritise its work & direct resources towards handling the challenges arising from the unprecedented economic disruption triggered by COVID-19.
FXL in the present situation is focusing on supporting its clients and provide solutions to those who require. It includes either lowered payment or postpone payments.
The Company has taken cost reduction initiatives. It is also putting across future actions to cut down FY21 annualised operating expenses like salaries by over 15%.
It had over $550 million in undrawn committed wholesale funding facilities as at 31 March 2020 plus over $100 million combined in undrawn corporate debt facilities and unrestricted cash.
By 3Q FY2020, FXL has reported an 11% increase in active customers to 1.89 million, 18% growth in transaction, 5% rise in receivables and a 12% rise in merchant partners.
On 24 April 2020, FXL was trading at $0.715, rising up by 2.143% (at AEST 12:57 PM).
Tyro Payments Limited (ASX: TYR)
Tyro Payments Limited, the provider of EFTPOS payments solutions updated the market on 22 April 2020, inked and lodged an agreement (Participating Leader) with the department of Treasury subsequent to the advice that it had been chosen to take part in the Government's Coronavirus SME Guarantee Scheme. The scheme has been created to aid SMEs in gaining access to working capital and to help them all through the effect of COVID-19.
As per the scheme under discussion, the Government is backing around $40 billion of lending SMEs with turnover of less than $50 million by giving guarantee of 50 percent of new loans issued by participating lenders until 30 September this year, as per which TYR, as a participating lender, might gain an access to an allocation of around $75 million. All such similar loans made to eligible SMEs by TYR would benefit from the first 6 months repayment holiday with interest to be capitalised by the close of the period.
TYR also announced its periodic disclosure report, as per the requirement of Prudential Standard APS 30 Public Disclosure for the period closed 31 March this year.
Also, Tyro recently provided transaction value updates to the market to provide transparency with respect to the impact of COVID-19 on its business.
The below image shows the transaction value data up to 17 April 2020.

Points to Know about Tyro during COVID-19:
Tyro experienced compression in its transaction value growth rates.
Due to the uncertainty surrounding the COVID-19 spread and the extent has forced Tyro's Board to withdraw the Forecast Financial Information contained in Tyro's Prospectus.
However, Tyro is financially strong with cash and cash equivalent by February 2020 end of $154 million.
On 24 April 2020, TYR was trading at $2.655, declining by 1.667% (at AEST 12:56 PM).
Praemium Limited (ASX: PPS)
Praemium Limited provides technology platforms for managed accounts, investment administration & financial planning. In its recently released March quarter report PPS pointed out the following-
Points to Know About Praemium During COVID-19:
Funds under administration (FUA) for Australia SMA/IMA platform slipped 20% to $5.2 billion as compared to the previous corresponding period (pcp).
FUA for the International SMA/IMA platform soared up by 31% on pcp.
FUA for VMAAS improved 1,360% to $11.1 billion.
Total FUA declined by 5% to $19.4 billion as compared to the previous quarter.
Praemium continues to operate normally during COVID-19 and is committed to keeping the high levels of service clients. Also, the Company has implemented a Groupwide Response Plan to prevent the spread of this deadly virus.
On 24 April 2020, PPS was trading at $0.287, down by 1.034 % (at AEST 12:58 PM).
EML Payments Limited (ASX: EML)
EML Payments Limited is the issuer of the pre-paid financial cards. On 15 April, it informed that one of its directors Tony Adcock disposed 25,000 (fully paid) ordinary shares at a value/consideration of $61,963. The director now holds 25,000 ordinary shares (fully paid).
Earlier in April, EML Payments updated the market that it has concluded the acquisition of PFS or Prepaid Financial Services (Ireland) Limited. Also, the Company would consolidate the financial report from 1 April this year.
In its trading update released on 19 March 2020, the Company highlighted the below points:
Trading for 8 months till February 2020 was strong and was in line with the upper end of the guidance.
By monitoring the daily Gross Debit Volume, it was noted by the Company as of mid of March 2020, that it did not experience any material impact from the adverse trading conditions.
However, based on the prevailing market situation, EML has decided to defer forward earnings (guidance) for the year closed 30 June this year and will offer a trading updates on the basis of actual trading performance.
On 24 April 2020, EML was trading at $2.255, down by 0.221% (at AEST 12:59 PM).
Afterpay Limited (ASX: APT)
Afterpay Limited recently provided a business update for three months ended 31 March 2020 and the response plan.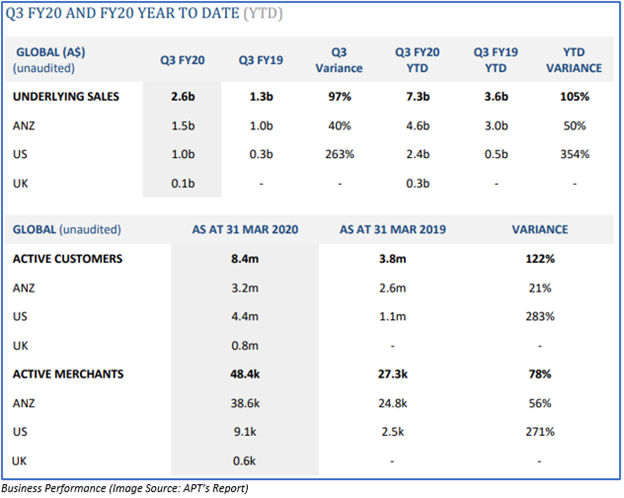 It highlighted the below points during COVID-19.
In the present situation, Afterpay has implemented the first phase of a Response Plan to manage the business through this evolving cycle.
It reported solid performance throughout its business with core YTD sales of $7.3 billion.
March 2020 was the third-largest underlying sales month of the Group on record.
Mature ANZ area stayed highly profitable, and the underlying cash flow continued positive.
Balance Sheet remained strong with net cash of $541.1 million and total liquidity of $719.2 million, higher than the previous reported 1H FY2020 results.
On 24 April 2020, APT was trading at $27.53, up by 1.4% (at AEST 1:01 PM).
WiseTech Global (ASX: WTC)
On 22 April 2020, WiseTech Global released its business update amid COVID-19 and updated its guidance.
WTC reaffirmed its FY2020 guidance contingent on the currency movement. FY2020 revenue growth would range between 21% to 29% ($420 million - $450 million).
EBITDA is expected to range in between $114 million - $132 million.
WTC reported a robust balance sheet, with strong liquidity, as well as cash generation.
Both its platforms and people are fully operational.
On 24 April 2020, WTC was trading at $16.27, up by 1.245% (at AEST 1:02 PM).
Altium Limited (ASX: ALU)
Electronic design software company Altium Limited, in the present COVID-19 situation, confirmed that it has a strong operational and market position. However, it considered it to be a wise decision to withdraw its FY2020 guidance (earnings).
Points to note About Altium during COVID-19:
Despite the uncertainty surrounding COVID-19, ALU is well-positioned both operationally as well as commercially.
ALU has a strong operating model and is highly adaptable to the new global environment.
ALU is accelerating the rollout of its latest cloud platform Altium 365 with the escalating demand for cloud-based collaborative tools throughout all sectors & all regions.
Altium is financially solid in terms of profitability & real earnings. It also has a robust balance sheet.
On 24 April 2020, ALU was trading at $31.14, up by 0.973% (at AEST 1:02 PM).
Appen Limited (ASX: APX)
Appen Limited is the provider of the training data to companies aiming towards launching world-class Artificial Intelligence.
On 24 April 2020, APX released annual report for the period closed 31 December 2019. As per APX, the report is its initial step in its journey ahead for an integrated style of reporting, to summarise its strategy, key resources and activities related to business to build sustained value.
A few highlights from the same are as follows: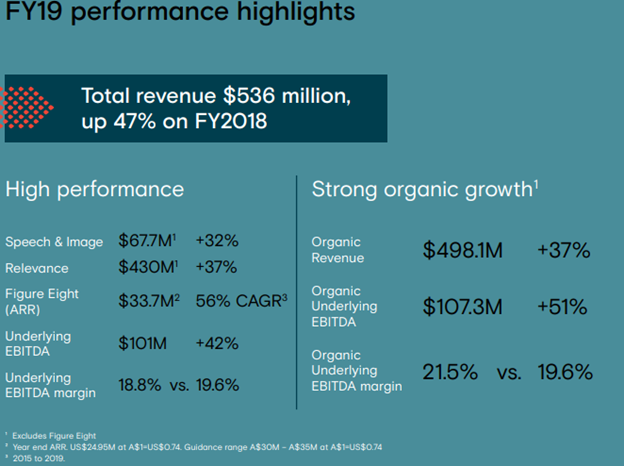 Source: Company's Report
On the strategy and outlook front, APX mentioned that it remained centered on the priorities in earlier provided reports to stakeholders. It further stated that it was attaining scale in the international crowd-based personnel and the volume of data generated. Also, by utilising technology and innovation both it was persistently on a route to boosting efficiency, reducing unit costs, and responsiveness.
Points to note about Appen During COVID-19:
Appen is committed to the safety & well-being of its employees globally. Hence all the staff members are working from the remote location safely and productively from their houses.
However, its skeleton staffs are operational through secure facilities, while the staff in China have joined back to the workplace.
Appen confirmed that its customer delivery as well as support were not affected during the COVID-19 period.
APX is assessing its performance and forecast for 2020 and restated that its full-year EBITDA is anticipated between $125 million to $130 million.
The Company has a healthy balance sheet, with cash resources over $100 million.
On 24 April 2020, APX was trading at $23.02, up by 0.043% (at AEST 1:03 PM).
Xero Limited (ASX: XRO)
Xero Limited is the provider of online accounting software to small companies. Xero has accounting software with all the time conserving means to expand the clients' business.
During COVID-19, XRO took the below steps for its customers:
Built a Customer Response Team who can be communicated by the customers via Xero Central for guidance as per the individual case.
Initiated a dedicated Business Continuity Hub on Xero Central that provides vital data from government agencies related to the stimulus packages.
Commenced modifications with its small business supplier payment terms from 1 April 2020.
Delayed its suggested price rise until 1 July 2020.
On 24 April 2020, XRO was trading at $76.72, up by 1.307% (at AEST 1:04 PM).
---
Disclaimer
The website https://kalkinemedia.com/au is a service of Kalkine Media Pty. Ltd. A.C.N. 629 651 672. The article has been prepared for informational purposes only and is not intended to be used as a complete source of information on any particular company. Kalkine Media does not in any way endorse or recommend individuals, products or services that may be discussed on this site. Our publications are NOT a solicitation or recommendation to buy, sell or hold the stock of the company (or companies) or engage in any investment activity under discussion. We are neither licensed nor qualified to provide investment advice through this platform. All pictures are copyright to their respective owner(s). Kalkinemedia.com does not claim ownership of any of the pictures displayed on this website unless stated otherwise. Some of the images used on this website are taken from the web and are believed to be in public domain. We have used reasonable efforts to accredit the source (public domain/CC0 status) to where it was found and indicated it below the image.
There is no investor left unperturbed with the ongoing trade conflicts between US-China and the devastating bushfire in Australia.
Are you wondering if the year 2020 might not have taken the right start? Dividend stocks could be the answer to that question.
As interest rates in Australia are already at record low levels, find out which dividend stocks are viewed as the most attractive investment opportunity in the current scenario in our report.
CLICK HERE FOR YOUR FREE REPORT!