Summary

While domestic travel sector has begun to exhibit some early signs of revival, the picture is different for the international travel industry.
There is a light of hope for Australians seeking a trip to Kiwi Land, with potential execution of trans-Tasman travel bubble by September this year.
NZ PM Jacinda Ardern has lately hinted that trans-Tasman travel bubble could now be state-specific owing to surging COVID-19 cases in Victoria.
At the time when overseas travel is highly unlikely in the near-term, holidaymakers can plan closer-to-home trips in relatively uncrowded places while taking necessary precautions.
While COVID-19 pandemic threw travel industry out of gear amid border restrictions placed to contain the virus spread, recovery in domestic travel sector appears just a few blocks away now. Virgin Australia's latest move to add seventeen new domestic routes by first week of August and recent re-opening of Qantas' domestic airport lounges are heralding early signs of revival in internal air travel market. However, the picture is different for international travel industry!
Australia is unlikely to open its borders for international tourists before 2021, as indicated by Tourism Minister, Simon Birmingham in June 2020. However, there is a light of hope for Australians seeking a trip to Kiwi Land, with potential execution of trans-Tasman travel bubble by September this year.
Australian Tourism Minister expects resumption of international travel with Australia within next three months, provided coronavirus flare-up is brought under control in Victoria. Besides, NZ PM Jacinda Ardern sees travel bubble on the horizon with some implications to consider before execution. She has lately hinted that the bubble could now be state-specific owing to surging COVID-19 cases in Victoria.
As there is nothing usual about traveling in 2020 with travel disruptions and social distancing in place, may be its time for holidaymakers to march to a different drummer. Here are some exciting options for travel lovers to make their vacation memorable in 2020: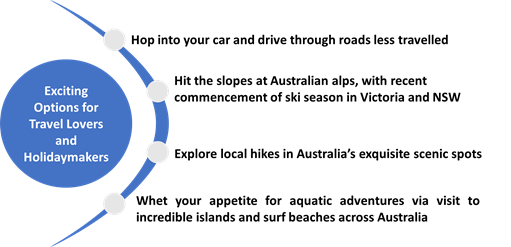 Take a Road Less Travelled
The best bet at the moment seems to be to hop into your car and drive through roads less travelled. Dominated by extensive landscapes, Australia offers several epic road trip options for travel enthusiasts like the Big Lap, the Great Ocean Road (Victoria), Kangaroo Island (South Australia), Gibb River Road (WA), Tasmania's East Coast and Cairns to Cape York (Qld).
These incredible roads often remain untouched in our busy planning to save for overseas trips. However, international travel curbs have paved the way for self-drive journeys and road trips, encouraging Australians to explore their own backyards.
But before you get the car in gear, it is important to assure appropriate health and safety standards to enjoy your road trip safely. Cleaning high-touch car surfaces with disinfectants, carrying hygiene supplies, avoiding large group travels, packing home-cooked meals and maintaining social distancing seem instrumental towards having a seamless journey.
Secure a Spot on Ski Slopes
Snow lovers can hit the slopes at Australian alps, with recent commencement of ski season in Victoria and New South Wales after weeks of delay amid pandemic. Several ski resorts, including Thredbo, Charlotte Pass, Mount Buller and Perisher have already initiated operations in June and are experiencing an unprecedented demand for lift passes.
While ski resorts are welcoming back holidaymakers for snowboarding and skiing, some extra planning and care needs to be done on the part of visitors to lower the coronavirus risks. Carrying hand sanitizers and face masks, ensuring physical distance in ski lifts, negotiating contactless check-in and downloading COVIDSafe application before setting off can potentially minimize the risk of contracting coronavirus in communal areas.
Discover Local Hikes
Those seeking an alternative to road trip and ski slopes can explore local hikes in Australia's exquisite scenic spots. Adventure lovers can hike through Australia's aspen forests, including mysterious rainforest of the Great Otway National Park or vintage trees of Cradle Mountain-Lake St Clair National Park. Besides, a dusk hike to Mount Tomaree's summit near Port Stephens can also be on hikers' wish list.
Recently, Western Australia has announced a 10-year hiking strategy plan to bolster tourism, participation and aboriginal engagement and sustain expansion in trail running and bushwalking. The strategy is first of its type in Australia, formulated after observing a record number of participation across WA trails by locals in April and May.
While easing restrictions have unlocked the doors for hiking trails, caution need to be exercised before heading for travel on gravel roads. Reaching the trailhead without a stop while minimizing exposure to countryside communities come to the crunch before getting outdoors. Besides, keeping social distancing, sticking with day trips and escaping restaurants can help ensure safety on hike trails.
Whet Your Appetite for Aquatic Adventures
Aquatic lover holidaymakers can whet their appetite via visit to incredible islands and surf beaches across Australia. From a visit to Sydney's Bondi beach to snorkeling and scuba diving at Cook Island Aquatic Reserve, there are plenty of options to choose from for visitors. Besides, the recently launched 'Kangaroo Island Road to Recovery Tour' is another interesting alternative for travelers seeking a personalised touring experience in a small group.
While fishing, boating and other aquatic activities are open in most areas across the nation, following all requirements and advices of local communities and land councils appear to be of utmost importance. Besides, reading up on local regulations and rules, maintaining physical distance, carrying your own beach gear and refraining from using public restrooms as much as possible are some of the safer ways to relish the beauty of aquatic adventures.
Though Australia has a lot to offer within its own domain, taking necessary precautions while planning closer-to-home trips in relatively uncrowded places seem instrumental for domestic travelers. With regulations varying across different states amid COVID-19, keeping a tab on changing rules via tourism websites is crucial to this fore.