The S&P/ASX 200 Index was trading at 6,480.8 on 27 August 2019 (AEST 02:40 PM), up 0.63% by 40.7 points. The following ASX-listed companies from sectors like consumer discretionary, metals and mining, communication services and health care, reported impressive financial results for the year ended 30 June 2019. Let's take a quick look at how the year went by for these companies.
Simonds Group Limited
Established in 1949, Simonds Group Limited (ASX: SIO) is a homebuilding company based in Victoria, Australia. The company operates through two business segments. Simonds Homes is one of the leading homebuilders in Australia, while the other segment, namely Builders Academy Australia operates as a specialised Registered Training Organisation (RTO) engaged in offering access to building and construction focused VET courses in the country. Simonds Group's market capitalisation stands at around AUD 60.41 million with ~ 143.84 million shares outstanding. On 27 August 2019 (AEST 02:43 PM), the SIO stock was trading at a price of AUD 0.440, climbing up 4.762% by AUD 0.020 with ~ 119,773 shares trading.
In addition, SIO has delivered a positive return of 23.53% YTD and 18.31% in the last six months.
FY19 Results - On 26 August 2019, the company disclosed its Financial Report for the year ended 30 June 2019 (FY19), posting a net profit after tax (NPAT) from continuing operations of $ 11.7 million, up 144% ($ 6.9 million) on the prior corresponding period (PCP), FY18. Simonds Group's revenue for the period amounted to $ 687.7 million, which is $ 82.5 million higher compared to FY18, resulting from increased site starts and changes in product mix including a focus on two storey builds. The company also reported an improvement of $ 9.5 million in EBITDA to $ 23.2 million as compared to PCP due to the higher site starts, strong cost control and implementation of value creation strategies.
Around 80 new site starts were added during FY19 taking the total to 2,580 site starts. Besides, the Group's net asset position improved from $1.0 million at 30 June 2018 to $ 11.4 million at 30 June 2019.
The segment wise performance is tabulated below-
Source: 2019 Financial Year Result
While the company continues to eye opportunities in the Education business, some challenges experienced by the residential property market in the past 12 months are expected to continue through the remainder of calendar 2019 and into 2020 with respect to housing starts.
Thus, the industry groups speculate new housing starts to decline by 10-15% in FY2020 and the company is also expecting a decline in its housing starts commensurate with the overall industry outlook (10-15% decrease) in FY20.
Amaysim Australia Limited
Amaysim Australia Limited (ASX: AYS), based in New South Wales, Australia, operates as a mobile service provider, offering mobile as well as energy plans. It has two key business segments inlcuding Mobile and Energy. The company has a market capitalisation of around AUD 151.98 million with ~ 295.11 million shares outstanding. On 27 August 2019 (AEST 02:45 PM), the AYS stock was trading at a price of AUD 0.465, down 9.709% by AUD 0.050 with ~ 355,512 shares trading.
FY19 Results – Recently, Amaysim Australia announced its results for the full year ended 30 June 2019 (FY19) in line with the prescribed FY19 guidance and strategy for long-term growth. The statutory EBITDA of the company stood at $ 43.9 million, while statutory net revenue reached $ 508.3 million. On a comparable basis, the company registered net revenue of $ 510.9 million, representing a decline of 7.4%.
On a comparable basis, NPAT (continuing operations) was down 153% at a $ 7.4 million loss. The company attributed this decline to a non-cash impairment charge ($ 15.7 million), owing to the purchase of intangible assets of Click Energy. The charge was recognised in H1 FY19.
However, on a comparable basis, gross profit margin remained strong across the Group to $ 153.7 million (FY18: $ 155.2 million), up 30.1% due to the strength of the mobile wholesale agreement and disciplined margin management in energy.
Amaysim Australia is well placed for growth after the successful completion of capital raising program. Some of the other factors that are supporting the company's position are the renewed network supply agreement (NSA) with Optus, in addition to highly lucrative new mobile plans launched by the company in June 2019 and the soft launch of new disruptive subscription energy plans from April 2019 (Victoria).
Going forth, the company expects to report an underlying EBITDA of $ 33 million - $ 39 million for the financial year 2020.
Oventus Medical Limited
Queensland, Australia-based Oventus Medical Limited (ASX: OVN) is a medical device company engaged in commercialising its unique platform to treat sleep apnoea and snoring in patients worldwide. Oventus Medical's market capitalisation stands at around AUD 57.2 million with approximately 121.7 million shares outstanding. The OVN stock was trading at a market price of AUD 0.460 on 27 August 2019 (AEST 02:46 PM), which was down 2.128% from its previous close. Besides, the OVN stock has delivered positive returns of 58.65% YTD and 90.38% in the last three months.
FY19 Results -According to the company's recently released financial results for the year ended 30 June 2019, revenue from ordinary activities totalled $ 331,837, up 22% on the previous year ended 30 June 2018 (FY18). The company's loss from ordinary activities after tax attributable to the owners of Oventus Medical Limited amounted to $ 7.85 million. Besides, the company incurred operating expenses of $ 8.49 million for the year (FY18: $ 6.42 million) and development expenditures worth $ 1.32 million (FY18: $ 1.74 million).
Oventus Medical also received $ 1.04 million from the Australian Federal Government in November 2018 as a credit rebate for its spending on R&D during the 2018 financial year.
The company introduced the new 'lab in lab' model whereby patients are at the centre of care. The new model is designed to simplify the patient experience and build value for all stakeholders, including dentists and sleep physicians. In June 2019, the company announced to have signed an agreement with the first sleep groups in Canada for the sale of O2Vent™ Optima and ExVent™ across 7 clinical delivery sites, while earlier in May 2019, a large dental corporate and collaborative sleep group in the Carolinas had agreed to introduce the Sleep Treatment Platform into their treatment protocols.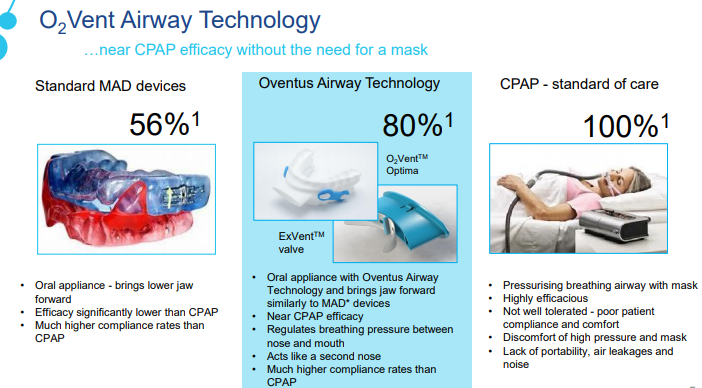 Source: Company's Report
Subsequent to FY19 end, the company announced first agreements in the US under the 'lab in lab' model for the O2Vent™ Optima. In addition, to promote broader adoption of the new model, synergistic agreements were also signed in July 2019 with VirtuOx, Carestream Dental and Lyon Dental.
Mitchell Services Limited
Australia-based Mitchell Services Limited (ASX: MSV) offers contract drilling services for the coal and coal seam gas sectors and currently operates drill rigs in Queensland, the Northern Territory, South Australia and Papua New Guinea. With a market capitalisation of around AUD 118.48 million and approximately 1.74 billion shares outstanding, the MSV stock was trading at AUD 0.067 on 27 August 2019 (AEST 02:48 PM), down 1.471% from its previous close. ~ 345,990 shares of the company were trading. Besides, MSV has delivered positive returns of 72.88% Year-to-date and 21.32% in the last six months.
FY19 Results – The year ended 30 June 2019 (FY19) was transformational for Mitchell Services with the business generating record revenues and earnings following a period of continued utilisation, productivity and pricing improvements. Besides, the company's growth was driven by a number of new contract wins and material contract extensions during the year inlcuding - extension of Underground-In-Seam- drilling contract with Anglo American at Grosvenor and Moranbah North; a major five-year contract with KCGM in Western Australia; and an extension and scope increase in the BHP Olympic Dam contract with Mitchell Services to provide a maximum of 8 rigs.
Source: 2019 Annual Report
The company's revenue amounted to $ 120.2 million in FY19, up 65% from the same period a year ago, while EBIT stood at $ 13.9 million in FY19, depicting an increase of $ 15.3 million from the FY18 EBIT loss of $ 1.4 million. Besides, the operating cashflow remained positive at $ 18.2 million, up $ 19.5 million on FY18.
---
Disclaimer
This website is a service of Kalkine Media Pty. Ltd. A.C.N. 629 651 672. The website has been prepared for informational purposes only and is not intended to be used as a complete source of information on any particular company. Kalkine Media does not in any way endorse or recommend individuals, products or services that may be discussed on this site. Our publications are NOT a solicitation or recommendation to buy, sell or hold. We are neither licensed nor qualified to provide investment advice.