Summary

Fund managers generally follow a benchmark index and typically own companies that are part of industry index in their portfolio to match investor expectations with respect to returns
A fund manager intends to pick up stocks of blue-chip companies at a lower price, leading to high long-term returns for clients
Leading industry players such as CSL and Telstra are trading at lower prices despite a history of impressive earnings growth
Blue chip companies such as BHP, Aristocrat Leisure, and Amcor have shown recovery in their share prices from the March decline led by global economic share market fall
Fund managers have a big responsibility to match investor expectations with respect to returns. Most of the fund managers follow a benchmark index, and own companies that are part of industry index. An industry index primarily includes companies that have good track record with respect to income statement, balance sheet position and good market liquidity.
Blue chip companies are also hot favourite of fund managers, as they demonstrate impressive earnings growth despite market volatility or restrained share prices.
In today's scenario, when the market is highly volatile, there are many fund managers or marquee investors who are sitting on a pile of cash such as Warren Buffett while few managers are buying under FOMO environment.
Below are few shares large investors, asset managers, and investment funds are buying or selling.
BHP Group Limited (ASX: BHP)
BHP Group is a leading resources company, engaged in the production of copper, iron ore and metallurgical coal. The Company also holds substantial interests in oil, gas and energy coal.
In the last three months, BHP shares delivered a return of 20.64% to reach $36.260 on 3 July 2020. The price rise was primarily backed by surging iron ore prices.
Appointment of New CFO
BHP has been shuffling its board members and executive positions with the latest being appointment of new Chief Financial Officer (CFO).
On 17 June 2020, BHP Group appointed David Lamont as its new CFO, effective from 1 December 2020. Mr. Lamont will be replacing current CFO, Mr Peter Beaven, who will step down on 30 November 2020.
Operational Update for 9 Months till March 2020
On 21 April 2020, the Company announced operational update for 9 months till March 2020, highlighting
BHP achieved record production at Caval Ridge and Western Australia Iron Ore (WAIO) with increased production delivered at Escondida due to record aggregate concentrator throughput. Spence also stacked ore at record level.
The Company highlighted a strong financial position with a net debt of US$12.8 billion and cash and cash equivalents of US$14.3 billion at 31 December 2019.
By end of March 2020, BHP Group had been engaged with six significant projects under development focused on iron ore, copper, petroleum and potash. The total budget over the life of the projects is US$11.4 billion.
Production guidance for FY2020 remains unchanged for iron ore, petroleum and metallurgical coal at 242-253Mt, 110-116MMboe and 41-45Mt, respectively.
FY2020 production guidance for energy coal is under review.
BHP is currently reviewing guidance for FY21 and expects it to be below the current guidance of approximately US$ 8 billion.
CSL Limited (ASX: CSL)
CSL Limited is a global biotech player, engaged in developing biotherapies and influenza vaccines addressing life-threatening medical conditions. The company has eight manufacturing sites located across Australia, China, UK, Germany, Switzerland, and the US with more than 26,000 employees spread across 60 countries.
CSL is currently working on a plasma-based treatment for COVID-19 patients having a severe infection. The Company is providing additional southern hemisphere influenza vaccine doses across Australia to offer support in response to COVID-19.
In the last three months, CSL shares delivered a negative return of 6.02% to reach $297.460 on 3 July 2020.
Acquisition of Late-Stage Gene Therapy Candidate from uniQure
On 25 June, CSL announced to have agreed to acquire exclusive global licence rights to commercialise a late-stage adeno-associated virus (AAV) gene therapy program, AMT-061, indicated for treating haemophilia B from uniQure (NASDAQ: QURE). The transaction involves an upfront cash payment of US$450 million followed by regulatory and commercial sales milestone payments and royalties.
Resignation of CFO - The Company during mid-June 2020 announced that Mr David Lamont, Chief Financial Officer, will be departing on 30 October 2020. According to the Company, Mr Lamont has been instrumental in reshaping the financial operations at CSL since January 2016.
Acquisition of Clinical-Stage Biotechnology Company, Vitaeris Inc.
Earlier in June, the Company announced that it is set to acquire a clinical-stage biotechnology company, Vitaeris Inc, focussed on the phase III development of clazakizumab antibody indicated for kidney transplant recipients. The Company shares a strategic partnership with Vitaeris since 2017 to expedite the development of clazakizumab.
Telstra Corporation Limited (ASX: TLS)
Australia-based telecommunications company, Telstra Corporation Limited is engaged in building and operating telecommunications networks and services including mobile, internet and pay television.
In the last three months, TLS shares have delivered a return of 2.220% to reach $3.360 on 3 July 2020.
$300 Million Impairment and Write Down in Foxtel
In the first week of May, Telstra announced a 35% holding worth $300 million impairment and write down in Foxtel. The non-cash impairment charge of ~$300 million is expected to be recognised against this investment in FY2020.
The non-cash impairment is expected to reduce the value of Foxtel stake to ~ $450 million from $750 million. The final value of the impairment is still subject to the Board review and approval of the FY20 full-year results. The non-cash impairment and the write down of Foxtel stake did not result in any changes on the FY20 guidance.
€500 Million Bond Issue - On 17 April 2020, the Company updated to have priced a €500 million bond issue, with the proceeds planned to be used for general corporate purposes.
Financial Performance for 1H FY20
In its operational and financial performance update for 1H FY20, the Company announced:
Total income and NPAT for the period at $13.4 billion and $1.2 billion, reflecting a decline of 2.8% and 6.4%, respectively.
Customer base increased with the addition of 135,000 retail prepaid mobile services, 173,000 pre- and post-paid and IoT wholesale services and 137,000 retail postpaid mobile services, which include 91,000 from Belong during the period.
Aristocrat Leisure Limited (ASX: ALL)
Aristocrat Leisure Limited is a gaming provider and games publisher with Land-based products available in 80 countries. ALL was included in S&P/ASX 20 Index on 22 June 2020, as per quarterly rebalance announced by S&P Dow Jones Indices.
In the last three months, ALL shares delivered a return of 24.51% to reach $26.570 on 3 July 2020.
First Half Results
For its first half period ended March 2020, the Group announced that its operating revenue increased by 7% to $2.25 billion, backed by its growth in digital revenue that increased by 19% in H1'20 over H1'19. Land-based revenue declined by 6% because of global shut-down of land-based customers to follow social distancing. EBITDA declined by 8% to $708 million.
The Company also highlighted a strong balance sheet with $1.8 billion of liquidity available on pro-forma basis at end-March 2020.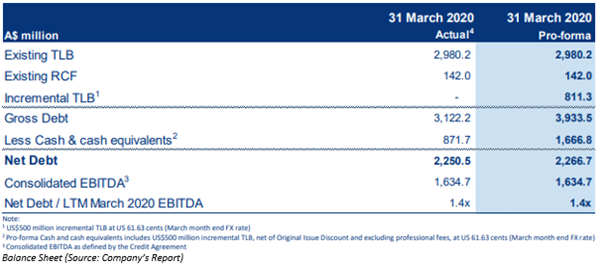 Amcor Plc (ASX: AMC)
Amcor develops and produces flexible and responsible packaging for pharmaceutical, food, beverage, medical, and home- and personal-care industries. On 12 June 2020, S&P Dow Jones Indices announced changes in the S&P/ASX indices, removing Amcor from S&P/ASX 20 Index, effective 22 June 2020.
In the last three months, AMC shares have delivered a return of 12.06% to reach $15.250 on 3 July 2020.
Third Quarter Results
During mid-May 2020, Amcor announced results for the third quarter ended 31 March 2020 with net sales hitting US$3,141.0 million, compared with US$2,309.9 million in the previous corresponding period (pcp).
Gross profit was recorded at US$652 million, up from US$419.8 million recorded during the same period a year ago. Amcor announced net income at US$181.5 million with diluted earnings per share at US$0.114. Cash and cash equivalents at 31 March 2020 stood at US$537.8 million.
Disclaimer: All the currencies mentioned are in AUD unless specified