Around the world, digital technologies are changing the way we live and work in ways we could not predict just a generation ago. Business are improving their productivity, output and safety through the adoption of new technologies including autonomous systems, robotics, artificial intelligence and remote sensors, etc. into their current operations.
The following are four such Australian companies that offer unique tech-based solutions and continuously expanding their product reach and partnerships.
Family Zone Cyber Safety Limited
Family Zone Cyber Safety Limited (ASX: FZO), based in West Perth, Australia, is engaged in developing cyber safety products and services in Australia and the United Kingdom. It offers the Family Zone Platform, a cloud-based parental control platform enabling collaboration between schools and their parent community. Besides, it also offers a Family Zone Box to guard linked devices at home, and a Family Zone App, which provides cyber safety protection outside the home.
The communication services company has a market capitalisation of around AUD 49.15 million with approximately 200.63 million shares outstanding. On 26 July 2019, the FZO stock was trading at AUD 0.230, down by 2.128% as compared to its previous closing price, with approximately 0.286 million shares traded as at AEST 01:24 PM.
Partnership with Check Point - On 25 July 2019, Family Zone Cyber Safety informed the market of its new strategic partnership (non-exclusive agreement) with Check Point Software Technologies Ltd (NASDAQ: CHKP) to bring a unique and integrated best of breed cyber safety and security solution to the education sector.
Check Point is one of the global leaders in development and provision of cyber security technologies, protecting 100,000 organizations of all sizes and customers from 5th generation cyber-attacks.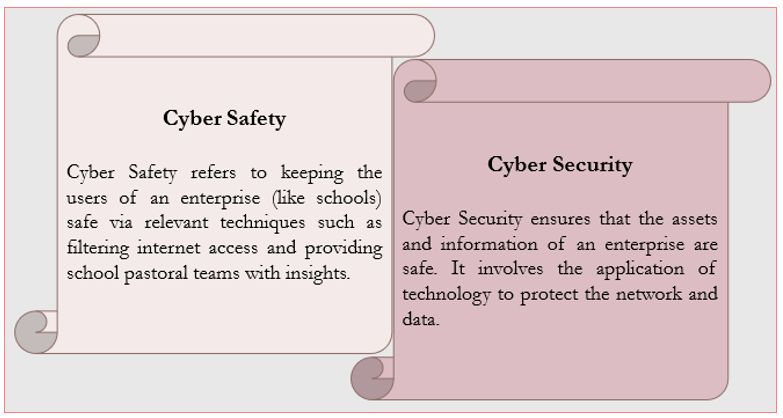 The partnership is aimed at driving fresh sales for both the companies and partnering breaks through Check Point's wide reseller link.
The partnership's maiden focus is on Australia, eyeing the private and independent schools (~ 2.5k) in the country. Going forth, Family Zone Cyber Safety expects that the relationship with Check Point will generate significant new revenue opportunities and in particular will stimulate Australian sales for Family Zone's education offering in the key December 2019 quarter sales period.
US Patent Awarded – On 23 July 2019, the company reported that the US Patent & Trademark Office had awarded a patent to its "Device Management System" under application 15/286434, which was initially lodged way back in March 2013.
The company has been, from the day of its inception, undertaking a deliberate program to develop and secure pertinent intellectual property (IP). The IP of this patent application is what the Company describes as the "Universal Cyber Safety Platform".
Tinybeans Group Limited
Tinybeans Group Limited (ASX: TNY), established in 2012 in Sydney, Australia, offers a mobile and web-based technology platform that enables parents worldwide to use trusted tools and resources. The company's key sources of revenue are advertising from brands, premium subscriptions and printed products.
It serves vast user base of 3.35 million members (including celebrities, politicians and high-profile families) with monthly active members of over 1.23 million, in more than 200 countries/territories and preserves 220 million of memories.
Tinybeans Group has a market capitalisation of around AUD 34.04 million with approximately 33.05 million shares outstanding. On 26 July 2019, the TNY stock was trading at AUD 1.020, down by 0.971% as compared to its previous closing price, with approximately 9,538 shares traded (as at AEST 01:27 PM). In addition, the TNY stock has generated a positive YTD return of 226.98% and 198.55% over the last six months.
Lately, the company has been executing a lot of partnerships in the industry.
Upsized Partnership with LEGO – On 25 July 2019, Tinybeans Group announced that following the early success of the first campaign, LEGO Systems Inc had approved a second campaign with Tinybeans. The campaign is valued at around $ 100k-150k in revenues and is in addition to the milestone-focused campaign signed in April 2019. Besides, the revenue will be CPM based and have an immediate impact on first half revenues. Payments related to the second campaign will be received monthly.
Under the deal, LEGO Systems Inc. will advertise its DUPLO products to families of toddlers and pre-schoolers in the United States. The campaign would primarily focus on building brand engagement with LEGO DUPLO Animals to encourage the Tinybeans audience to purchase.
Partnership with Mom365– A day earlier, on 24 July 2019, Tinybeans Group signed another new 12-month contract to expand its existing relationship with Mom365, the largest provider of professional new-born photography in the United States.
This would bring over 400,000 new mothers to Tinybeans through FY20 and the revenues generated via TNY's subscription product will be shared 50/50 with Mom365.
The company released its growth highlights for the FY19 to date (July-March) in the recent Investor Presentation as depicted below-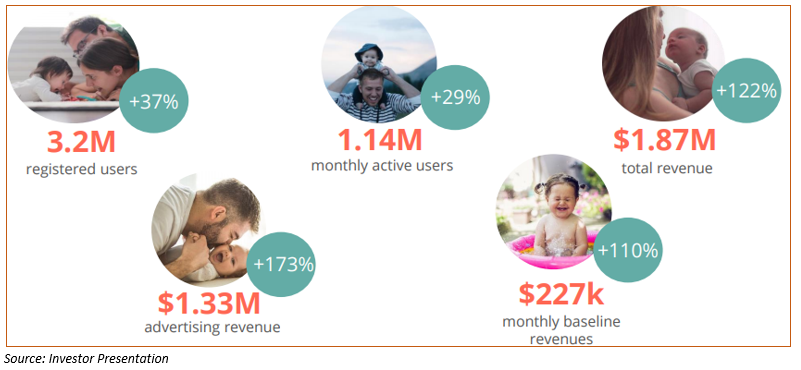 RightCrowd Limited
RightCrowd Limited (ASX:RCW) offers the RightCrowd software that transforms the business impact of safety, security and compliance programs and successfully deployed in large global organisations, including Fortune 50 and ASX 10 companies. The company's solutions enable enterprises to integrate their business, operations and security systems, while automating management of critical safety, security and compliance processes. RightCrowd was incorporated in 2004 and spent over 15 years working with the best of the best in the physical security industry, engaging in extensive R&D.
With a market capitalisation of around AUD 52.44 million and ~ 197.9 million shares outstanding, the RCW stock was trading flat at AUD 0.265 9as at AEST 01:39 PM, 26 July 2019). In addition, RCW has generated a one month return of 1.92%.
FY19 Growth Estimate- RightCrowd announced on 8 July 2019 that FY2019 recognised revenue growth for software and services relating to its core business is expected to be approximately 60% and excludes any additional revenue from the two recent acquisitions - OffSite Vision Holdings in New York and Ticto in Belgium.
The recognised revenue for the core RightCrowd business recorded an increase from $ 5.521 million in FY2018 to ~$ 8.85 million (un-audited) in FY2019. Throughout FY19, RightCrowd had been continuously emphasising on its expectations of greater than 40% revenue growth. This was achieved on the back of a strong second half of the year in sales and successful project delivery in the fourth quarter.
The company also added that the FY2019 recognised revenue from the recently acquired early-stage Presence Control businesses, OffSite Vision Holdings in New York, and Ticto in Belgium are likely to contribute an additional ~$ 400,000 from software, hardware and related services.
Bigtincan Holdings Limited
Bigtincan Holdings Limited (ASX: BTH) assists the sales and service teams of organisations to increase their win rates and enhance customer satisfaction. The company is headquartered in Boston, US with other offices across Europe, Middle East and Africa, Australia and Asia.
The company's mobile, Artificial Intelligence-powered sales enablement automation platform offers features that empower reps to engage effectively with customers, prospective clients and encourages team-wide adoption.
Some of the leading clients of Bigtincan Holdings include Thermo Fisher, AT&T, ANZ Bank, Merck and others.
With a market capitalisation of around AUD 128.74 million and ~ 260.09 million shares outstanding, the BTH stock price was trading at AUD 0.510, up by 3.03% as compared to its previous closing price (as at AEST 1:42 PM, 26 July 2019), with ~ 130,827 shares traded. In addition, BTH has generated a positive yield of 82.38% YTD and 59.59% for the last six months.
Bigtincan to acquire Veelo – On 25 July 2019, Bigtincan Holdings informed the stakeholders that it had reached an asset purchase agreement (definitive) to acquire the assets of Veelo, Inc, based in Portland, Oregon, USA, for a consideration comprising all cash payments totalling USD 1.8 million and the assumption of normal associated liabilities. The acquisition has already been closed.
The acquisition would expand Bigtincan's presence and offering in the technology market vertical and brings in ~ AUD 1.1 million in sustainable ARR, leading technology to complement Bigtincan's existing product suite. Besides, Veelo would expand Bigtincan's go-to-market footprint in the Pacific Northwest of the United States with facilities and people cantered around Portland.
According to research by insidesales.com and the Association of Professional Sales (APS), inside sales is a fast-growing area and presents new opportunities for Bigtincan.
Source: Company's announcement dated 25 July 2019
---
Disclaimer
This website is a service of Kalkine Media Pty. Ltd. A.C.N. 629 651 672. The website has been prepared for informational purposes only and is not intended to be used as a complete source of information on any particular company. Kalkine Media does not in any way endorse or recommend individuals, products or services that may be discussed on this site. Our publications are NOT a solicitation or recommendation to buy, sell or hold. We are neither licensed nor qualified to provide investment advice.