Mark Zuckerberg from Facebook, Jack Ma from Alibaba or Larry Ellison from Oracle, the common theme among the three business leaders is that they are also the founders of the business whose realms they are managing. The founder CEOs of such companies primarily set high standards and focus on operating the business successfully, opening opportunities.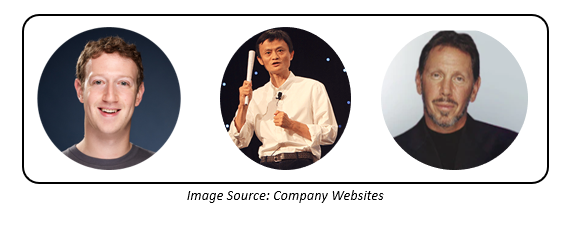 Importance of Founder-led companies
A trusted study states that businesses where the founder is the running CEO are more innovative and generate 31% more patents. They create valuable patents and are prone to make intrepid investments for adaption and renewal of the business model while depicting a desire to take risk to invent the future.
This can be further broken down into three sets of hard-bitten practices and fundamental attitudes of these founders. Let us look in these aspects:
The first is the founder's purpose of forming and running the business. As leaders the founder leaders are better able to articulate their purpose and inspire the team to focus on a common vision laid out by the leadership. As per one study, engaged employees are 3.5 times prone to resolve issues on their own and invest personal time innovating on works compared to the unengaged workers. Losing the clear purpose of business can go in haywire directions and lead to un-inspirational work atmosphere.
The second practice is the founder's obsession. The curiosity to continuously learn and grow fuels up business growth and the employees moral boost.
The third element is the founder's approach and mindset. The team enthusiasm is directly attributed to the leaderships ability to induce a work environment that is conducive to growth and accountability mindset. This in turn would help in developing the, all essential next layer of leadership ring.
Need of strong fundamentals
Furthermore, the Founder-CEO companies make more aggressive investments than their peers in research and development, capital expenditure and mergers and acquisitions. Revenues for such companies grow at faster and higher pace, with share prices outperforming the peer business groups. As the founders have deeper interest and better influence on the capital allocation and investment performance, the businesses benefit in terms of specific actions as well.
Furthermore, founders have the moral authority to make the most difficult choices, they are aware of the tiniest detail of their business and tend to naturally bear much better instincts for any activity in or out of the business realm. These are the set of people who have a long-term outlook on investments and the fire to build a company that lasts.
Let's look at 5 ASX stocks with Strong management:
ResMed Inc.
A player from the healthcare sector, ResMed Inc. (ASX: RMD) reaches out to more than 120 countries and aims to provide out-of-hospital software platforms and innovative solutions. It caters to patients of sleep apnea, chronic diseases and COPD via its cloud-connected medical devices.
Company Management:
RMD was established in 1989 by Peter Farrell in Australia, who continues to be the in a non-executive role in the company.
Company Updates:
The company provided its results for the third quarter of FY19. The YOY revenue grew 12% to $662.2 million while the operating profit was up by 15%. The firm's gross margin improved 100bps to 59.2%.
The acquisition of SaaS firms and the growth in sales of international device added to the strong quarter.
CEO Mick Farrell stated that RMD had a robust product pipeline to support future growth. This includes the recently launched AirFit P30i. the company's target is to improve lives of 250 million people in the out-of-hospital healthcare sector in 2025.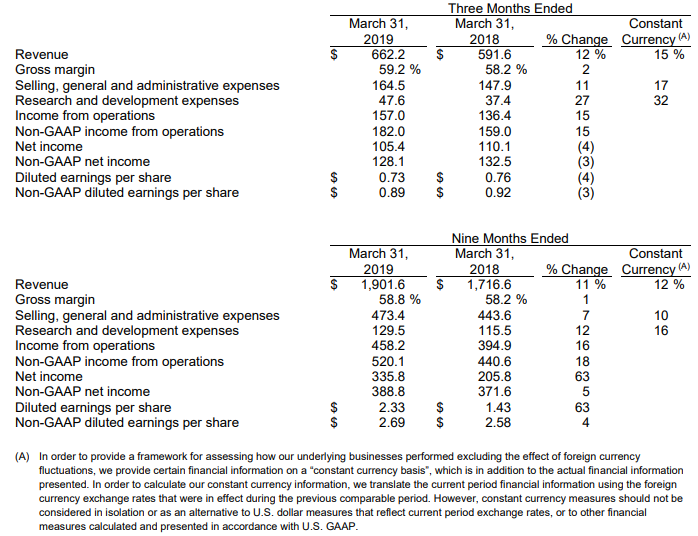 Financial highlights (Source: Company's report)
The recent acquisitions of RMD include Propeller Health for $225.0 million and HB Healthcare.
At the time of writing on 6th June 2019 (AEST 2:22 PM), the stock is trading at A$16.565, up by 1.68%.
Magellan Financial Group Limited
Based in Sydney, Magellan Financial Group Limited (ASX: MFG) is a focused asset management business. Its prime operating subsidiary, Magellan Asset Management Limited, manages more than $80 billion of FUM as at 30 April 2019 across its global listed infrastructure, global equities and Australian equities strategies for high net worth, retail and institutional investors.
Company Management:
Hamish Douglass is Co-Founder, Chairman and CIO of MFG, and Lead Portfolio Manager of Magellan's Global Equity strategies.
Company Updates:
On 4th June 2019, the company announced two new appointments w.e.f 5th June 2019. Mr Hamish McLennan was deputed as Deputy Chairman of Magellan and Mr Robert Fraser as Chairman of Magellan Asset Management Limited, Responsible Entity and prime operating subsidiary of Magellan.
As per its FUM update from 6th May 2019, the company witnessed net inflows worth $462 million, inclusive of net institutional inflows of $332 million and the net retail inflows of $130 million.

FUM update (Source: Company's report)
The company announced its results for the half year ended 31st December 2018 in February. As per this, the adjusted revenue was $276.4 million, up by 41% on pcp where it was $195.8 million. The average FUM were up by 35% to $72.1 billion. Management and services fee revenue was $228.1 million, up by 28%. PBT and performance fees of the Funds Management business was $182.3 million, up by 41%.
Financial highlights (Source: Company's report)
At the time of writing on 6th June 2019 (3:07 PM AEST), the stock is trading at A$43.780, up by 1.57%.
Dicker Data Limited
A technology hardware distributor, Dicker Data Limited (ASX: DDR) distributes a wide portfolio of products from the technology vendors. The company's focus is to deliver industry-leading solutions made on the world's best technologies.
Company Management:
David Dicker, Chairman and CEO founded Dicker data and has been associated since inception in 1978.
Company Updates:
As per the AGM presentation of May 2019, DDR's revenue for FY18 amounted to $1,493.6m, depicting a growth of 14.4%. Since the acquisition of Express Data, the revenue CAGR was recorded at 11.5% and EBTIDA CAGR at 8.8% in the last four years. There were eighteen new vendors added in FY17 and FY18, who recorded an incremental revenue of $66.4m in FY18. The present vendors grew at 9.5%. DDR's NPAT witnessed a NPAT increment of 20.5% whereas the EPS grew 20.2%.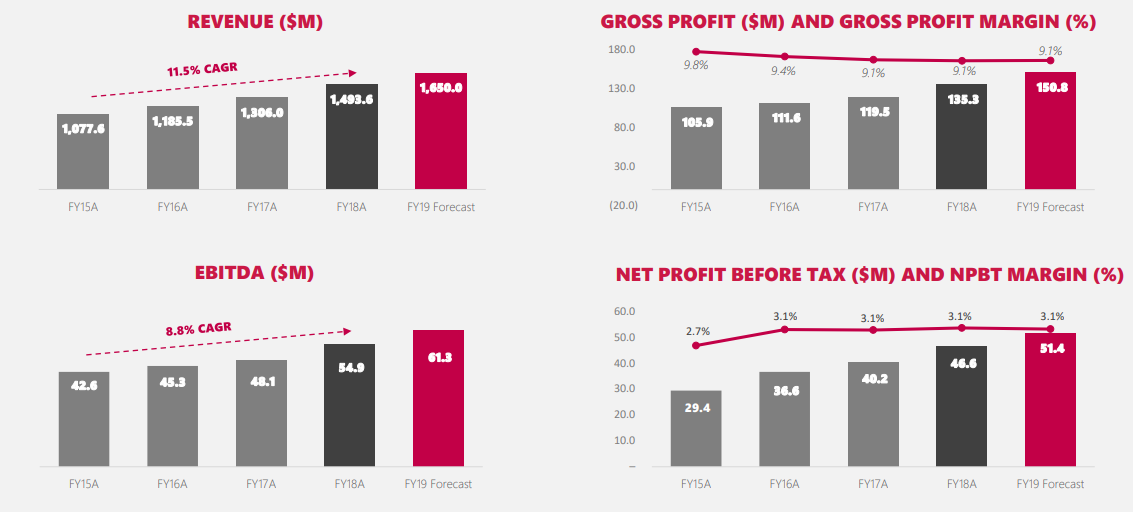 Financial Trend (Source: Company's report)
In Q12019, the company recorded a Revenue of $386.9 million, 21% up on pcp. The PBT was reported at $13.5 million, 46.7% higher on pcp.
At the time of writing on 6th June 2019 (3:30 PM AEST), the stock is trading flat at A$5.010.
Hansen Technologies Limited
Catering to four industry verticals, Hansen Technologies (ASX: HSN) is a global provider of CIS, billing software and DMS to telecommunications, energy, water, and pay TV sectors. It has worked alongside clients aiding them in optimising critical billing for over 40 years. Company experts help clients to manage and analyse consumption data and streamline the billing and operational processes.
Company Management:
Andrew Hansen serves on the Board as Managing Director and has been associated with Hansen since 1993.
Company Update:
On 3rd June 2019, the company announced that it had completed the acquisition of Sigma Systems, w.e.f 1 June 2019.
Regarding to this acquisition and based on the CY18 revenue, the company had the following proforma, as shown in the below image:
(Source: Company's report)
As per the investor presentation made in April 2019, the company stated that around 63% of its revenues were recurring and attained from the support and license fees as well as periodic maintenance. The major non-recurring revenues are project fees from its over 500 customers for software change to address the changes within customer's business.
At the time of writing on 6th June 2019 (3:49 PM AEST), the stock is trading flat at A$3.770.
Aristocrat Leisure Limited
A major gaming provider and games publisher, Aristocrat Leisure Limited (ASX: ALL) offers a diverse range of products and services like casino management systems, electronic gaming machines, and digital social games. Its land-based products have approvals in more than 300 licensed jurisdictions and are accessible in more than 90 countries.
Company Management:
CEO of Aristocrat, Trevor Croker has been with the company for 8 years and has served a variety of roles in his tenure.
Company Update:
On 23rd May 2019, the company announced its financial results for the half year ended 31st March 2019. The NPATA grew by 16% and was reported at $422.3 million. In constant currency, it grew by 7.7%, compared to $361.5 million delivered in the 6-months ending 31st March 2018. The Directors had authorised an interim fully franked dividend of 22.0 cps (A$140.5 million), which was up by 16%, in respect to the 6-month period ending 31st March 2019.
The company witnessed good growth in Americas and Digital businesses and across the ANZ region.
Financial highlights (Source: Company's report)
At the time of writing on 6th June 2019 (4:04 PM AEST), the stock closed at A$29.20, up by 0.794% compared to its previous close.
---
Disclaimer
This website is a service of Kalkine Media Pty. Ltd. A.C.N. 629 651 672. The website has been prepared for informational purposes only and is not intended to be used as a complete source of information on any particular company. Kalkine Media does not in any way endorse or recommend individuals, products or services that may be discussed on this site. Our publications are NOT a solicitation or recommendation to buy, sell or hold. We are neither licensed nor qualified to provide investment advice.