Financial technology (Fintech) is the hottest technology that is involved in improving and computerising the use and distribution of financial services. Fintech is utilised to aid business vendors, companies, organisations and customers to manage their financial operations, processes, and lives in an enhanced way by using certain procedures, software and algorithm on computers and smartphones.
Additionally, the use of fintech, especially in transaction and payments, has been vital in reducing costs for banks and boosting their return on equity. Consequently, due to changing circumstances banks are turning to fintech and restructuring their payment methods. Traditional payment processing techniques will turn out to be troublesome to banking businesses worldwide, in a time where more than 70% of transactions and deals are taking place online.
It is worth noting that easy cashless payment options boosts transaction frequency and aid local players grow in international markets. Fintech is bridging the gap between global economies and removing currency barriers.
According to media sources, fintech spending is expected to be more than $300 billion by 2023, an increase in the low 20% range per year. Notably, emerging economies in Asia America and Latin America are growing at a fast pace.
With the application of advanced software and leveraging AI, big data, and the Internet, Fintech companies are augmenting things to provide enhanced services to customers as and when they require it. Scaling is also more efficient as they use online resources.
With the dynamic consumption patterns and a need to go cashless, customers desire online and mobile payment platforms for paying their bills and shopping. This in turn reduce the demand for cash and credit cards.
Key Finding About Fintech
In 2020, financial technology is likely to move in a direction of the growth of Neobanking and banking as a service platform, along with tokenisation, rise in cloud-based platform and tests to continue with robotic process automation.
Furthermore, growing demand of social-media platforms, increase in e-commerce space, and digital ad-spending are key growth drivers. Additionally, higher commitment to online gaming, music, payment portals, and video streaming services has propelled the growth opportunities for the FinTech Players amid coronavirus-led shut down.
In Australia, Fintech companies have been establishing robust demand and is witnessing massive growth across the retail segment. Owing to ever-increasing use of mobile applications as well as greater use of technology, fintech has offered value proposal to its investors.
Given the current backdrop, we have highlighted Tyro Payments Limited (ASX: TYR) stock with promising fundamentals that are poised to grow in coming years.
Tyro Payments Limited (ASX: TYR)
Payments solution company, Tyro Payments Limited operates in three segments namely payments, banking and other corporate segments. The Company aids credit and debit card acquiring, along with additional functions, such as Medicare Easyclaim and private health insurance claims acceptance. It also offers integrated health claiming facilities to medical practitioners.
COVID-19 Trading Update
On 20 April 2020, TYR provided trading update for the week closed 17 April. The Company is offering the weekly update to give transparency as to the effect of coronavirus on its operations.
The following table offers TYR's transaction value data until and includes 17 April. The financial information offered is based upon unaudited management accounts which have not been independently reviewed or verified.

Source: Company's Report
Earlier this month, on 6 April, TYR revealed a weekly transaction value update, in which the transaction value stood at $16.381 billion in April FY20 (year-to-date basis), up 26% from $13.047 billion in FY19. Nevertheless, the transaction value for the period from April to 3 April on date-on-date basis came in at $0.102 billion, a decline of 23% from $0.133 billion recorded in FY19.
During the month of January FY20, TYR saw an increase of 27% in the transaction value as compared to January FY19. Additionally, the transaction value came in an $1.785 billion in February 2020, an increase of 30% from $1.377 billion in FY19. In March 2020 (year-to-date basis), the Company's transaction value stood at $16.279 billion in FY20, up 26% from $12.914 billion in FY2019.
Notably, Tyro's transaction value has processed >$11.1 billion in 1HFY20 for more than 32,000 Australian merchants who joined with Tyro in the same time period.
Tyro's Response to Covid-19 Crisis
The COVID-19 crisis has almost shaken the management of every company due to the mounting uncertainties in the market. Tyro's management has been vigorously involved in tracking the impact of the measures being employed by the state, federal, & territory governments to curb the coronavirus pandemic.
Tyro has been constantly involved in evaluating any effect upon its transaction values along with projected financial information. The Company has found it sensible to withdraw the Financial Information guidance contained in its Prospectus lodged with ASIC on 18 November 2019, owing to the present uncertainty related to the spread of COVID-19 virus.
Nevertheless, Tyro has retained a healthy financial position, with cash balance amounting to $154 million at the end of February 2020, which does not consist of net banking funds. Moreover, at the end of 31 December 2019, cash balance stood at $149 million. Also, Tyro's capital structure continues to remain debt-free.
TYR is taking necessary measures to offer the needful to keep away its merchants from suffering any hardship and additionally maintain its team together in the current uncertain times. Furthermore, Tyro's business has been operating continuously. The Company has further extended its customer support teams, which is operating 24 hours a day to aid its merchants.
It is to be noted that not only Tyro, but other companies have also withdrawn their guidance amid COVID-19 spread. In current situation, Tyro has shared its lack of ability to deliver a dependable forecast at this time.
1HFY20 Operational Highlights
For the period ended 31 December 2019, the Company reported revenue of $117.3 million, up 28.4% on y-o-y basis. The company achieved an all-time $11.1 billion high in transactions value, which increased 29.7% year over year. During the period, 32,450 merchants choose Tyro as their payment's solution, which increased from 26,351 merchants in 1HFY19.
Revenues from transaction and merchant stood at $113.6 million, an increase of 29% year over year. EBITDA for the period stood at $1.5 million as compared to a loss of $3.0 million in the prior corresponding period. Tyro ended the period with cash and financial investments of $171.1 million. The Company reported a loss after income tax of $19.2 million as compared to a loss of $7.7 million in 1HFY19. TYR posted an operating expense of $48.8 million, which includes $34.4 million for employee benefit expenses.
During the period, the Company took initiatives to implement the trial of new term deposit product for merchants along with the launch of eCommerce solution.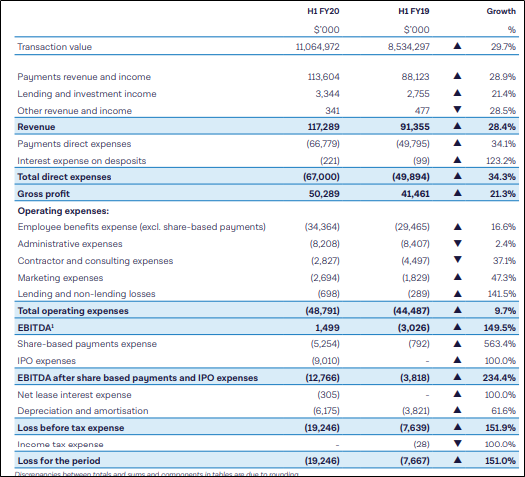 Financial Highlights (Source: Company's Report)
Liquidity & Cash Flow Analysis
In 1HFY20, TYR's total capital ratio stood at 145%, an increase from 109% in 1HFY19. During the period, operating cash outflow came in at $12.2 million, owing to $7.5 million cash spend relating to IPO costs and $2.4 million for terminal purchases.
Key Growth Strategies
The Company's key main strategies for FY20 are aimed at sustained growth in its payments as well as banking businesses. In doing so, TYR remains on track to grow its existing verticals in Australia. The Company expected ~$171 billion from Health, Hospitality and Retail SME payments market in the coming years. Further, the Company is increasing marketing for brand awareness, and making more POS integrations, and is developing more industry specific solutions. The move is expected to be a tailwind, going forward.
Further, the Company remains focused to add new core verticals by entering the accommodation and services verticals. Tyro is also leveraging its existing platform + payments domain knowledge in order to achieve continues growth in its payment solutions.
Tyro also remains active in its mergers and acquisitions front along while pursuing strategic partnership. The Company in doing so, is taking necessary steps to strategically undertake equity investment in me&u - App that enables patrons to view menus, order and pay for meals via their mobile phone. Tyro is also assessing any possible opportunities to increase scale, leverage its platform or capabilities, in order to strengthen its market position. Further, the Company is maintaining a disciplined approach to inorganic growth.
Other Recent Updates
Recently, TYR stated that FIL Limited and the entities, a substantial holder of the Company, has now increased its voting power from 6.30% to 8.27%.
Stock Performance
Tyro has a market cap of $1.42 billion with ~497.35 million outstanding shares. The Company's stock was trading at $2.92 on 20 April 2020, up by ~2.456% (at AEST 3:11 PM).
---
Disclaimer
This website is a service of Kalkine Media Pty. Ltd. A.C.N. 629 651 672. The website has been prepared for informational purposes only and is not intended to be used as a complete source of information on any particular company. Kalkine Media does not in any way endorse or recommend individuals, products or services that may be discussed on this site. Our publications are NOT a solicitation or recommendation to buy, sell or hold. We are neither licensed nor qualified to provide investment advice.