Health stocks are reckoned amid those that can rapidly grow from a single line of product with small market capitalisation to a company worth over billions. Regarded as one of the most exciting sectors of the stock market, health stocks hold a great potential to deliver tremendous returns to investors, in a very short span of time. Therefore, irrespective of volatility in the global market, stockholders hunt for best health stocks to invest their cash in.
In addition to investors' risk aversion, there are multiple factors and risks, which needs to be looked upon before buying health stocks including a range of diseases targeted, patents and the patented technology used, company's market opportunity, competitive edge, regulatory approvals, advancements in clinical trials, future developmental plans, company's business and revenue model, financial as well as stock performance.
Needless to say, other factors contributing to investors' decision include demographic trends of the ageing population, funding grants by government bodies, rise in chronic diseases along with the market cap, P/E ratio, profits earned, share buyback and so forth.
In this article, we would be looking into three ASX-listed health stocks namely Neuren Pharmaceuticals Limited (ASX: NEU), Pharmaxis Limited (ASX: PXS), Creso Pharma Limited (ASX: CPH). Let us zoom further in detail regarding their most recent ASX update.
Neuren Pharmaceuticals Limited (ASX: NEU)
Neuren Pharmaceuticals Limited (ASX: NEU), an Australian based pharmaceutical company is focused on developing novel treatment therapies for neurodevelopmental disorders (distinguished by impaired connections and signalling in brain cells with high unmet need).
Trofinetide or NNZ-2566 and NNZ-2591 are Neuren's two drug candidates. US Food and Drug Administration has granted Fast Track as well as Orphan Drug designation to NNZ-2566 in both the US and the European Union. Also, for the development and commercialisation of NNZ-2566, an exclusive license has been granted to ACADIA Pharmaceuticals Inc. in North America.
The company is now in a progressing phase for the development of its second lead candidate NNZ-2591 for treating Phelan-McDermid syndrome, Pitt Hopkins syndrome, and Angelman syndrome.
NEU's Corporate Presentation (October 2019)
On 18 October 2019, NEU released the Corporate Presentation for October 2019. The highlights for the same consists of the following:
Source: Company's Report
Orphan Drug Designation granted to Neuren's NNZ-2591
In a recent update on ASX, dated 16 October 2019, Neuren Pharmaceuticals notified the market that its second leading drug candidate NNZ-2591 received Orphan Drug Designation for Phelan-McDermid syndrome following US FDA grant, post the receipt of recent US FDA grant of Orphan Drug designation to NNZ-2591 for Angelman syndrome.
Mr Richard Treagus, Executive Chairman, Neuren was extremely pleased and stated that this was a confirmation of NNZ-2591 being a valuable asset for Neuren and authenticated the promising preclinical data. He further informed that the company aimed to begin with the clinical trials in 2020.
Previously, Neuren declared positive results for NNZ-2591 in mouse models for each of these three devastating neurodevelopmental disorders with significant unmet need, namely Angelman syndrome, Phelan-McDermid syndrome and Pitt Hopkins syndrome. Presently, the company is engaged in conducting the non-clinical studies for NNZ-2591, a mandatory requirement to fulfil to commence clinical trials.
Stock Information
On 21 October 2019, NEU's stock last traded at $2.45, down by 3.162% from its last close. The market capitalisation of the company stood at $259.75 million, with 102.67 million outstanding shares. The stock generated a significant return of 123.89 percent on a six months basis. The stock witnessed a 52 weeks high price of $2.7 and a 52 weeks low price of $0.98 with an average (year) volume of 101,766.
Pharmaxis Limited (ASX: PXS)
Leading Australian Pharmaceutical Company Pharmaxis Limited (ASX: PXS) is engaged in novel drug development for the treatment of diseases pertaining to inflammation and fibrosis such as inflammatory bowel diseases and cancer, NASH, Kidney, liver and pulmonary fibrosis. Pharmaxis has a robust and highly productive drug discovery portfolio with drug candidates undergoing clinical trials and several collaborations fetching significant future cash flows.
PXS' Annual Report for Shareholders
On 18 October 2019, PXS released its report on the Group for the period closed 30 June 2019. In the consolidated income statement, loss for the year stood at $20,058k from $6,428k in the pcp. While in the consolidated balance sheet, total assets were recorded at $52,668k from 50,097k.
The total liabilities were noted at $14,814 from $11,118 in the pcp. On the cash flows front, the net cash outflow from operating activities was recorded at $19,798k from $12,206 in the pcp. The net cash outflow from investing activities were at $981 k versus $884k in the pcp. The cash and cash equivalents at the end of the financial year was at $31,124 k from $31,073 k in the pcp.
PXS further conveyed that AGM of stakeholders of the company would be hosted on 21 November this year, in Sydney.
Pharmaxis Received R&D Tax Rebate worth $6.2 million
In a recent ASX update, the company unveiled the receipt of Research and Development Tax Incentive worth $6.2 million for the financial year 2019, followed by Pharmaxis' advancements related to clinical developments of its drug candidates.
Post the receipt of this R&D tax rebate, the company's cash funds stood at $31 million at 30 June 2019. Moreover, this incentive effectively reduces Company's 2019 cash outflow, by more than 40%. Further, the R&D tax incentive would be paid in cash for companies with total revenue less than $20 million in the claim year, subjected to appropriate expenditure on R&D activities.
In FY2019 period, PXS realised expenses (drug discovery employee) worth $2.8 million and external expenses worth $8.9 million in proceeding with its fresh drug pipeline into and around stage 1 trials (clinical).
Pharmaxis' Broad Product Pipeline. Source: Investor Presentation
Pharmaxis has made significant progress, with its four in-house drug candidates advanced to Phase 1 trials in just 5 years, utilising its patented amine oxidase chemistry platform and small?molecule expertise.
Key Achievements for the year 2019 alone
Completed 1 trials in two LOXL2 inhibitors.
Begun stage 1 trials in LOX systemic inhibitor.
Developed a topical LOX inhibitor via preclinical advancement work.
Pharmaxis expects to begin proof?of?efficacy trials for two new drugs within the amine oxidase program in 2020. Under the amine oxidase program, the company has developed an oral anti?fibrotic LOXL2 inhibitors, targeting NASH, pulmonary fibrosis (IPF) and other fibrotic heart and kidney diseases. The commercial partnering process of this program is in progress.
Stock Information
On 21 October 2019, PXS' stock last traded at $0.195, up 4.878% from its previous close. The market capitalisation of the company stood at $80.91 million with 394.67 million outstanding shares. The stock generated a negative return of 31.76% on a six months basis. The stock witnessed a 52 weeks high price of $0.305 and a 52 weeks low price of $0.18 with an average (year) volume of 129,583.
Creso Pharma Limited (ASX: CPH)
Creso Pharma Limited (ASX: CPH) is a pharmaceutical company that develops and commercialises high quality cannabis and hemp derived nutraceutical, therapeutic, and life style products for human and animal health. As a reference of excellence in quality, the company practices GMP development and manufacturing standards for its products.
First shipment of 10% Medicinal CBD Oil delivered to Medleaf Therapeutics in New Zealand
Followed by the successful amendment of its import license to incorporate high purity CBD-Oil, Medleaf therapeutics had received the first shipment 10% Medicinal CBD Oil, which has now been delivered to JC Logistics Ltd t/a Medleaf Therapeutics in New Zealand and is now accessible through doctor's prescription.
This marks the entry of second product under the collaboration between Cresco Pharma and Medleaf.
Creso and Medleaf further confirmed that there is a continued growing demand for existing CBD-based cannaQIX® 50 lozenges.
Creso Pharma's collaboration with Medleaf is devoted to providing easy access to affordable, high quality, broad-spectrum, GMP products easily accessible for the improvement of people's lives in New Zealand.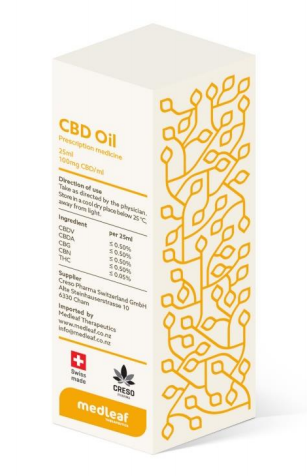 Medleaf is the first New Zealand Medical Cannabis Company to successfully import cannabis product after the legalization of manufacturing and consumption of medical cannabis products.
Creso Secured Processing Licence
Recently, in September 2019, Health Canada provided a processing license to Creso Pharma's Mernova cannabis facility. The license permits the extraction, production and wholesale distribution of medical cannabis oils, allowing it to further meet the worldwide demand for cannabis extracts and final products for treating humans and animals.
Stock Information:
On 21 October 2019, CPH's stock last traded at $0.29, up 1.754% compared to its last closed price. The market capitalisation of the company stood at $43.19 million with ~151.54 million outstanding shares. The stock generated a negative return of 35.23% on a six months basis. The stock witnessed a 52 weeks high price of $0.65 and a 52 weeks low price of $0.28 with an average (year) volume of 227,317.
---
Disclaimer
This website is a service of Kalkine Media Pty. Ltd. A.C.N. 629 651 672. The website has been prepared for informational purposes only and is not intended to be used as a complete source of information on any particular company. Kalkine Media does not in any way endorse or recommend individuals, products or services that may be discussed on this site. Our publications are NOT a solicitation or recommendation to buy, sell or hold. We are neither licensed nor qualified to provide investment advice.