World's leading manufacturer of electric vehicles, Tesla Inc., recently unveiled its much-anticipated pickup truck — Cybertruck, an electric battery-powered light commercial vehicle with features of both a truck and of a sports car. The launch of Cybertruck is a major step forward by Tesla towards 'accelerating the world to sustainable energy'.
After the launch, Chief Executive Officer Elon Musk tweeted:
"Better truck than an F-150, faster than a Porshe 911".
Launch of Cybertruck
Considered as the most powerful tool Tesla has ever built, Cybertruck has around 3,500 pounds of payload capacity and adjustable air suspension. While tweeting about the strength of the Cybertruck, Elon musk wrote that even bending the Cybertruck requires a deep score on inside of bend.
Cybertruck was launched late on Thursday 21 November 2019 and received mixed reactions from critics. Soon after the launch, the unconventional design of the Cybertruck became a topic of discussion on internet. Plus, the shattering of the Cybertruck glass, which happened at the launch while Chief Executive Officer Elon Musk was onstage also attracted a lot of negative publicity from the press.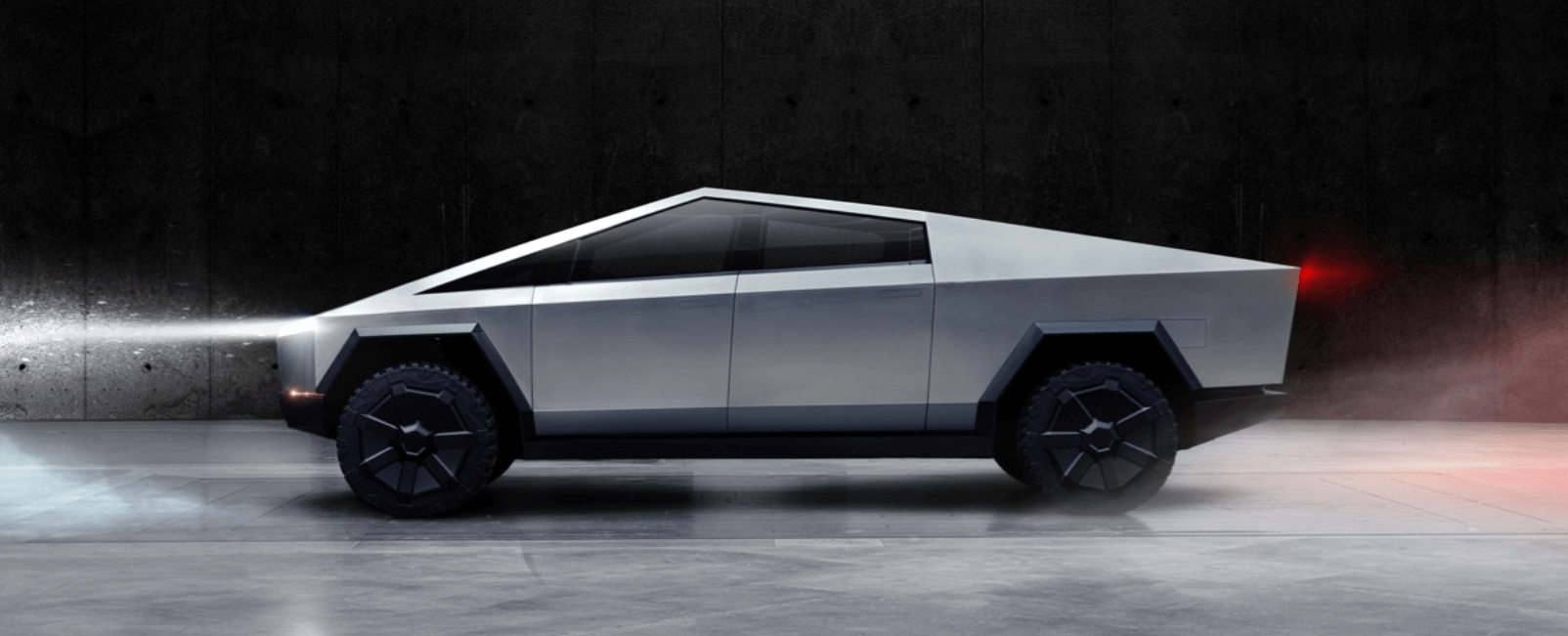 Cybertruck (Source: Company Reports)
However, despite all the negative air around the launch, Tesla has received around 200,000 orders for its new Cybertruck, as indicated by Elon musk Tweet. The strong features of Cybertruck could be the reason behind this strong demand.
Features of Cybertruck
Cybertruck is built with an exterior shell made for ultimate durability and passenger protection;
Starting with a nearly impenetrable exoskeleton, every component of Cybertruck is designed for superior strength and endurance, from Ultra-Hard 30X Cold-Rolled stainless-steel structural skin to Tesla armor glass;
Cybertruck has Ultra-strong glass and polymer-layered composite which can absorb and redirect impact force for improved performance and damage tolerance
It has around 3,500 pounds of payload capacity and adjustable air suspension,
It has the ability to pull near infinite mass and a towing capability of over 14,000 pounds;
It can perform in almost any extreme situation with ease.
It is to be noted that Tesla intends to start manufacturing Cybertruck around late-2021. Besides Cybertruck, Tesla's electric vehicles include:
The Model S sedan – Fully electric, four-door, five-adult passenger sedan that offers compelling range and high performance;
The Model X sport utility vehicle (SUV) - Longest range all-electric production sport utility vehicle in the world that offers high performance features such as Tesla's fully electric, all-wheel drive dual motor system and its Autopilot system;
The Model 3 sedan - Third generation electric vehicle, currently produced at high volumes at the Tesla Factory in Fremont, California and at Gigafactory.
Tesla recently revealed the numbers for the September quarter wherein it reported strong financials for the quarter, notwithstanding the expectations of many short sellers. During the quarter, Tesla returned to GAAP profitability and experienced an uplift of USD 383 million in its cash and cash equivalents balance which reached to USD 5.3 billion by the end of September 2019.
Tesla's Major Highlights for September Quarter include:
Launched Smart Summon in the US, allowing car owners to summon their cars from up to 200 feet in a parking lot or driveway;
Registered one accident for every 4.34 million miles driven in which drivers had Autopilot engaged;
Increased the EPA range of the Model 3 Standard Range Plus from 240 miles to 250 miles;
Released its latest and most significant vehicle software update which introduced streaming video (i.e., YouTube, Netflix, Hulu, video tutorials), Spotify, Caraoke (i.e., in-car karaoke), additional games, improved search and other functionalities;
Launched Tesla Insurance for California customers, enabling many customers to reduce insurance costs by up to 20-30%;
Recently introduced Tesla Megapack a 3 MWh battery pack, preassembled at the Gigafactory as a single unit;
Compared to the September quarter of 2018, the percentage of leased vehicles has increased by three times in Q3 2019;
During the September the company earned USD 261 million GAAP operating income with 4.1% operating margin.
Tesla Outlook
Vehicle Deliveries –Tesla expects its deliveries should increase sequentially and annually, with some expected fluctuations from seasonality;
Cash Flow – Going forward, the company is expecting positive quarterly free cash flow with possible temporary exceptions, particularly at the time of launch and ramp of new products;
Product- The company is ahead of schedule to produce Model Y and now expect to launch by summer 2020;
Profitability- The company is expecting to earn Positive GAAP net income with possible temporary exceptions, particularly around the launch and ramp of new products;
The company is positioned to accelerate its growth further through Gigafactory Shanghai, Model Y and also through increasing build rates on its existing production lines.
While Tesla is currently a pioneer in Electric cars market, there are several other leading automobile players who are trying to enter or have already entered into the electric vehicles market. Leading automobile manufacturer Ford recently launched its all electric Mustang Mach-E which might give tough competition to Tesla's electric vehicles.
One of the major risks cited in Tesla Annual report is that its future growth and success is very much reliant upon the consumers' willingness to adopt electric vehicles. With the word transitioning towards clean and sustainable energy, it can be said that the wind is blowing in favour of Tesla right now. Now it's up to Tesla, to gain from this emerging electric vehicle demand.
As per Elon musk tweets, Cybertruck is Tesla's last product for a while; however, the company expects to make some unexpected technology announcement next year.
At market close on 25 November 2019, Tesla's shares were trading at a price of USD 336.34.
---
Disclaimer
This website is a service of Kalkine Media Pty. Ltd. A.C.N. 629 651 672. The website has been prepared for informational purposes only and is not intended to be used as a complete source of information on any particular company. Kalkine Media does not in any way endorse or recommend individuals, products or services that may be discussed on this site. Our publications are NOT a solicitation or recommendation to buy, sell or hold. We are neither licensed nor qualified to provide investment advice.