An economy can have stable finances, healthy economic structures and a plethora of rich metals and minerals underneath its soil, but the factual growth and development would only fruitfully be accomplished if the education sector is robust. The importance of Education towards any form of growth development needs no introduction, and simply put- it is the most vital catalyst that drives every sector.
A significant feature of the education industry is that it has always been and would continue to remain an evolving industry, with new realms being added to the dynamic environment that we live in, and the need to constantly educate ourselves about the past, present and the future. The Education industry has been given the utmost importance in almost all world economies and is presently in a healthy upcycle.
Recent Education Trend in Australia:
According to the statistics laid down by the Australian Bureau of Statistics, in 2018, there were 3,893,834 students enrolled in 9,477 schools and teachers comprised of ~70 per cent of in-school full-time equivalent staff. The student to teaching staff ratio for all schools and affiliations was 13.5.
Student enrolments by school affiliation over the years (Source: ABS)
On the higher education spectrum, as per the MIP Education Insight Review of 2018, Total postgraduate (PG) enrolments overtook undergraduate (UG) enrolments during 2018.
Enrolments by Sector (Source: Government Report)
On the international education front, total primary student visa grants were up by 9.9 per cent to 328,150 in FY2017-18 and by 9.5 per cent (159,823) in the second half of 2018. Australia's performance remained strong in the education sector, with Onshore visa grants growing at speedy rates than offshore.
Visa Grants (Government Report)
Looking at the trend based on the age of Australian residents, the statistics depict a positive shift in the change that has occurred between 2008 and 2018. The key indicators of the same are highlighted below:
Key Indicators, Education and Work (Source: ABS)
In the context of this information, let us have a look at the three stocks, related to the Education sector, and look at their updates and stocks performances on the Australian Stock Exchange:
IDP Education Limited (ASX: IEL)
Company Profile: Set up in 1969 and listed on the ASX in 2015, IEL is an international education services provider, providing counselling, advisory services, visa application assistance, pre-departure support and other SES. The company is the co-owner of IELTS and runs eleven English language teaching campuses throughout South East Asian region.
In 2017, the company acquired Hotcourses Group, which is a course search portal and student placement company.
2019 Macquarie Australia Conference: In May 2019, the company presented at the Macquarie Australia Conference stating that its H1 FY19 Revenue was up by 20 per cent on pcp at $178.6 million, in the IELTS space. The revenue of the student placement, Digital Marketing and Events and English Language Teaching too rose during the period.
IEL's Business Overview (Source: Company's Report)
The company introduced the idp connect, its B2B/Client services division post merging the Hotcourses Group and IDP B2B teams.
The company believes that it is headed towards becoming the world's definitive student dataset, while creating the marketplace and connected community for education participants and reinvent the global industry. It has a client base of more than 680 universities and educators across the globe.
IEL's Client base (Source: Company's Report)
Stock Performance: On 19 July 2019, the company's stock was trading at A$18.74, (at AEST 12:32 PM), down by 0.053 per cent. With ~254.44 million outstanding shares, the market capitalisation of the company is at A$4.77 billion. In the last one and three months, the stock has generated returns of 0.59 per cent and 22.79 per cent. The YTD return of the company is 91.13 per cent.
3P Learning Limited (ASX: 3PL)
Company Profile: A global lead player in the online education business, the company has a basket of learning resources which are particularly designed for the families and schools, and cover the concepts of math, spelling and literacy. The company has partnered up with UNICEF and stated that in this association, approximately 300,000 students have so far been given access to education with the help of the company's learning projects.
Result Release and Investor Day Date: On 17 July 2019, the company notified that it would be releasing its FY19 full year results on Thursday, 22nd August 2019. The company would also conduct a strategy and product showcase on 20th September 2019 at its North Sydney office, and awaits investors and shareholders to be part of it.
2019 Macquarie Australia Conference: On 1 May 2019, 3PL presented at the 2019 Macquarie Australia Conference in Sydney, and in the related presentation, stated that it was on track towards growth with the second half of FY19 marking the final stages of 3-year strategic plan (2020-2022). the operating model had been set, costs out and reinvestments to strengthen the product portfolio had been taken care of and a digitised sales and marketing model had been built. The growth plan would be highlighted in 3PL's full year result.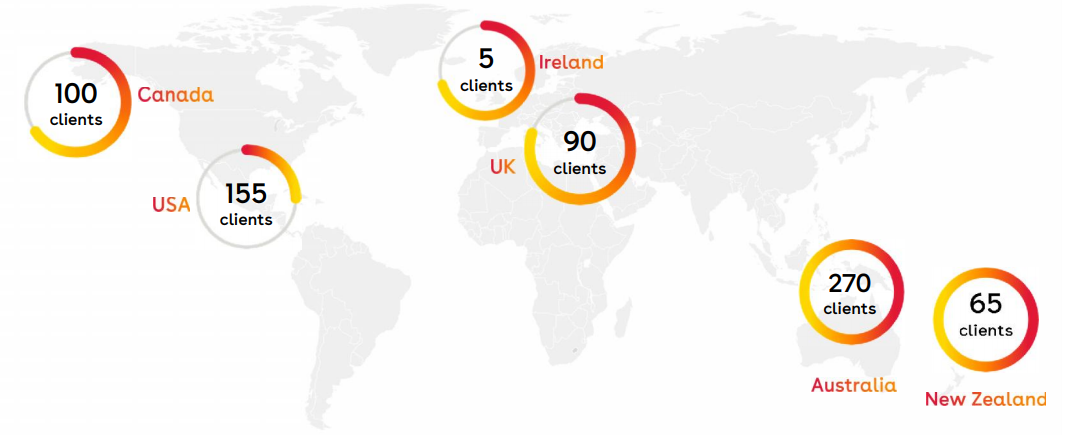 3PL's Roadmap (Source: Company's Report)
As outlook for FY19, the company expects cash balance to range between $25 million to $28 million.
Stock Performance: On19 July 2019, 3PL's stock was trading at A$0.99, down by 1 per cent (at AEST 12:46 PM). The company has ~139.33 million outstanding shares, as well as A$139.33 million market capitalisation. In the last one and three months, the stock has generated negative returns of 1.96 per cent and 8.26 per cent. The YTD return of the company is negative 16.32 per cent.
Evolve Education Group Limited (ASX: EVO)
Company Profile: Considered to be at the forefront of childcare, EVO is a provider of early childhood education in New Zealand and was listed on the ASX in 2014. It has its registered office in Auckland and owns over 120 centre- based ECE facilities in New Zealand. The company operates under brands like Little Earth Montessori, Little Lights, Lollipops, Learning Adventures, Pascals and Active Explorers.
Annual Meeting and Director Nomination Closing Date: On 1 July 2019, the company notified that it would be conducting its Annual Meeting on Wednesday, 18th September 2019. Prior to that, the last date for director nominations was set to be on Thursday, 18th July 2019.
Annual Report: On 20 June 2019, EVO released its Annual report, stating that it's recapitalisation of a 4.4:1 accelerated rights entitlement offer, (as announced in May 2019), had been completed in June, and had resulted in the raising of $63.5 million of additional shares. This had reduced the company's bank debt with $30 million repaid to ASB Bank. The company notified that $25 million would be invested to acquire 10-12 existing childcare centres in Australia.
On the financial end, as on 31 March 2019, the company recorded revenue of A$137,177k, with the Total comprehensive loss attributable to the shareholders of the Company being A$101,554k. The financial statement of the company is provided below:
EVO's Financial Highlights (Source: Company's Report)
Besides this, by the end of the year, the company had 123 mature centres, compared to 126 that were there in the pcp. The average annual occupancy was 76.5 per cent compared to 78.6 per cent for the FY18. As a result of this, the company's annual employee expenses to revenue was 56.1 per cent (54.6 per cent in pcp), ratio of annual rent expenses to revenue was 15.4 per cent (14.4 per cent in pcp) and the underlying EBITDA margin for its mature centres in FY19 was 17.3 per cent (20.8 per cent in pcp).
Stock Performance: On 19 July 2019, EVO's stock was trading flat at A$0.125 (at AEST 12:56 PM). With ~973.03 million outstanding shares, the market capitalisation of the company is A$121.63 million. The annual dividend yield of the stock is 14.96 per cent. In the last one and three months, the stock has generated returns of -3.85 per cent and +20.66 per cent, respectively. The YTD return of the company is negative 5.20 per cent.
---
Disclaimer
This website is a service of Kalkine Media Pty. Ltd. A.C.N. 629 651 672. The website has been prepared for informational purposes only and is not intended to be used as a complete source of information on any particular company. Kalkine Media does not in any way endorse or recommend individuals, products or services that may be discussed on this site. Our publications are NOT a solicitation or recommendation to buy, sell or hold. We are neither licensed nor qualified to provide investment advice.