The rise of the COVID-19 pandemic has certainly impacted employment in Australia, with thousands estimated to have already lost their jobs. At the time of writing, there were over 2 million cases and 1,34,354 reported deaths from the COVID-19 disease worldwide.
However, the healthcare sector is one of the industries that is still hiring in Australia amid COVID-19 pandemic. While the COVID-19 pandemic inflicted havoc on the worldwide economy, it has affected share market of Australia quite unevenly. In Australia Real Estate, Financials and Energy have observed the biggest losses, while the healthcare sector has outperformed with a broad margin.
In a nod to the sector's developing clout, in March, CSL Limited (ASX:CSL) beats Commonwealth Bank of Australia (ASX:CBA) as the largest Australian company by adding the market value.
READ MORE: Healthcare Company CSL beats CBA and BHP as the most valuable company
While Healthcare has come to the forefront during this devastating pandemic, the recent rise of this sector is an extension of a long-term trend that has been unfolding in the Australian share market for several years.
On 16 April 2020, the S&P/ASX 200 health care sector last traded higher at 44,739.0 points, with a rise of 0.32% compared to the previous close. While the S&P/ASX 200 Index declined to 5,416.3 points, down by 0.92% from its last close.
ALSO READ: The Run-up for 7 Quality ASX Shares in Healthcare Space
In this article, we are highlighting three ASX listed healthcare stocks- FPH, SPL, MSB
Fisher & Paykel Healthcare Nominated as an essential service by the Government
ASX and NZX listed healthcare sector player Fisher & Paykel Healthcare Corporation Limited (ASX:FPH) provides innovative products to be used in respiratory care and is a leader in the designing, production and marketing of these products to support clinicians and general practitioners for improving patient care and outcomes.
Nominated as an essential service by the Government
Subsequent to the statement given by New Zealand's Prime Minister that the COVID-19 alert status can upsurge to Level 4 within 48 hours' time, mentioned in FPH's update to the market revealed that it was nominated as an essential service by the Government of New Zealand and will continue businesses in its Auckland facilities.
Remarkably, currently, F&P has nearly 5,000 people across the world who are focussed on meeting the enhanced requirement for its respiratory products that are being utilised in the treatment of patients infected with COVID-19.
Revised Date for Full Year Results
Earlier this month, F&P mentioned that outcomes for the year ended 31 March 2020 would be released on Monday, 29 June 2020, instead of Thursday, 28 May 2020, as formerly informed.
Moreover, the CFO Lyndal York highlighted that currently, the Company had approximately 5k people across the globe who are focussed on meeting the enhanced requirement for respiratory products of F&P. These products were being applied in the treatment of patients with COVID-19 infection.
Stock of FPH closed the day's trade at $27.110 up by 3.276% on 16 April 2020, with a market capitalisation of nearly $15.08 billion. FPH stock has ~574.6 million outstanding shares on ASX.
Starpharma's SPL7013 Shows Significant Activity Against COVID-19
An ASX listed health care sector player Starpharma Holdings Limited (ASX:SPL) is leading across the globe in the development of dendrimer formulations for therapeutic purpose. The Company is centred towards women's health, and its product VivaGel® BV for women is based on SPL7013, a proprietary dendrimer. In laboratory studies, SPL7013 has been established to inactivate approximately 99.9% of HSV, HPV and HIV.
TO KNOW MORE, DO READ: Is Starpharma The New Star in Healthcare Domain?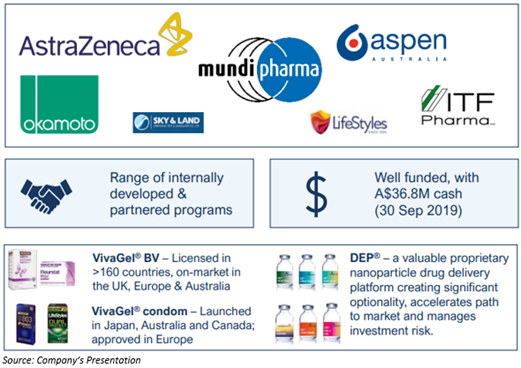 SPL7013 reported being the best performing test compound against SARS-CoV-2 in the lab-
Recently, Starpharma unveiled that its proprietary VivaGel® active (SPL7013), has been demonstrated in to have significant antiviral activity in laboratory studies against the coronavirus that causes COVID-19.
SPL7013 or VivaGel® active inhibited the infection of cells with the Severe acute respiratory syndrome coronavirus 2 (SARS-CoV-2 virus) and the results were validated by replicate testing in contradiction of a positive control compound, remdesivir, which is considered to be an important drug candidate for the treatment of coronavirus infection.
The outcomes of the laboratory test were also considerable and provided that SPL7013 was reported to be the best performing test drug against COVID-19 so far. Meanwhile, with these encouraging findings, the Company is assessing the formulation alternatives for SPL7013, which might have probable use in the prevention as well as management of coronavirus induced infection.
Stock of SPL settled the day's trade at $1.100 surged by 18.28% on 16 April 2020, with a market capitalisation of nearly $346.48 million. SPL stock has nearly 372.5 million shares outstanding on ASX.
Mesoblast and CTSN to Conduct Human trials of Remestemcel-L
ASX-listed company Mesoblast Limited (ASX:MSB) is a market leader in developing innovative cellular medicines worldwide. Mesoblast has a strong evolving product pipeline for follow-on indications with its three clinical programs currently in Phase III trials.
The lead drug candidates of the Company are- Remestemcel-L, revascor, MPC-06-ID and MPC-300-IV, which are under clinical developement.
Randomised controlled Clinical Study of Mesoblast's Remestemcel-L
Remestemcel-L in Brief- Mesoblast's Remestemcel-L is under clinical research for several categories of inflammatory disorders. It is supposed to counteract the inflammatory processes concerned in the diseases by increasing production anti-inflammatory cytokines, down-regulating making of pro-inflammatory cytokine, and therefore, allowing recruitment of natural anti-inflammatory cells to involved tissues.
Mesoblast partnered with the Cardiothoracic Surgical Trials Network (CSTN) established by the United States National Institutes of Health (NIH) conduct randomised controlled clinical trial focusing on the treatment of patients with acute respiratory distress syndrome (ARDS) induced by coronavirus with remestemcel-L.
TO KNOW MORE, DO READ: Mesoblast partners with the CTSN to Conduct Human trials of Remestemcel-L
The Company mentioned that Remestemcel-L would be now officially assessed in a Phase 2/3 study which is a randomised, placebo-controlled, multi-center trial in 240 patients with acute respiratory distress syndrome (ARDS) triggered by coronavirus infection.
Remarkably, Mesoblast embraces an Investigational New Drug Application from the US FDA for the use of remestemcel-L in the treatment of COVID-19 patients having ARDS and will provide investigational product for the clinical study.
Mesoblast's Chief Executive, Dr Silviu Itescu stated-
MSB stock closed the day's trade at $2.230, down by 6.695% on 16 April 2020, with a market capitalisation of nearly $1.28 billion. The stock has approximately 537.27 million outstanding shares on ASX.
---
Disclaimer
This website is a service of Kalkine Media Pty. Ltd. A.C.N. 629 651 672. The website has been prepared for informational purposes only and is not intended to be used as a complete source of information on any particular company. Kalkine Media does not in any way endorse or recommend individuals, products or services that may be discussed on this site. Our publications are NOT a solicitation or recommendation to buy, sell or hold. We are neither licensed nor qualified to provide investment advice.