It is well known that cannabinoids stocks like THC & CBD are gaining traction among investors. The growing number of clinical trials in the healthcare space also depict the pace at which the industry is marching ahead. It would be quite biased, if the industry overlooks the other areas where cannabis could bring breakthrough or enhance their potential.
Tourism is another industry wherein cannabis is enhancing its potential. Although, Amsterdam has been famous for its cannabis tourism globally, the new destinations wherein the legal barriers had been uplifted like Canada, and the USA might witness escalated tourism attraction, especially for cannabis.
Wellness & Body is also a space where cannabis is making strides, particularly the CBD oil is getting a lot of attention, while athletes are using the oil to reduce post-exercise inflammation and promote muscle growth. Interestingly, a few high-profile Hollywood celebrities from the west had claimed the used of CBD oils in their lifestyle. In this article, a cannabinoid company, which is reportedly developing medical cannabis treatment for skin disease, has been discussed as well.
Further, any disruption or outbreak in any industry affects the other industries as well. For Instance, the packaging industry for cannabis is going through disruption, as the regulators keep a close eye on how these items are packed for safeguarding the accidental impacts of these medicines. The regulators demand the packaging to be safe with requirements like resealable lids, tamper-proof, child-resistant etc.
Botanix Pharmaceuticals Limited (ASX: BOT)
Clinical stage cannabinoid company, Botanix Pharmaceuticals Limited is focused on the treatment of skin conditions through an active ingredient contained in the Botanix products, which is a synthetic form of cannabidiol. PermetrexTM is the company's licensed proprietary drug delivery system.
On 19 June 2019, Botanix Pharmaceuticals reported interim results from the BTX 1308 psoriasis Phase 1b mechanism of action study, conducted in Australia collaboratively with BioSkin GmbH, a clinical contracts research organisation and Professor Jim Krueger at Rockefeller University in New York. It should be noted that the clinical stage company (BOT) also reported that the interim results had reflected a positive response on anti-inflammatory and immune modulating activity in skin disease by utilising BTX 1308. Further, the company reported that it is the first time wherein the action data outlines the use of cannabinoids in skin disease.
Psoriasis Study (Company's Advisory Board Presentation, June 2019)
As per the release, the data from BTX 1308 study confirmed that genes contributing to the key inflammatory disease pathways in psoriasis were down regulated in psoriatic skin biopsies after the treatment with BTX 1308. Also, the company expects to release the data from its BTX 1801 development program in the near term.
BOT's stock last traded at 0.140, up by 3.704 on 19 June 2019. The stock has performed consistently well in the past year with returns attractive returns in short term periods. Its year-to-date return is +84.93%, while over the past year the return is +17.39%. BOT has returned +20% and +92.86% in the last three months and six-months period, respectively.
MGC Pharmaceuticals Ltd (ASX: MXC)
Today (on 19 June 2019), BioPharma company, MGC Pharmaceuticals Ltd, announced that a new distribution agreement was signed with ONIX Empreendimentos e Participações (ONIX) for the distribution of phytocannabinoid-based products in the Brazilian market.
As per the release, the market access to the products would be provided by OnixCann – a subsidiary of ONIX, which connects the doctors and patients through the distribution of phytocannabinoid products. Also, CannEpilTM (epilepsy) and CogniCannTM (dementia and Alzheimer's) are covered in the agreement; these products are MGC Pharma's propriety cannabinoid treatments. Importantly, CANTERA – a digital platform by ONIX would be used to commercialise the phytocannabinoid products under the MGC Pharma's brand.
It is reported that CANTERA is digital platform developed by OnixCann to facilitate safe, affordable and legal access to phytocannabinoid products along with guidance to patients and doctors about the treatments.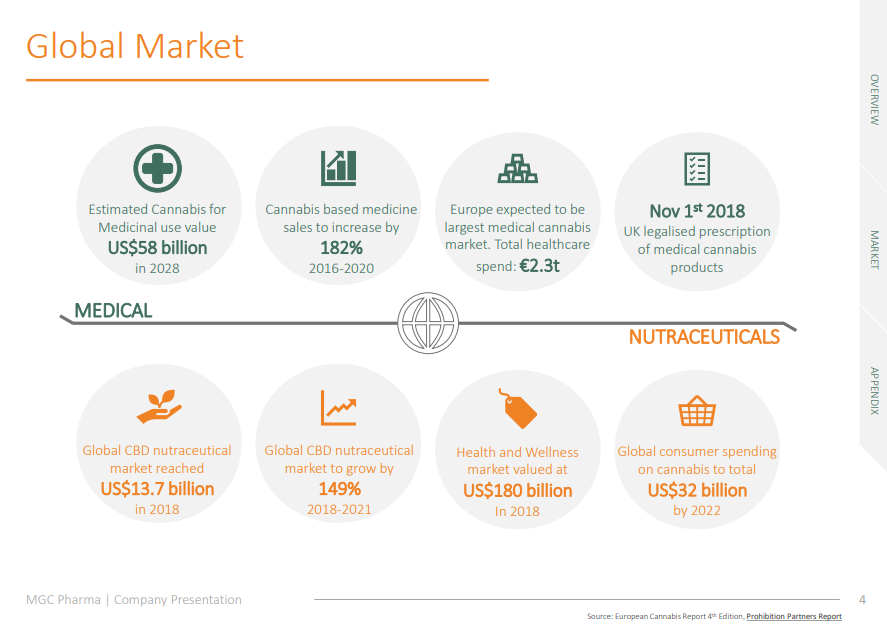 Global Market (Source: Company's Presentation, May 2019)
Key terms of Distribution Agreement: Under the agreement, ONIX collectively with its subsidiaries would use operating procedures to exclusively commercialise MGC's products for an initial term of 3 years under MGC Pharma's brand. Reportedly, ONIX would take responsibility for acquiring market approvals to import products in Brazil. Also, for the initial twelve months, ONIX does not have to meet the minimum quantity of purchase order; however, as of second anniversary, MXC and ONIX would establish a minimum guarantee of purchase orders. Importantly, failure to meet minimum purchase orders would allow MXC to terminate the exclusivity, without any penalty or indemnification against ONIX.
By the end of the trading session, MXC's stock closed flat at A$0.051 on 19 June 2019. Its year-to-date return is +24.39%, while over the past one year the stock's return is -21.54%. BOT's stock has returned +37.84% and +34.21% in the last three months and six-months period.
Cann Group Limited (ASX: CAN)
Cann Group Limited with its established research and cultivation facilities for cannabis provides medicinal cannabis for sale in Australia.
Cann Group intends to develop the best practices of cultivating medical cannabis along with best extraction methodologies, while understanding the agronomic parameters in growing kinds of cannabis strains. The Australian company has partnerships with numerous experts in the field of agronomics, plants pathology, plant & molecular breeding, advanced manufacture engineering, biochemistry and clinical trials. Some organisations include Agriculture Victoria Research, Olivia Newton-John Cancer Research Institute, NSW Department of Primary Industry, CSIRO, and La Trobe University.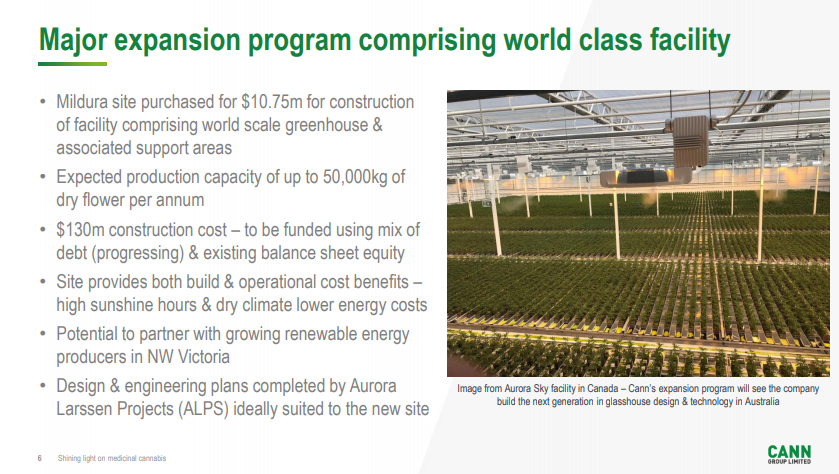 Expansion Program (Source: Investor Presentation, April 2019)
In May 2019, Cann Group announced that it supplied first commercially grown cannabis resin in Australia to the Victorian government. As per the release, Cann entered into a supply contract with the government's dedicated departments for medical cannabis and health service last October. Also, the cannabis resin had been extracted by Agriculture Victoria under an agreement with Cann Group, and the resin was extracted by the dry cannabis powder produced at the Cann Group facility.
As on 19 June 2019, CAN's stock last traded at A$2, down by 0.498% from the previous close. Its year-to-date return is +0.50%, while the stock is recovering from the losses over the past one year wherein the return stands at -31.40%. Also, in the past three months, the stock has returned +20.36%.
---
Disclaimer
This website is a service of Kalkine Media Pty. Ltd. A.C.N. 629 651 672. The website has been prepared for informational purposes only and is not intended to be used as a complete source of information on any particular company. Kalkine Media does not in any way endorse or recommend individuals, products or services that may be discussed on this site. Our publications are NOT a solicitation or recommendation to buy, sell or hold. We are neither licensed nor qualified to provide investment advice.