When there is a need for a company to raise capital, it generally goes for two options. One is through debt, and the other is by raising capital through equity. If a company is first time raising capital through equity, it is called Initial Public Offering or IPO. An Initial Public Offering or IPO refers to the process of raising capital in the primary market by selling its own stocks to the general public. In an initial public offering (IPO) or "float", securities in an entity are offered to the public for the first time and the entity is listed on a stock exchange, enabling its securities to be quoted and traded on that exchange.
It is generally difficult to buy shares of a private company. One can approach the owners of a private company, but it is not mandatory that they will sell you anything. On the other hand, public companies have had sold at least a portion of themselves in the market; therefore, opting for an IPO is also referred to as "going public". Public companies are subject to strict rules and regulations and have thousands of shareholders. They must report financial information every quarter and must have a board of directors. In Australia, public companies report to the Australian Securities & Investments Commission (ASIC). Like any other commodity, a public company's stock is traded in the open market, and if you have the cash, you can invest. Even if the CEO might not like you personally, but there's nothing he or she could do to stop you from buying the stock.
Why Private Companies Go Public?
A company going public raises cash and being publicly traded also opens many financial doors:
Because of the increased scrutiny; public companies can usually get better rates when they issue debt;
If there is market demand, a public company can always issue more stock; thus, mergers and acquisitions are easier to do because a stock can be issued as part of the deal;
Trading in the open markets means liquidity, which makes it possible to implement things like employee stock ownership plans, which helps to attract top talent.
Regulation of IPOs
The main bodies regulating Australian IPOs are:
The Australian Securities & Investments Commission (ASIC), which supervises compliance with the Australian Corporations Act 2001 (Corporations Act), including the prospectus requirements;
The ASX Limited as the stock market operator, is responsible for admitting companies to the ASX and supervising compliance with the ASX Listing Rules (Listing Rules).
Pricing an IPO
The underwriter and the company's corporate adviser will generally assist an entity in setting an appropriate IPO price. The price is typically set with regards to the earnings or cash flow multiples at which shares of listed companies in the same industry are trading, expected demand for the company's shares and the need to ensure an orderly aftermarket in those shares once the company is listed.
For a yield stock, consideration may also be given to comparative yields achieved by alternative investments.
The final IPO price involves a trade-off between maximising IPO proceeds and achieving orderly aftermarket trading.
Roadmap of an IPO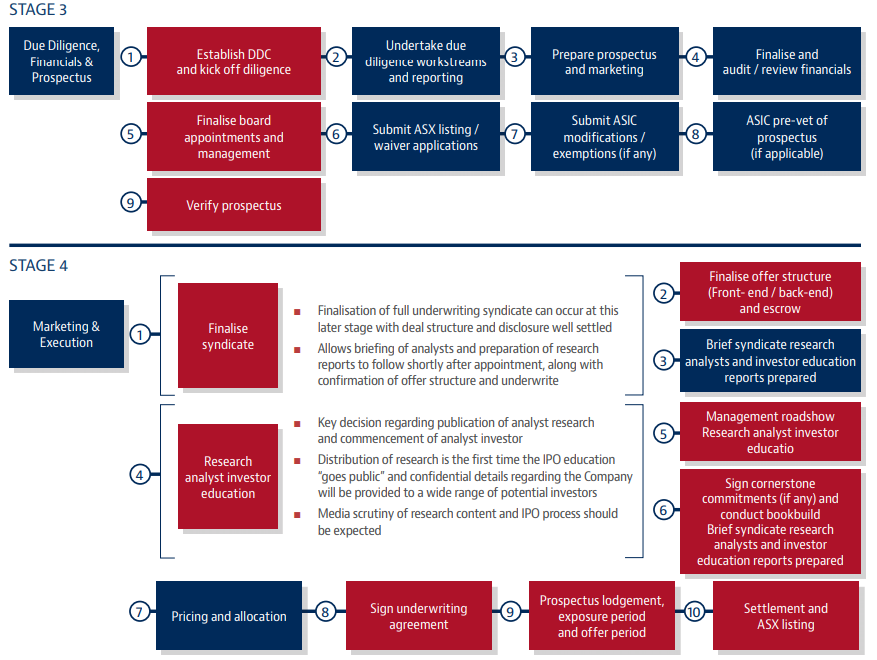 Source: Australian IPO Guide, ASX
Things to keep in mind before investing in IPO
Have deep knowledge of the company: Before subscribing for an IPO, read its prospectus very carefully. As getting information on an entity, which is going public, is tough, the only way of getting the information is through its prospectus. The prospectus provides every information one wants to have about the company.
Pick a strong company that has strong brokers: Select a company that has strong broker or underwriter, because generally, superior brokers bring excellent companies in the market. Big broking houses can be very picky in underwriting a company, and one can look at those;
Be careful: Because of the lack of information, there is a lot of uncertainty in the IPO market. Therefore, one should approach an IPO with caution, and if your broker is forcing you to buy an IPO, you should be more cautious as chances are individual investors are likely getting bottom feed, the leftovers that the big investors didn't want.
Watch out for oversubscription: If the demand for a particular IPO is high, the application for the IPO may be more than the number of shares listed, which means, the allotment of shares is done proportionately, and one may end up with fewer shares than applied for;
Valuation of the Stock: This is the most important and most difficult part for a retail investor to value an IPO. The most useful way for valuing an IPO is by peer valuation with the company's listed in Australia and then judge by using techniques like price to book ratio price to earnings ratio and return on equity.
Disadvantages of IPO for a Company
Additional regulatory requirements and disclosures: Different to private companies, public companies are required to file their financial statements and any other announcement, with Australian Securities & Investments Commission (ASIC) in every quarter or year. These financial statements, like annual reports or quarterly updates, must be prepared in accordance with ASIC regulations which can be both costly and burdensome.
Market pressure: The company leaders who are accustomed in doing what they believe is best for an entity may feel the pressures of market. The owners of the company generally have a long-term view of the company, but on the other hand, shareholders generally go for short term gain.
Loss of control: One of the major disadvantages of IPO is that owner of the company loses control in its ownership, as he or she is diluting its stake for the public. As the stakeholders invest a lot of money into an entity, they anticipate an entity to act in their best interests along with the best interests of an entity.
Now let's look at some of the upcoming floats in the ASX market
Conclusion
The words Hype and IPO can be used interchangeably as IPO, since it is not uncommon to see an IPO soar 20 per cent or more on the first day. However, in some cases, it comes down to its beginning or even lower, in a matter of few days or weeks. Investors can either make money or lose money in one go. An investor contemplating to invest in an IPO, should be cautious to weigh the pros and cons, keep the patience and think about the options.
---
Disclaimer
This website is a service of Kalkine Media Pty. Ltd. A.C.N. 629 651 672. The website has been prepared for informational purposes only and is not intended to be used as a complete source of information on any particular company. Kalkine Media does not in any way endorse or recommend individuals, products or services that may be discussed on this site. Our publications are NOT a solicitation or recommendation to buy, sell or hold. We are neither licensed nor qualified to provide investment advice.