Due to the inconvenience caused by COVID-19 pandemic, the Australian Government has postpone the release of 2020-21 budget from May to October 2020. The Government is gauging the impact on the economy and coming out with various stimulus packages to help various sectors to meet their financial needs. The current situation has changed the operational outlook of companies. Under these times of extreme stress there are few companies which are moving on a stable pace.
Let us have a look at four such stocks from diverse sectors: GNC, CHC, RSG and SAR; their financial and stock performance in recent times.
GrainCorp Limited (ASX: GNC)
GrainCorp Limited has a mix of businesses and assets that permit it to deliver high-quality ingredients at competitive prices. Having business across countries such as Australia, Germany, India, UK, New Zealand etc. its products range from edible oils, grains, baby formula, beer, and even include biofuel. The Company also provides an application facility for selling Grain, in collaboration with CropConnect, which allows commodity pricing to be checked real time and make a sale accordingly.
According to the FY 2020 interim results for half year period ended 31 March 2020 released by the company, GNC announced the repositioning activities it conducted such as the completion of the demerger with United Malt Group Limited and sale of its Bulk Liquid Terminals business in Australia.
The Snippet of the performance is as follows.
Revenue from ordinary activities increased by 3.4 per cent on pcp basis, to AUD 1,959 million.
Underlying EBITDA stood at AUD 183 million
Underlying NPAT increased from AUD 48 million loss to AUD 55 million profit.
At 31 March 2020, the balance sheet was strong with zero core net debt as compared to AUD 802 million last year on pcp basis.
Good performance from FFO (Feeds, Fats and Oils) and continuous demand for tallow, liquid feeds, and UCO (used cooking oil).
Outlook
For FY 2021, widespread winter planting is expected because of the favourable weather and recent rainfall.
Higher grain exports are projected in the second half of FY 2020.
On 18 May 2020, GNC shares settled at AUD 3.99.
Charter Hall Group (ASX: CHC)
Charter Hall Group is an Australia-based property group with more than 29 years of expertise in funds management and property investment. CHC access, manage, invest, and deploy equity across its core sectors, which includes industrial & logistics, social infrastructure, office, and retail.
CHC notified ASX on COVID-19 and other financial related updates on 14 May 2020.
Though health concerns remain the priority, the Company reaffirmed its FY2020 earnings guidance to about 40 percent post tax operating earnings growth per security as compared to last year
CHC's has an investment capacity of AUD 5 billion.
On YTD basis, AUD 4.6 billion came through equity flows, AUD 7.1 billion worth of transaction took place, and FUM growth was for AUD 8.8 billion.
Liquidity of AUD 420 million was available
Development pipeline of AUD 7.3 billion provides significant opportunities to deploy capital.
The Company has also been supporting its tenant customers, especially the ones which are adversely affected by the impact of COVID-19. The rent received from SME (as specified under the National Cabinet Commercial Code) contributes about 9.7 per cent under the Funds Platform and 10 per cent for CHC's balance sheet.
Additionally, diversified investment across asset classes and funds by Charter Hall states its earning steam. CHC also provided the information of top 10 tenants (as indicated in the chart below).
Outlook: CHC reassures its FY 2020 guidance for after-tax OEPS (operating earnings per security) growth of nearly 40 per cent from FY 2019. FY 2020 guidance for distribution per security of 6 per cent growth from FY 2019.
On 18 May 2020, CHC shares settled at AUD 8.10.
Resolute Mining Limited (ASX: RSG)
Resolute Mining Limited, a dual listed company, under ASX and LSE with ticker RSG, holds an experience of more than 30 years in the exploration and development of gold mines in Africa and Australia.
Equity Raising:
On 13 May 2020, Resolute notified the market about the completion of an equity funding started in January 2020. The Company raised a total of AUD 195 million in two tranches by strong support from new and existing investors.
Quarter Update and Guidance:
In a presentation released on 6 May 2020, RSG updated that because of sale of Ravenswood Gold Mine, the guidance has been updated for FY 2020 to a production of 430,000oz at an AISC (All-In Sustaining Cost) of USD 980/oz.
On 18 May 2020, RSG shares settled at AUD 1.135.
Saracen Mineral Holdings Limited (ASX: SAR)
An Australia based gold company, Saracen Mineral Holdings Limited, is having three mines on the doorstep of Kalgoorlie. The long-standing strategy of the Company to 'future-proof the business' contains the build-up of surface ore stockpiles to 1.7 Moz.
SAR released its FY 2020 quarterly report for period ending 31 March 2020. Key highlights.
At 31 March 2020, debt was AUD 360 million and total cash and equivalents were AUD 340.3 million.
Gold sales were 165,798 oz at an average sale price of AUD 2,228/oz and sales receipts were AUD 369.3 million.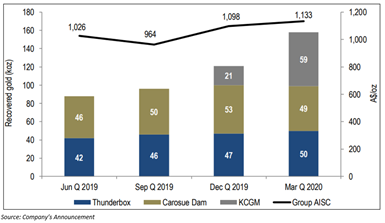 To bring forward the cash flow and production ounces into FY 2020, SAR intends to perform milling of higher-grade areas at the stockpiles at Thunderbox and Carosue Dam in the June quarter.
Outlook: FY 2020 and FY 2021 production guidance for Saracen is forecasted to be more than 500,000 oz and 600,000 oz, respectively.
On 18 May 2020, SAR shares settled at AUD 5.62.